Description
HONKY TONK #2
Art
Film
Live Music
Electro Beats Till Late
Doors open at 7pm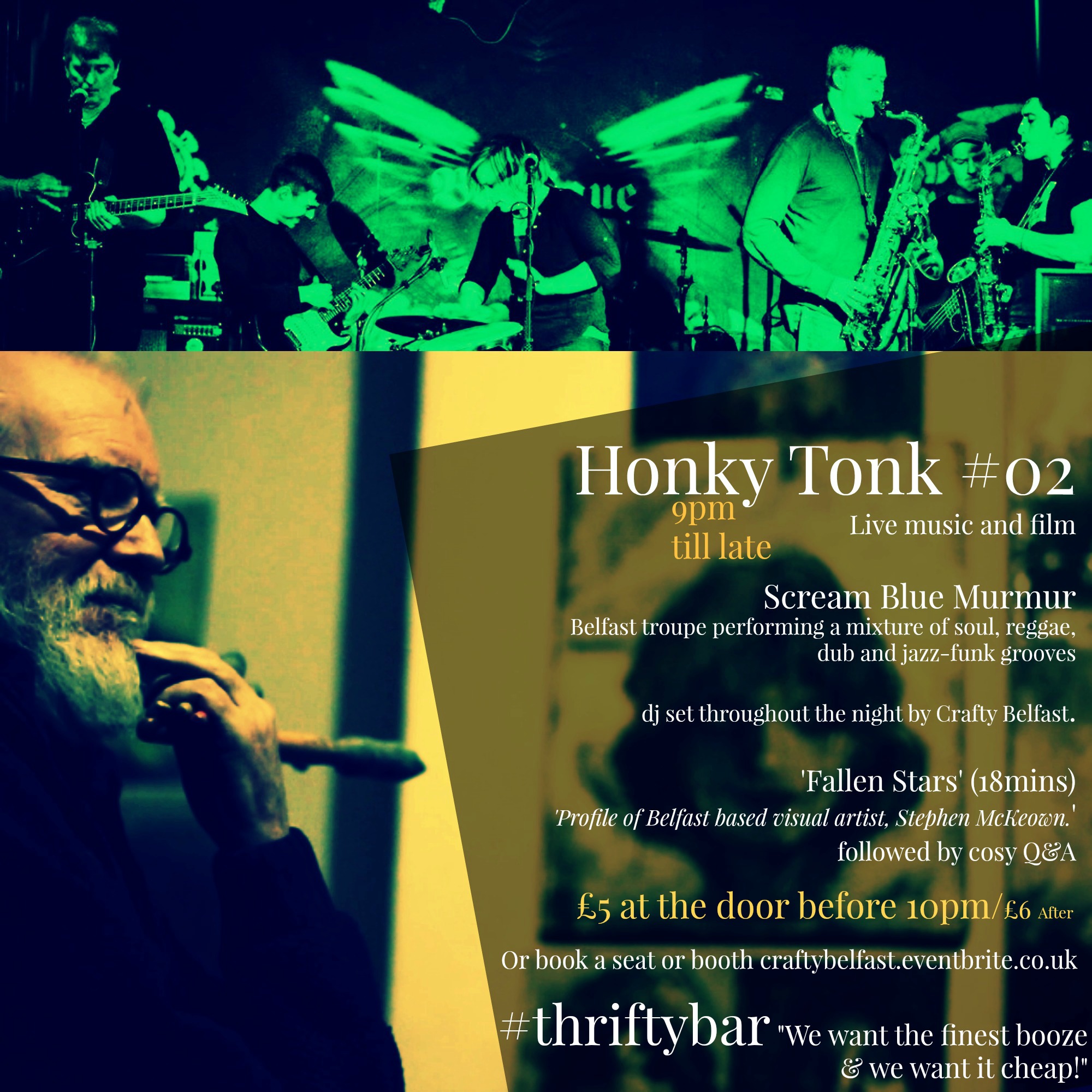 Come along!
There's a new night in town!!
Book a seat !
Or a private booth for you and your chums all evening (seat 4-6 up to 11 folk!)
Honky Tonk Cabaret Club #LiveMusic #Film #DJs
Every month in Belmont just off the Holywood Road!
43 Park Avenue (The nostalgic Maple Leaf )
HonkyTonk Electro Beats !
More info on booking ?
Give us a call! T. 07598018855
Organiser of HonkyTonkClub #2
CRAFTY
;) 
Design Since 1999
It started out as a
hairdressing 
salon which grew into
an ethical lifestyle brand 
creating 
clothing & furniture
CRAFTY ;)
Hair & Custom
Clothing
Appointment only hair & fashion salon
currently based at 43 Park Avenue, Belfast 
Text /Tel for all bookings
Email us at info@crafty-belfast.com
Book a creative party with us at
41- 43 PARK AVENUE BELMONT 
BELFAST
Available for birthday & hip hens parties!
Tea & Tunes with our Crafty DJs or choose a playlist
W
ith friends, plonk, dreamy coffees
hot choccie n cream?
O
r 
a bit of a chill out just you?
Come & have a 
daydream making afternoon 
with a cuppa tea creating 
having some me time on us ;)
Our "Crafty Guerillia Boutiques" 
are just like a 
touring magazine
One minute we are on a boat 
or at a festival next minute 
we could be in your 
living room styling
you & you're friends hair at your exquiste & rather funky birtjday party!
It is tremendously empowering t
o create yourself 
and a real feel good factor 
when you have had youre hair styled
 exactly how you want it before stepping out with chums!
Get in touch if you 
wish Crafty 
to come to youre
"One of the coolest places to visit in the UK" - THE GUARDIAN
The Irish Times
Prudence Magazine
Theworldofkitsch.com
Easy Jet
We imagine consult design create & construct
Style Art Design Music & Invention
(c) Crafty Design 1999-2015