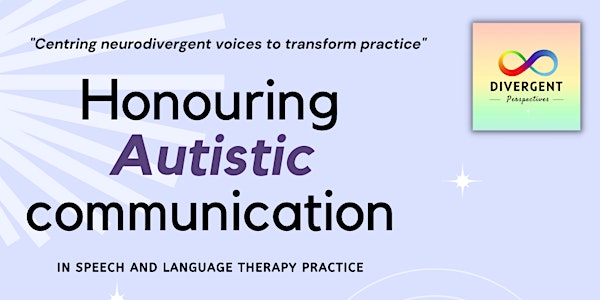 Honouring Autistic communication in Speech & Language Therapy practice
Refund policy
Contact the organiser to request a refund.
Eventbrite's fee is nonrefundable.
Based on lived experience and contemporary research, learn how and why SLTs can use a neurodivergent-affirming model of SLT
About this event
Divergent Perspectives: "Centring neurodivergent voices to transform practice"
Join Speech and Language Therapists (SLTs) Elaine McGreevy and Emily Lees for a 1 hour training via Zoom. This training features 2 clinicians who are unapologetically advocating for radical shifts in therapy practices, in order to empower neurodivergent people. The first in a new series of training on Neurodivergent-affirming practices to support Autistic children & young people.
In this webinar you will learn about:
Contemporary evidence base that informs neurodivergent-affirming SLT practice with children and young people
Flawed and outdated theories e.g., Theory of Mind, that do not reflect autistic cognition
Strategies and supports which honours Autistic communication and interaction styles
Supporting attention and processing differences
The dominant model of Speech and Language Therapy for Autistic children and young people is to reduce their inherent social communication attributes through encouraging eye contact, teaching conversation scripting and other neuronormative social skills. The evidence base is not proven for using these psychosocial interventions, despite these being often the most common support offered. With the growing evidence base highlighting the harms of teaching Autistic children and young people to mask or camouflage their authentic selves, we aim to help SLTs embrace a new affirming model of support which nurtures autistic communication skills. 
WEBINAR ACCESSIBILITY
As Speech and Language Therapists Elaine and Emily understand the importance of making information, training, and meetings accessible. The virtual training will be made as accessible as possible. They will have a meeting prior to the event specifically for embedding accessibility strategies. Please request your accommodations via the booking form. You can contact them via email or through their websites (see further down for contact information)
WHO WE ARE
Elaine McGreevy, based in Northern Ireland has worked as a Speech & Language Therapist for 25 years and is the Founder Director of Access Communication C.I.C which offers pro-neurodiversity Speech & Language Therapy. Elaine has been a lead clinician since 2001 and has been involved in setting up and developing Speech & Language Therapy services for Autistic children and young people. Elaine wants to contribute to making a change in how society accepts and supports Neurodivergent people, especially Autistic children and young people.
Emily Lees is a proudly autistic Speech & Language Therapist, professional speaker, and founder of www.autisticslt.com. She graduated from the University of Manchester and works in a specialist setting supporting Autistic children and young people. Emily does not provide behaviourist interventions which are based on outdated research that assumes Autistic children have social impairments. Emily provides a consultancy service where she offers accessible information, signposting, and bespoke training. Through her lived experience and Speech & Language Therapy expertise, she campaigns for radical changes in therapy practices. Emily brings a unique perspective both from being a professional, and from her lived experiences of how it feels to be a patient / service user / student / client in services that are not set up for Neurodivergent people.
A CPD certificate will be made available.
CONTACT
Email: info@divergentperspectives.co.uk
Web: www.divergentperspectives.co.uk/
Twitter: @DivergentSLT