Honouring the life work of Marcus M Garvey: Creating Economic Empowerment.

Wednesday, 16 August 2017 from 12:00 to 16:30 (BST)
Event Details
Honouring the life work of Marcus Mosiah Garvey:
the SCIENCE of Constructing Black Wealth, Spending Black,
Creating Economic Empowerment and Building a Legacy for Your Children
August 17, 2017 marks the 130 year birth date of Marcus Garvey. On Wednesday 16th BIS Publications and the Black Scientists & Inventors team celebrate his life's work with a presentation and workshop on Economic Empowerment for the Black Community, using STEM, Black History and Ujama.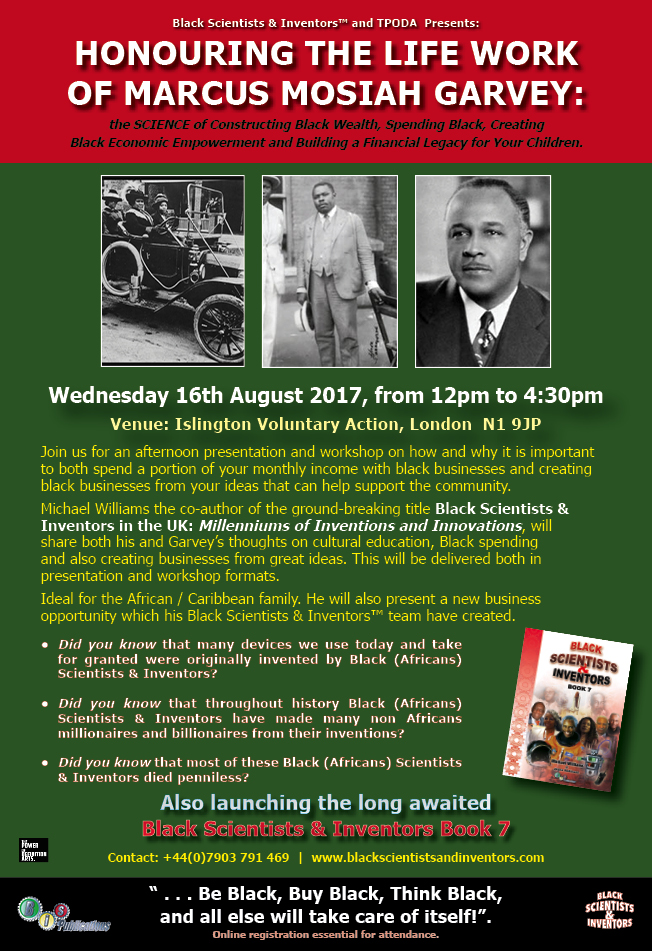 Let's start today and build our businesses and wealth for a financially free tomorrow for our families and communities.
Some Areas we Shall Explore:
Can cultural education through books and practice be used to financially empower the black community?

Does STEM have a role in creating generational wealth in the black community?

Should African / Caribbean high achievers after graduating university expect to get a job?

How can most working black people in the UK ensure that they are not one pay cheque away from poverty?

How can black families create enough wealth to provide the best education for their children.

Can the creation of real wealth in the UK black community reduce and even eliminate some of the gang culture amongst black youth.

Can the creation of real wealth in the UK eliminate the school to prison pipeline in the UK?

Where does real wealth come from and what's the quickest way to attain it?
This will be followed by a shot introduction of a part-time business opportunity presented by the Black Scientists & Inventors Team
Who is this event for:
If you are of African/ African Caribbean heritage and are tired of seeing black people in the UK economically arrested, and are tired of the black pound not circulating once in the black community. If you are tired of being afraid of black children simply because of negative propaganda promoted about them. If you think it's time that the black family in the UK be rebuilt, if you are a black woman and find it odd purchasing hair products and asking advice on how to use them from someone who is neither your gender and has never had your hair type.
If you're fed-up of just talking and hearing others talk about what African / Caribbean people should and shouldn't be doing to change their collective economic situation, but want to do more than talk then this presentation workshop is most definitely for you. 
The most honourable Marcus Garvey once said that "...the world has made being black a crime, I hope to make it a virtue" Join us on Wednesay 16th August, 12 noon to 4.30 pm @ Voluntary Action Islington, London N1 9JP, If you are working that day book that day off. Please note: Children under 14 Years Free entry.
REGISTER NOW!  and let US start to complete his intention of making black a virtue.
This is a MUST ATTEND PRESENTATION / WORKSHOP! ....Trust ME!!!
Make sure you use the 16th August 2017 as an opportunity to circulate your black pound as there will be plenty of learning resources available.
---
We also pleased to announced that we will officially launch our latests book taken from the international best-selling series...the long awaited
 Black Scientists & Inventors Book 7.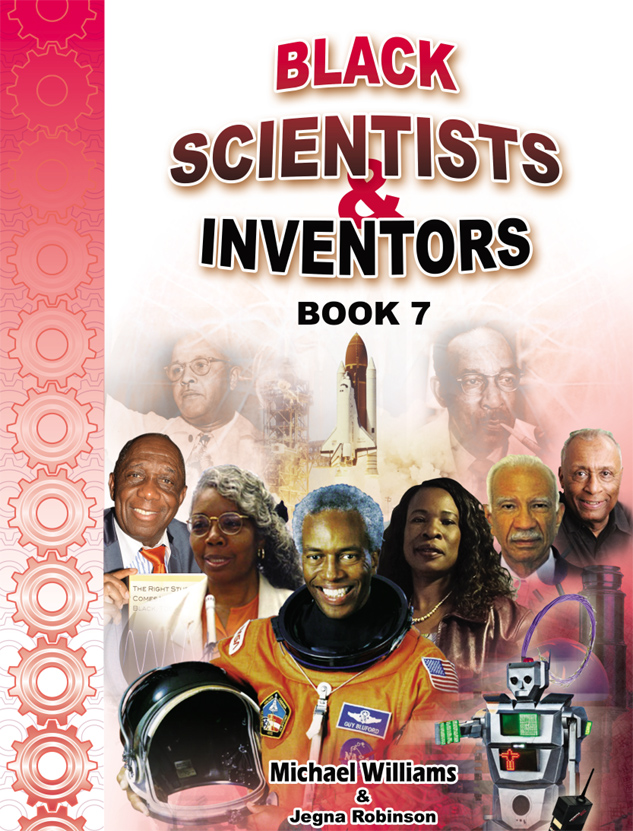 Some great personalities feature in this addition, such as: 
Professor Gerald Lalor. Jamaican chemist, pioneer and university chancellor.

Dr. Thomas Mensah. Ghanian scientist & inventor of Fibre optic manufacturing technique.

T. Kirongozi. Congolese engineer inventor of road side android Robots.

Dr. G. Njoroge, Kenyan Chemist the inventor of treatments for Hepatitis C.
 Plus much much more in this new outstanding book. A must have for homes and schools.
Keep on Pushing ….We can't Stop Now!  
When & Where

Voluntary Action Islington
200A Pentonville Road
N1 9JP London
United Kingdom


Wednesday, 16 August 2017 from 12:00 to 16:30 (BST)
Add to my calendar
Organiser
The Power Of Definition Arts