Hoochie Coochie "This is Burlesque"

Saturday, 15 October 2011 at 18:00

-

Sunday, 16 October 2011 at 14:00 (BST)
Event Details
Keda Breeze's
Hoochie Coochie Kabaret
This is Burlesque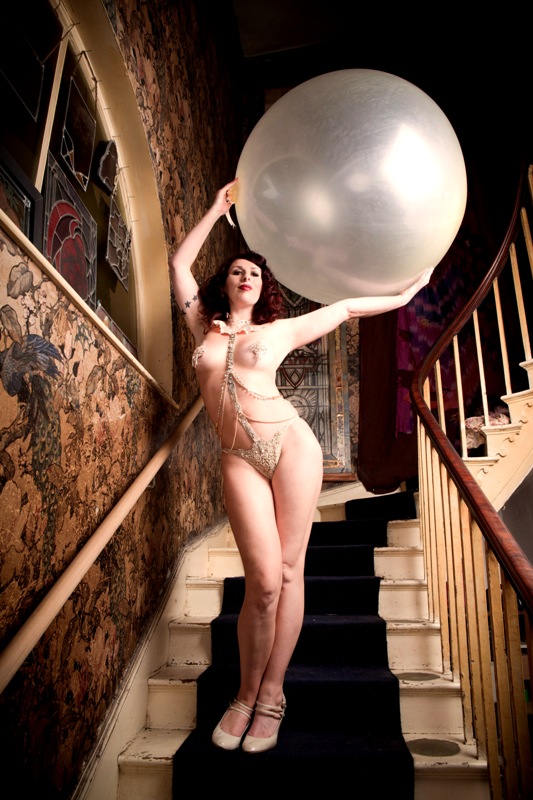 Hoochie Coochie is incredibly excited about this event! This is Burlesque is the latest in a series of intimate cabaret shows from Hoochie Coochie. It takes places in a very special secret Bristol venue, the beautiful and miniature Wardrobe Theatre. This is an unmissable opportunity to see stellar cabaret acts in such a close setting. The show features international burlesque stars, circus, bizarre cabaret and burlesque stars of tomorrow.
Starring
Fancy Chance – Undisputed comic spectacle of the UK burlesque/variety/vaudeville circuit and reigning Alternative Miss World.
Keda Breeze – Performance icon, circus bombshell and exotic performance artist extraordinaire.
Matt Pang – One of Hoochie Coochie's favourite circus variety artists.
Christopher Anastiphos – Slack rope walking star of Invisible Circus hosts the show.
Nanny Dora – Our burlesque star of tomorrow, alter ego Nanny Dora is a burlesque dancing OAP with a passion for Terry Wogan.

The Dirty Circus Disco
Before and after the cabaret, party at the Dirty Circus Disco, "a magical underworld of circus and sin" with art installations, live snakes, bombastic go go dancers and roaming circus acts and a live PA from defunct social club singer Lady Waa Waa. Those who are feeling sinful can confess all at the Sisters of Sin Confessional Booth. To enter into the circus spirit be transformed at the free face painting booth with glitter glamour or traditional circus face paint. And finally be immortalised in ink by The Art Tart.
DJ's for the evening are Charlie Mega and Mike Savage from the legendary World of Cheese
About the Cabaret Cast
Fancy Chance
Hilarious, glamorous, and exuberantly irreverent, the diminutive Fancy Chance is the undisputed comic spectacle of the UK burlesque/variety/vaudeville circuit and the best tassel twirler east of the Atlantic. Fancy holds prestigious performance titles. She is the current reigning Alternative Miss World and also the title holder of London's Next Top Tranny which she won for her drag king performance as Prince. At Hoochie Coochie she will be performing her price act alongside one of her signature burlesque numbers.
Keda Breeze
Hoochie Coochie's creator Keda Breeze is an icon of the performance world and circus burlesque bombshell. Keda will be performing her statuesque Moonlight Fire Show. Keda will also be performing the latest in her series of "exotic performance art" acts. Hold on to your seats, this show is not for the faint hearted ladies and gentlemen.
Matt Pang
Mat Pang is one our favourite circus and variety artists. He has an impressive repertoire of European performances under his belt and always brings the house down at Hoochie. Not for the faint hearted, Matt will be performing Anytime Now, an act full of skill, comedy and danger! Being securely strapped into a Strait Jacket and then attempting to escape is no mean feat by itself, deciding to take this one step further, Matt does this stunt whilst precariously trying to balance on a Unicycle at the same time!
Christopher Anaspitos
The show is hosted the one who time forgot, eccentric of gesture, body and mind. a well balanced fellow with moments of dillusional illusion the question might not be so much where is he from.. but when and what!
Nanny Dory
Nanny Dora takes the newcomers slot this month, but she is hardly a newcomer at all as she has A BA Honours in Drama and extensive theatre experience who has recently turned her hand to burlesque to rave reviews. Nanny Dora, the OAP alter ego of her creator is the self proclaimed grandmother of tease. Be warned, this geriatric is a sight to behold when gripped with desire!
Dirty Circus Disco Artists
Lady Wa Waa is the new solo alter ego of Le Pants front woman Jokate Benson
The Art Tart is the lovechild of the Natural Theatre Company armed with marker pen
Vissi D'arte is a performance installation from Poppy Von Tarte and her python Doris Mae – Glimpse into the private world of a performer and her snake
Dress code: Circus! Ring masters and mistresses, showgirls, performing ponies, dancing dogs, lion's tamers, tigers, bears, strongmen and freaks! Failing that dress to impress!
The Wardrobe Theatre is at 113 St Michaels Hill, BS2 8BS above the White Bear.
When & Where

The Wardrobe Theatre and White Bear
The White Bear, 133 St Michaels Hill High Kingsdown
High Kingsdown
Bristol, BS7 9NW


Saturday, 15 October 2011 at 18:00

-

Sunday, 16 October 2011 at 14:00 (BST)
Add to my calendar
Organiser
Maison Paradiso is an exciting Bristol production company which is dedicated to creating innovative events in beautiful spaces. Gastronomic delights and fine beverages create a heady mix with art, film, music, dancing and revelry
Hoochie Coochie "This is Burlesque"