Get access to coaches' insight to help develop their game and basketball career on and off the court, while also becoming a Student Athlete!
About this event
London Basketball Association are proud to announce a new partnership with London Nautical School.
We have got a roadmap that includes weekly basketball sessions starting September 2021 and Show Court Camps during the school holidays, allowing us to connect with potential prospects.
Sign up now for the weekly session to avoid disappointment. These are free to attend as we have an introductory offer.
Every week will be having a basketball session with LBA pro coaches. These particular coaches have vast knowledge and experience in the London community, which also branches all the way to the United States of America!
This means participants will get access to their insight to help develop their game and basketball career on and off the court. Not forgetting that they will become the ultimate Student Athlete!
This is a recruitment tool and you will be informed on how to apply and become a part of this exciting opportunity which is based in the heart of the city of the infamous Waterloo, which is an excellent location and accessible to many.
From these weekly sessions you can expect the following:
Info on the potential Basketball Academy
Dynamic warm-ups & cool downs
Scrimmages
Drills
Skills challenges where we will log your results
By attending this you gain priority access to the Show Court Holiday Camps.
Criteria to attend
Priority access order is as follows:
Current year 11 students
Current year 12 students
Current year 10 students
For more information here are to sources:
Check out the London Nautical School Prospectus to gain more insight about the school in particular who have an exceptional sports program and educational background
LBA will soon to have a section on their website under About called Basketball @ LNS
A lot of current sport athletes came out of the school with the likes of Louis Norton and Brooke.
Donations welcome!
To keep the quality high and the price low for the community we ask for donations. If you would like to sponsor this event or in any other way we currently have a number of sensational options.
Session Details
Coach: Professional Coaches
Day: Every Tuesday
Time: 4:00 PM - 6:00 PM (2 hours)
Location: London Nautical School, 61 Stamford Street, London, SE1 9NA
Age Category: Year 10-13 students
Gender: Boys
Entry fee: Free - INTRODUCTORY OFFER!
Follow LBA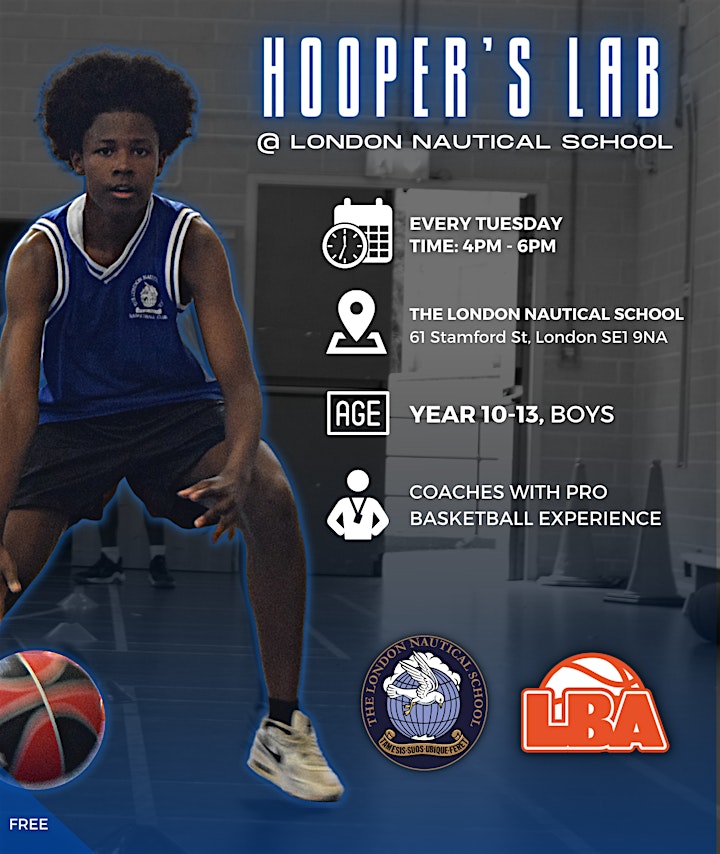 Organiser of Hooper's Lab | @ London Nautical School | Weekly Basketball