Traditional Ho'oponopono 12 step process to heal and support your life with this ancient Hawaiian Shamanic mindfulness prayer.
About this event
Ho'oponopono is a gift originated steeped in the Hawaiian secretes and traditions of healing, repairing and cleansing and purifying memories and emotions that bind us through our thoughts, deeds, actions errors in words and feelings.
The process is about freedom, complete freedom from the past shared Morrnah Nalamaku Simeona who was a Hahuna lapa'au (healer) in Hawawii.
• Release the conscious, unconscious programming;
• Connect and align with your inner-self (child), father and mother in you;
• Heal your body, mind and emotions;
• Strengthen your relationship with yourself and others, ancestors, deities and the earth;
• Increase health, wealth and happiness;
• And Practical tool for everyday use.
Reflection | Repentance| Forgiveness |Gratitude
Due to the Coronavirus this prayer meeting is online for 60 minutes.
Group will resume to meet once a month after the lock-down. It is held at my home. From 6.00pm – 9.00pm (BST) 3 hours with a shared ceremonial meal.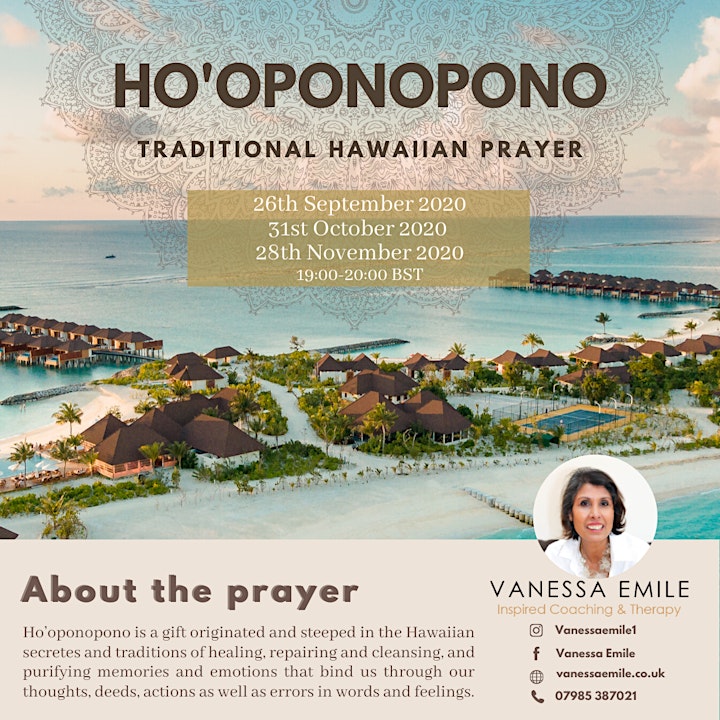 Organiser of Ho'oponopono Traditional Prayer for Healing and Making Things Right
I have a passion to share what I have learnt through the many years of training and practice. I offer a sincere space to heal and let go of trauma, hurt, pain and repeating patterns from our conscious and the unconscious lifetime programmings. Bringing together powerful fusion from East, West and some of the South American traditions to cleanse, heal and empower the body-mind-emotions - to enable you to take action.