Description
Along with Materials Helix leaders, LEITAT Technological Centre and the British Embassy, Vision2020 will be holding a Biomedicine/Health event in Barcelona on February 22-23, 2018. ​On the first day of the event, we will have presentations from the Wellcome Trust, Cancer Research UK and the Spanish Government regarding other possible funding opportunities for EU organisations as well as presentation of International collaborative projects. For the second day, the focus will be on Horizon 2020 Health Work programme and one of the main objectives will be to form consoritum for some 2019 calls.
Please note that the event is now fully booked for Friday 23rd. However we still have a couple of tickets remaining for Thursday 22nd.
AGENDA (subject to slight changes)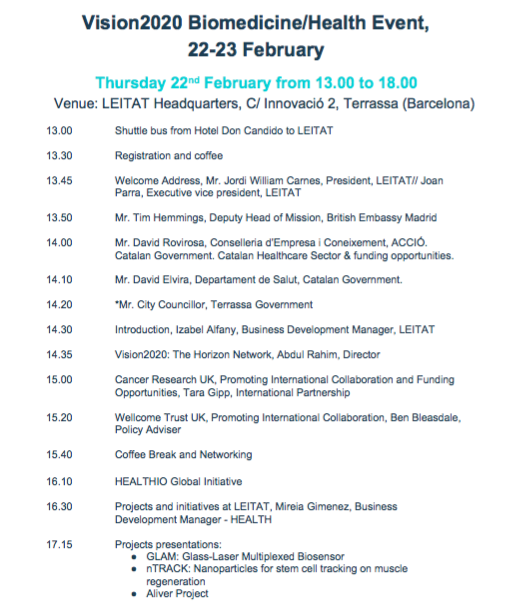 TRAVEL INFORMATION:
LEITAT is located in Terrassa which is in the surroundings of Barcelona. You can easily fly from most european cities to Barcelona-El Prat Airport. From Barcelona El-Prat Airport to LEITAT, it is a 45 minutes journey by taxi - around 50€.
LEITAT has kindly organised a shuttle bus at disposal of the participants to reach LEITAT from the hotel and from LEITAT to Barcelona El-Prat Airport on the 23rd.

HOTEL INFORMATION:
We are happy to let you know that we have pre-booked rooms in a hotel nearby the venue. Please note that availability is limited. Should you wish to confirm a room please email us: kasia@2020visionnetwork.eu
Hotel Don Candido****, Rambleta del Pare Alegre, Terrassa:
- Double room single use with breakfast - 84€
- Double room with breakfast - 94€