Horizon 2020 - Health, demographic change and wellbeing Information Day - 2018-2020 Work Programme / Rhaglen Waith 2018-2020 – Diwrnod Gwybodaeth y DU ar Iechyd, Newidiadau Demograffig a Llesiant

Tuesday, 7 November 2017 from 08:30 to 17:00 (GMT)
Event Details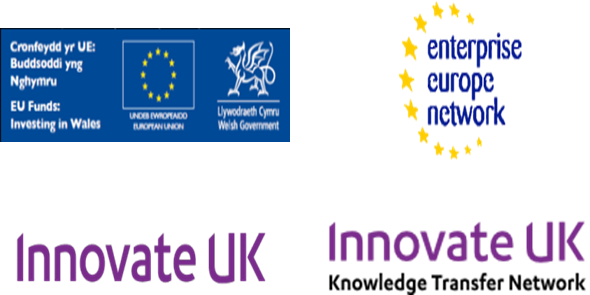 ---
We would like to invite you to the above event hosted by the Welsh Government, Innovate UK, the Enterprise Europe Network, and the Knowledge Transfer Network which is aimed at supporting collaboration in Wales, across the UK and in Europe. 
We will be promoting funding opportunities available for health, demographic change and wellbeing through Horizon 2020, the EU's largest research and innovation funding programme, with over 1 billion Euros earmarked for calls in 2018/2019. 
Delegates can expect:
pointers and tips on achieving success in Horizon 2020 valuable insights on topics around health, demographic change and wellbeing to be funded by the EU in 2018

an overview of the support available locally and nationally to develop applications
 

brokerage sessions throughout the day*

consortium building and proposal development on specific calls
Participation is free, register your interest now!
 * Brokerage sessions coordinated by Enterprise Europe Network (EEN) provide an opportunity to meet potential collaborative partners through facilitated face to face meetings. Register here to confirm your place:
https://h2020-info-day.b2match.io/
---
Mae Llywodraeth Cymru, Innovate UK, Rhwydwaith Menter Ewrop, a'r Rhwydaith Trosglwyddo Gwybodaeth yn cynnal y digwyddiad hwn sydd â'r nod o gefnogi cydweithio yng Nghymru, ledled y DU ac yn Ewrop.
Byddwn yn hyrwyddo cyfleoedd ariannu sydd ar gael ar gyfer iechyd, newidiadau demograffig a llesiant drwy Horizon 2020, rhaglen ariannu ymchwil ac arloesedd fwyaf yr UE, gyda dros 1 biliwn Ewro wedi'u clustnodi ar gyfer galwadau yn 2018/2019. Gall y cynadleddwyr ddisgwyl y canlynol:
awgrymiadau ar fod yn llwyddiannus yn Horizon 2020 

syniadau gwerthfawr ar bynciau yn ymwneud ag iechyd, newidiadau demograffig a llesiant sy'n mynd i gael eu hariannu gan yr UE yn 2018

trosolwg o'r cymorth sydd ar gael yn lleol ac yn genedlaethol i ddatblygu ceisiadau

sesiynau broceriaeth drwy gydol y dydd

creu consortiwm a datblygu cynigion ar gyfer galwadau penodol

 Cewch gymryd rhan am ddim! 
---
Agenda
08:30   -   Registration
09:30   -   Welcome
09:40   -   Welsh Government
09:55   -   European Commission
10:40   -   UK Government
10:55   -   Q&A session
11:10   -   Tea / Coffee
11:30   -   Support landscape
12:15   -   Lunch and networking
13:45   -   Workshops commence 
13:45 - 16:30


 KTN led - Societal Challenge 1:

Calls listed further below*

Consortium building

Proposal development

 13:45 - 15:00

&

15:15 - 16:30

 NCP led - Societal Challenge 1:

Digital transformation in health care

Trusted digital solutions and cybersecurity in health and care

 13:45 - 15:00

&

15:15 - 16:30

 NCP led - Societal Challenge 1:

 13:45 - 15:00

&

15:15 - 16:30

 NCP led - Horizon 2020:

Participation, key legal and financial information
 We look forward to seeing you at the event.
---
*KTN led - Societal Challenge 1 workshop call list:
Exploiting research outcomes and application potential of the human microbiome for personalised prediction and prevention of disease
New anti-infective agents for prevention and/or treatment of neglected infectious diseases (NID)
Novel patient-centred approaches for survivorship, palliation and/or end-of-life care
New testing and screening methods to identify endocrine disrupting chemicals
Adaptive smart working and living environments supporting active and healthy ageing
 Innovation platforms for advanced therapies of the future - RIA
Exploiting the full potential of in-silico medicine research for personalised diagnostics and therapies in cloud-based environments - RIA
Toolkit for assessing and reducing cyber risks in hospitals and care centres to protect privacy/data/infrastructures - RIA
Custom-made biological scaffolds for specific tissue regeneration and repair - RIA
Osteo-articular tissues regeneration - RIA
---
Save This Event
When & Where

City Hall

CF10 3ND Cardiff
United Kingdom


Tuesday, 7 November 2017 from 08:30 to 17:00 (GMT)
Add to my calendar
Organiser
Jointly organised by the Welsh Government, Innovate UK, the Enterprise Europe Network and the Knowledge Transfer Network
Horizon 2020 - Health, demographic change and wellbeing Information Day - 2018-2020 Work Programme / Rhaglen Waith 2018-2020 – Diwrnod Gwybodaeth y DU ar Iechyd, Newidiadau Demograffig a Llesiant