Description
Vision2020: The Horizon Network will hold its second Climate Helix Event at University of Valencia Botanic Garden, on 29th and 30th June, kindly hosted by Institute for Ceramic Technology (Instituto de Tecnología Cerámica-ITC) and Climate KIC Spain.
The objective of the event is to promote networking between researchers and business representatives in order to form consortia for the forthcoming Horizon 2020 funding opportunities.
As part of the registration, please indicate if you wish to attend both days of the event or only Day 1 June 29th (Climate services, Earth Observation and Nature-based solutions for territorial resilience) or only Day 2 June 30th (Sustainable Processes, Low Carbon Europe, Resource efficiency and Raw Materials).
If you have any questions about the event, please contact Celia and Emilie on climatehelix@itc.uji.es and Julia on contact@2020visionnetwork.eu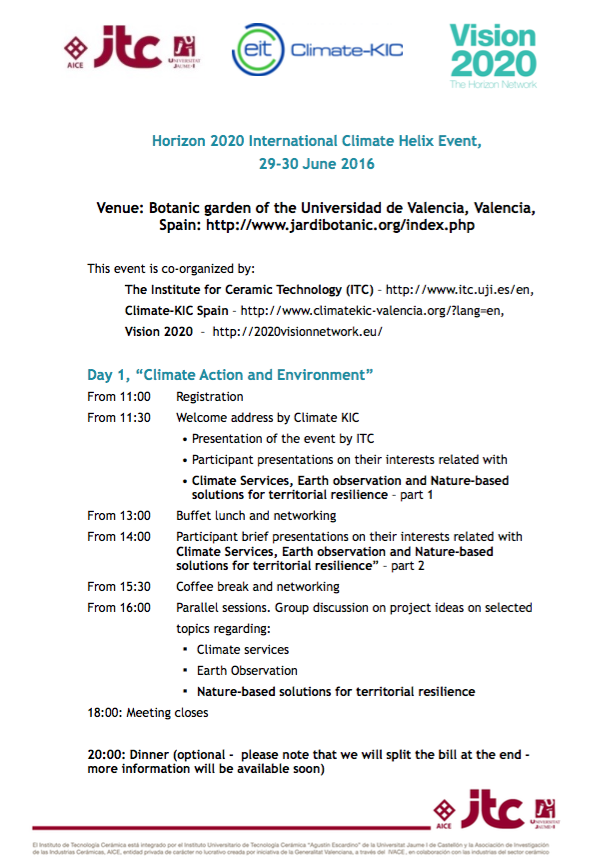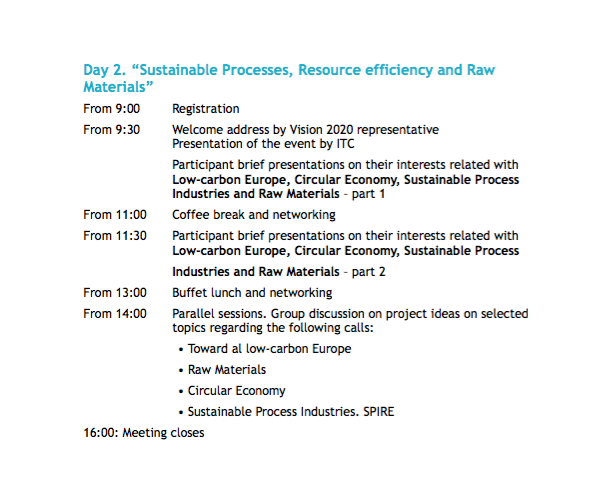 Practical Information
All practical information regarding travel and hotels can be found here
Organiser of Horizon 2020 International Climate Helix Event
Crowdhelix is an Open Innovation platform connecting a network of universities, research organisations & companies across the world, so that together they can plan and deliver pioneering collaborative projects.
Shaped by themes mirroring the current challenges of the world, and the EU's "Horizon Europe" funding topics, our custom-built platform hosts 30+ technology clusters called "Helixes", in which users can post collaboration opportunities. Through this unique technology-driven platform Crowdhelix matches opportunities with suitable prospective collaborators across countries and disciplines.
With network members in over 50 countries around the world, Crowdhelix is open to applications from any organisation, of any size, anywhere in the world, that can demonstrate a strategic commitment to collaborative research and innovation, and would like to target funding from international programmes like #HorizonEurope.