Description
Vision2020: The Horizon Network will hold a Horizon 2020 International Health Event on 20-21 October 2016 at the University of Ljubljana, Ljubljana, Slovenia.
The event is hosted by the University of Ljubljana and co-organized with KU Leuven. It will predominantly look at Personalised Medicine and Rare Diseases calls, ICT related topics and infectious diseases calls.

The objective of the event is to promote networking between researchers and business representatives in order to form consortia for the forthcoming Horizon 2020 funding opportunities. To make this event as fruitful as possible, we would like to invite mainly researchers and SMEs to join us. Delegates will be invited to choose the group discussion they wish to follow on Day 2.
Should you have any questions about the event, please contact Lisa on lisa@2020visionnetwork.eu
AGENDA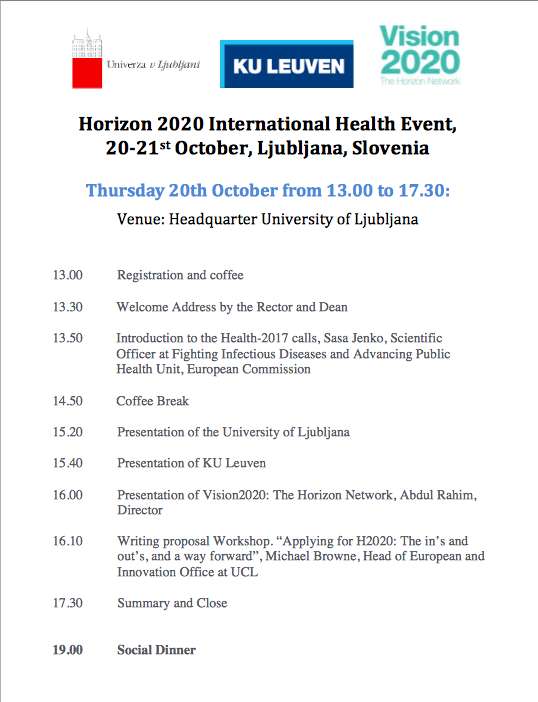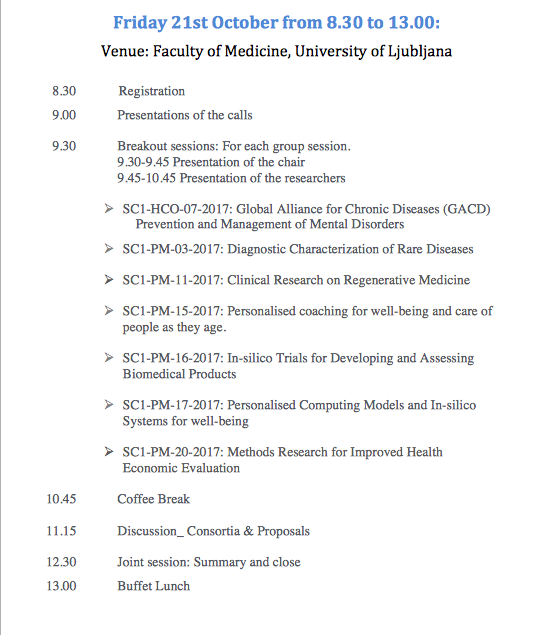 HOTELS
Please note that the period around October 20th is very busy in Ljubljana, almost all top hotels in the city-centre are all fully booked and the prices are accordingly elevated. The University of Ljubljana has kindly pre-reserved the below hotels for you in the centre and outside the centre for a special price until 15th, 20th or 25th September 2016. Please note that after these dates we cannot guarantee you room availability. To get the reservation code, please contact Lisa on lisa@2020visionnetwork.eu.
Angel Hotel: http://www.angelhotel.si/index.php/sl/ (pre-booked until 15.9.)
130 € per night (4 rooms)
200 € per night (1 master room)
Antiq Palace: http://www.antiqpalace.com/ (pre-booked until 20.9)
165 € per night (10 suites)
Union Hotels (1km from Ljubljana University): http://www.union-hotels.eu/en/central-hotel/ (pre-booked until 25.9.)
74€ per night (10 rooms)
G. Design Hotel (6kms from Ljubljana): http://www.gdesignhotel.si/indexeng.php?lang=en (pre-booked until 20.9)
85 € per night (10 rooms)
TRAVEL INFORMATION
Ljubljana is a small city and the public transport is not always the best option. From the airport to the center the two best options are:
1. Shuttle door to door (9 €)
http://www.prevozi-markun.com/

http://www.shuttleljubljana.com/SHUTTLE_BRNIK.php

2. Taxi (the cheapest 20 €)
Almost all the taxies in Ljubljana are registered and safe to use, but we recommend (around 1€ per km):