Description
Vision2020: The Horizon Network will hold a Horizon 2020 Manufacturing 4.0 Event on 26-27 September 2016 at the University of Navarra, San Sebastian, Spain.
The Event will be co-hosted by Ceit-I4K, LEITAT, Fraunhofer IWU, EEN and the Basque regional government. The event will look at Advanced Manufacturing, Materials and Digital Factory related calls.
The objective of the event is to promote networking between researchers and business representatives in order to form consortia for the forthcoming Horizon 2020 funding opportunities.
Please note that on Day 1 (September 26th) the event will be open to Vision2020 members only. On Day 2 (September 27th), the event will be public with over 150 delegates expected to attend and B2Match platform in operation to facilitate collaborations and individual meetings.
Please note that if you wish to attend the second day of the event, you will also have to register on the B2B Match website and complete your profile: https://www.b2match.eu/advancedmanufacturing2016

If you have any questions about the event, please contact Julia on contact@2020visionnetwork.eu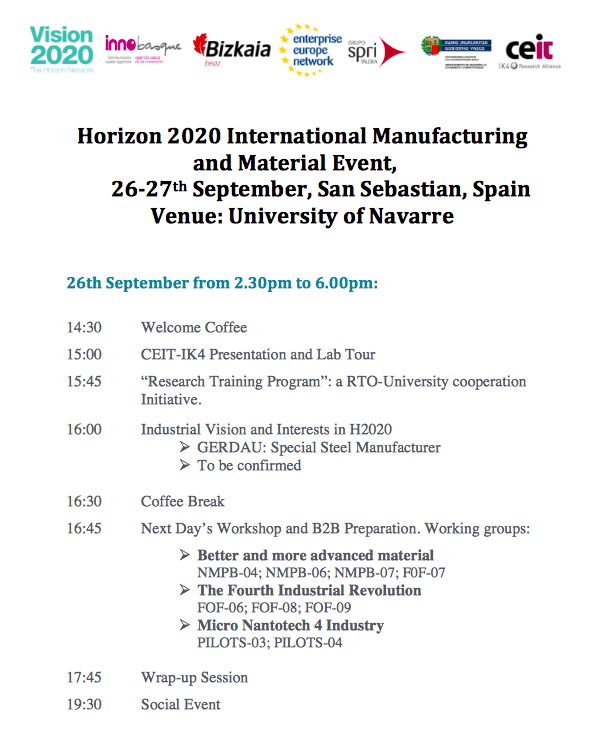 *Please note that the Social Dinner after Day 1 of the event will not be covered by the organisers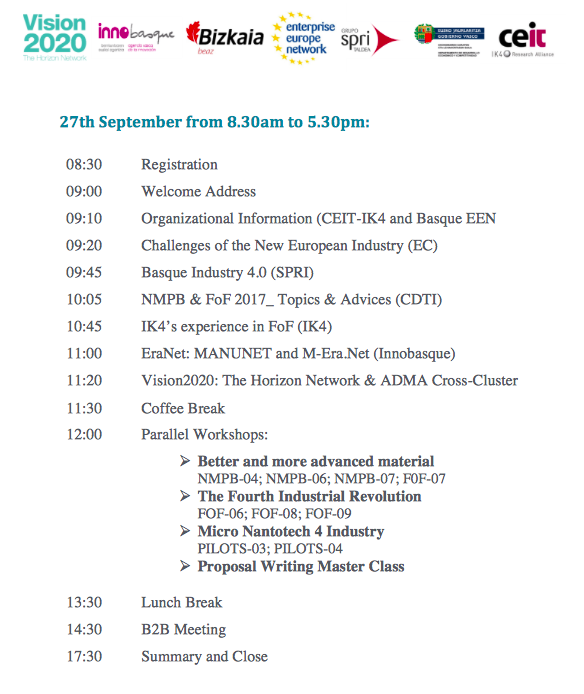 AIRPORTS
> Fly into San Sebastian Aiport.
There is a bus service to the city centre. Only a bus per hour. It takes around 30 minutes.
Possibility to take a taxi. Takes around 20 minutes and costs approximately 40euros.
> Fly into Bilbao Airport.
Bus Service that takes about 75 mins with (PESA company). One departure per hour from 7.45 am to 11.45pm. A single ticket is 17,10euros.
Bus is a better option than the train as the train stops everywhere and takes about 2hours and a half to get to San Sebastian.
On the outbound there is a bus service from 5.00am to 9pm!
> Fly into Biarritz Airport (France).
Bus service which takes 45 mins to reach San Sebastian city centre. Problem: there is a limited number of daily departures. Costs: 6.60 euros.
> Fly to Madrid Airport.
Train and bus services take 5 hours and half to get to San Sebastian.
TRAVEL
http://ceit.es/en/join-ceit/the-city-around-us (city information)
http://www.nanogune.eu/transport ("how to get" information) - Nanogune is located few meters away from the University of Navarra
http://dipc.ehu.es/09como_llegar.php?lng=eng (maps)
HOTELS
More information on hotels to follow. For any queries in the meantime, please email Julia on contact@2020visionnetwork.eu