Event Information
Refund policy
Contact the organiser to request a refund.
Eventbrite's fee is nonrefundable.
HorizonSport's flagship annual course, for the CEOs of today and tomorrow. Participants are senior, ambitious leaders in the sport sector.
About this event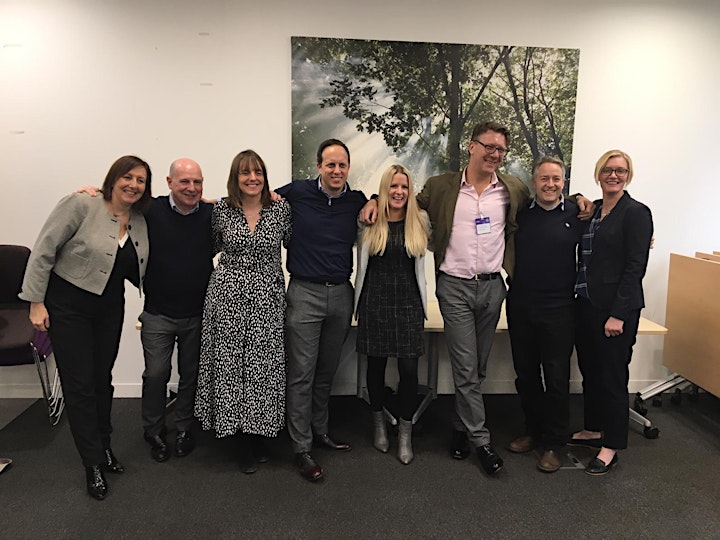 What is The BLC?
Accredited by the Chartered Institute for the Management of Sport and Physical Activity, the Business Leadership Course - widely known as 'The BLC' - is HorizonSport's flagship programme for senior leaders in the sport and physical activity sector. Over four weeks, a select cohort of ten leaders achieve breakthroughs in personal impact and effectiveness. They embed fresh ways of thinking and innovative techniques into their day-to-day business leadership.
What does my investment include?
Workshop days: 09.00 - 16.45 on Tuesday 6 Oct & 2 Nov 2021 in central London
Evening sessions: 19.00 - 21.00 on Tuesday 9 Oct & 23 Oct 2021
1:1 executive coaching
Networking breakfast and lunch will be provided on both workshop days
Accountability forum
What will I learn?
Each module in the BLC curriculum includes very practical, action-oriented leadership theory, and participants apply new mindsets and techniques to current business issues:
Study techniques to create and sell a vision that aligns and inspires people, even in the face of uncertainty and cynicism. Build shared commitment and a sense of ownership.
Discover how to stay poised and present whatever happens, speak with credibility, and impact. Identify 'panic button moments' and how to stay in control.
Clear the clutter for effective, effortless and enjoyable business planning. Prioritise and de-prioritise. Master how to say no. Reduce frustration and procrastination.
Learn an efficient and highly structured process to solve problems and make decisions in senior teams and boards. Apply to a live business problem for immediate impact.
Build motivation and performance in teams – dysfunctional or storming! Explore the power of seeing feedback as a gift. Influence the behaviour of both difficult people and top performers.
Create a powerful senior network, by challenging and providing new perspectives, wisdom and guidance for each other in the cohort.
Who leads the course?
The HorizonSport coaches and course leaders are business leaders and strategy consultants, each with multiple years of experience in the sector and top-notch expertise and credentials in leadership development.
What is the participation fee?
Fee per participant is £3,500 + VAT
What have previous participants thought of the course and its impact?
Previous participants have marvelled at the power of the cohort, both during and after the course. Here are some HorizonSport testimonials:
'It's unbelievable just how much you can achieve in a month on the BLC! It provided the space to free up my brain and invest time in considering the type of leader I wanted to be. A big takeaway for me was investing my value not my time! Thanks to the BLC I'm now owning my leadership choices, purposefully prioritising, achieving results that have a direct impact on the business, all alongside a new network of friends and inspirational leaders from across the sporting sector.' - Fran Connolly, Chief Executive Officer, England Netball
'The BLC took me out of my comfort zone and gave me time to think. We were encouraged to take action and do things differently in our real lives whilst on the course. I reached out to a much wider network, for example, and have already broadened my impact and un-siloed myself, and looked at the bigger picture. I had specific positive feedback, and also saw a different perspective on possible leadership styles, including how to listen to achieve collaboration.' – Andy Ambler, Director of Professional Game Relations, The Football Association
'If you are looking to learn about you and define yourself as a leader, this is the course for you. This is not an off the shelf course, were an exam or assessment is required. Individuals need to apply their own learning in the workplace to get the most from this course. The support of the cohort is invaluable which was led and facilitated by the faculty with thought provoking ideas. Immerse yourself, challenge yourself and be open to new ideas and you will truly learn your own potential. I can honestly say one of the best courses I have had the privilege to attend.' - Clare Dunn, Corporate Partnerships Manager, CIMSPA
'BLC was the perfect antidote for me. It quickly builds on and enhances your existing skills. Most importantly the coaches are empathetic, insightful, challenging, relevant and most importantly complimentary. It was a fantastic experience for me.' - Tom Godfrey, Partnerships Director, Estates and Infrastructure Exchange
'Positively challenging, immersive, thought-provoking, behaviour changing input from great sector leaders. Intense, at times uncomfortable but hugely rewarding and energising. Transformed my approach to leadership' - Mark Lawrie, Acting Chief Executive, StreetGames
'Gave me the opportunity and stimulus to reflect on some of my priority development areas coupled with tools and techniques to help me improve which will stay with me long beyond the conclusion of the course' - Duncan Truswell, Strategic Lead, Talent and Performance, Sport England
'Excellent course – insightful, testing and challenging. Made me re-think my role, our vision and strategy. Cannot wait to apply my learning' – Tara Dillon, CEO, CIMSPA
'A full-on experience that requires a level of commitment on behalf of participants in order to make the most of your peers and course leaders' wide experience' – Matt Archibald, CEO, GB Taekwondo
How do I book?
Apply for a participant place here via a £50 deposit (+VAT and non-refundable once you are accepted onto the course). The balance will be invoiced via email as soon as your place is confirmed.
How do I find out more information?
Contact Katy Tuncer - katy@horizon-sport.co.uk to find out more and ask any questions you have about your participation.
Katy, as Lead Coach, can explore with you how you could benefit from participating. We will work with you to discover who you are as a leader and how to make the best of your own brilliance, in the unique context of your aspirations and challenges.

Date and time
Refund policy
Contact the organiser to request a refund.
Eventbrite's fee is nonrefundable.
Organiser of HorizonSport Business Leadership Course 2021
Revolutionising Sport Sector Leadership
We enable 
leaders
 in the sports and leisure sectors to 
perform
 brilliantly, causing greater participation in active and healthy lifestyles and creating the best sporting performance that is possible, at all levels of society.
We are highly responsive to the needs of our clients allowing them to generate breakthroughs and work towards revolutionising sports sector leadership.