Event Information
Refund Policy
Contact the organizer to request a refund.
Eventbrite's fee is nonrefundable.
HORIZONTAL DRILLING AND GEOSTEERING - 3-DAY VIRTUAL COURSE
About this Event
This is a 3-day virtual course scheduled to run from 09:00 am to 05:00 pm US Central Standard Time (CDT/CST) (GMT-5) all three days (4 December - 6 December 2020).
The 900 GBP price includes the ticket for all 3 days.
The virtual face-to-face class is highly interactive and discussion-based so a stable internet connection and a laptop or computer with a microphone and webcam are required.
The instructor normally schedules a quick technical walkthrough before the course to check bandwidth and Zoom setup and to introduce Miro which will be used as canvas for exercises in groups and collaboration during the lectures.
About the course:
During our virtual course we cover the theory, then apply it to real-life examples. We have created an "on-the-job" environment that brings the theory to life.
Through our carefully designed course, we offer close to reality simulation of everyday decisions a geosteerer must face at work. You will practice the process of geosteering a well that is drilled at a speed of 250 feet per hour. You will be exposed to time pressure, presented with unclear real-time data and challenged by ambiguity of the steering direction. You will experience the feeling of being a geosteerer.
Our course, packed with all-possible geosteering challenges, explains step by step the complexities of the decision-making process. You will not simply participate in this course, but you will be part of it and shape its content with others. You will speak, discuss, observe and take decisions.
You have never experienced anything like this before.
The course objective:
The objective of the course is to introduce, understand and apply the concept of geological well placement, provide the knowledge of the processes and techniques that are used to successfully place horizontal and deviated wells using geological and petrophysical data in real time.
This will be achieved by:
Learning step by step every aspect of decision-making process that geosteering teams face on a daily basis.
Practice of various geosteering techniques and rules involved in directional drilling, calculations, and formation evaluation while drilling.
Applying Geosteer Well On Paper (GWOP) concept, a new step in the well delivery process that involves all steering activity's due diligence.
The course is designed for:
Geosteerers, Operations Geologists, Wellsite Geologists, Operations Petrophysicist, Operations Team Leads
Drilling Engineers, Directional Drillers, MWD and LWD specialists, Mudloggers and Data Engineers
Students of Petroleum Engineering, Drilling and Geology who aspires to work in Oil & Gas upstream industry
Anyone who aspires to become a member of an operational team that drills deviated and horizontal wells
Anyone who would like to understand or improve the understanding of the geosteering science
Course content:
Day 1
Geological Well Placement and Reservoir Geology
Basic concepts and application
Essential elements of reservoir geology
Structural features
Steering systems
BHA steering tendencies
BHA orientation and tool face
Real time data transfer
MWD directional drilling, surveys and position uncertainties
MWD directional surveys
Survey calculation methods
Survey spacing
Static and instantaneous surveys
Surveying instruments
The ellipsoid of uncertainty
Collision avoidance
Structural uncertainty
Day 2
Well trajectory
Geological and drilling targets
Dog leg severity DLS limitations
Build rate
BHA tool building capabilities
Steering modes and steering ratios
Well trajectory planning
Sidetracks and obstacles avoidance trajectories
Practical examples of geosteering limitations imposed by different trajectory type
Application of LWD measurements for geosteering
Azimuthal borehole images
Image patterns and their interpretation
Deep directional electromagnetic measurements (remote boundary detection)
Proactive and reactive geosteering
Cross sections displays (distortions and projections)
Overview of available LWD technologies free of vendor bias
Day 3
Geosteering Methods
Geosteering principles
Bed dip, bed thickness and incident angle calculations
True dip versus apparent dip measurements and usage
Well landing strategy
Geosteering using true stratigraphic thickness
Drop rate and inclination changes
Horizontal trajectory management
Target change techniques
Geosteering simulation - team exercise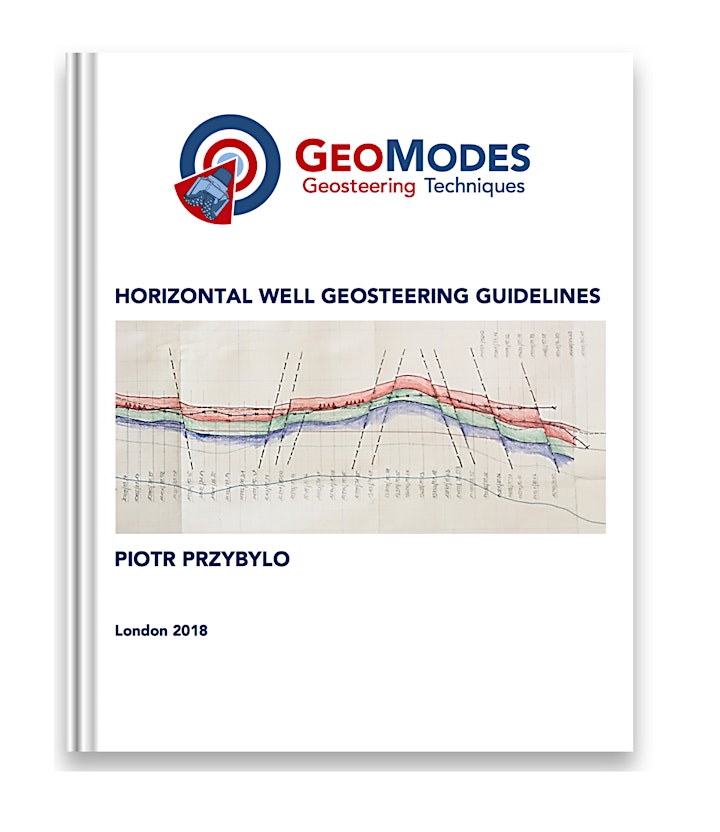 "If you cannot explain it simply, you don't understand it well enough."
At GeoModes, we live by this.
Geosteering is complex enough without speaking about it in a complicated way. That is why we offer our clients additional simple and clear explanations in the form of the book - Horizontal Well Geosteering Guidelines.
In this first-ever comprehensive technical guide, the question "to steer up or to steer down?" is easily answered as the author takes the reader through the geosteering decision-making process step by step. The book focuses on three main areas: planning horizontal wells, geosteering methods; and steering instructions, allowing the next generation of industry talent to learn the unique skill of geosteering horizontal wells in half the time of the traditional learning process.
This geosteering compendium is a unique position because such content has never been published before. It is now available to everyone. Everything you need to know to answer the "steer up or down" question is here.
The book is a perfect tool to get prepared for the 3-day virtual Horizontal drilling and geosteering course and it can be purchased on BLURB and AMAZON.
To order the book please use the links below:
BLURB:
https://www.blurb.com/b/9397325
AMAZON:
https://www.amazon.co.uk/dp/1091591733/ref=cm_sw_em_r_mt_dp_z7smFb0VBFN52
Date and Time
Location
Refund Policy
Contact the organizer to request a refund.
Eventbrite's fee is nonrefundable.