| | |
| --- | --- |
| Hormone Harmony Workshop For Natural And Durable Weight Loss Without Hunger | |
Event Details
For Busy professionals Women who are unsatisfied with the way their body looks. 
Discover How to Unlock Your "Valkyrie Hormonal Harmony" and Get On the Fast Lane To Durable Weight Loss, All Naturally !

WHEN: Sunday 23 September 2018, 12pm - 4pm
WHERE: Natural Fitness & Therapy Centre, Eastbourne
I almost felt like dying.
It was so embarrassing…
So much that I wanted to disappear.
If I had an invisible cape like Harry Potter I would have used it right at that moment!
I was crying.

It was on a rainy day in London.

I was just stepping up on my gym's bathroom scale while pinching my ugly belly fat and yelling at what was my sad reflect in the mirror.
"Why do I have to be so fat?!"
"What am I doing wrong?"

I was eating healthy and working out, I thought that what was needed to lose weight.
I was desperate and despite all my sacrifices, there I was, hitting rock bottom.

I was sick and tired of the way my body looked.
I was asking myself :
Why do some women seem to be able eat everything they want and stay lean, while other women are less fortunate, like me, and gain 2 pounds just walking in front of a cake shop and taking a glance ?
Is your body confidence the final missing piece of success in your life?
Like me there's probably days where you really doubt yourself, and lack any confidence.
It's crazy how our body self-image can affect our energy and our mood.
If you're like me :
You know deep down in your heart of hearts, that what's missing in your life is the fitness/health aspect. You already take good care of your finances, they're going well. You're already taking good care of your brain, it's definitely being used at its full capacity in your great career. No doubt.

But then why are you not doing the same for your body?
What I've realised is that we're going to live in our bodies for the REST of our life.
Right?
So … Why not treat it as our greatest and most important asset?
You probably had, like me, your fair share of painful moments because of your weight. Like one day Chloe, an executive for a top bank in London, had to take the stairs and she felt completely exhausted once she reached the top floor, short of breath, and obviously she had that important meeting coming up right after and she was SO sweaty! She felt so ashamed to be out of shape!

You see if you've ever tried to lose weight in the past, it probably didn't work very well. Or if you did lose a bit of weight ... it probably came back very quick.
The reason is that you were following wrong advices from pseudo-trainers and fake-experts...
Let me explain :
WARNING!
Stay FAR away from these

2 dangerous Hormonal Balance Disruptors

when you want to lose weight and keep it off!
They can WRECK your hormones balance which will make you gain fat more easily than ever (scary and deadly stuff!)
The 2 most common mistakes people make when they try to lose weight:
1) Dangerous Hormone Balance Disruptor #1: Long slow-paced cardio doesn't work - here's why:
There's a rule of thumb regarding the human body that you can keep in mind from now on:
The body is a cyclical machine, which means that everything that is long paced without recovery doesn't serve the greater body health. The reason is that our body is made to be strong, and needs a recovery period to adapt itself. Put everything into that workout AND then a rest period is good for you, as it makes your body adapt and get stronger and better.
That's why athletes take hot and cold baths to accelerate recovery.
Think about prehistoric times - we didn't jog for an hour. If we had to hunt a beast or to run away it was only a few minutes at most. It's the way our body was designed - like any animals really!
Instead do this :
Expert studies suggest that instead of doing slow cardio for an hour or 2, which is not only time consuming and boring, you try strength training and some High Intensity Interval Cardio because that will work best if you're looking to lose weight fast without spending half of your morning or evening at the gym. I know you have a busy schedule so it's terrific news for you!
Also,
2) Dangerous Hormone Balance Disruptor #2: Popular Diets don't work, here's why:
A low calorie diet (even 1200 calories a day is classed as low) will always trigger the yo-yo effect. Which means that if you ever lose few pounds on these diets, well…if you give up then the fat will come back quicker than it took to lose it! And to make things worse, you will gain additional weight! The extreme change in the number of calories wrecks your whole system, including your hormones AND metabolism. So because of this starvation, your body reacts by going into survival mode and storing everything it can into FAT. Why? Because your body reacts with its natural survival mechanism to avoid the next "famine" as it thinks that a low calorie diet (or skipping meals) is some kind of famine, and that food is scarce. Your body doesn't know that there's a fridge full of food a few meters away!
You can't survive long term on a low calorie diet as it impacts your hormones. It will make your body crave food, and sweet things and you'll end up binging and maybe even giving up on your diet!
So for that reason, having a too large calories deficit during your day will be counter-productive to durable weight-loss. You have to AVOID it at all cost.
Instead do this :
It's better to eat the right amount for your body and in a way suited to balancing your hormones, I'll tell you more about that later.
The bottom line is : Don't fall into these 2 dangerous pitfalls listed above, or it will have a negative impact on your hormones and losing weight will be so much harder. (we really don't want it any harder than it is, do we?!)
"So if steady cardio and low-calorie Diets aren't the solution to weight loss, how can I keep my hormones balanced to lose weight for good?"
I call it :
"Valkyrie Hormonal Harmony"
Have you ever noticed that life is full of surprises, and sometimes sh*t happens !
At first, you get angry about the situation.
But then... few weeks later (or perhaps months) ... this sh*t was in fact a BLESSING in disguise!
Like I told you earlier, I had to near enough go through a breakdown to get my breakthrough.
That blessing in disguise for me, was discovering what I call the Valkyrie Hormonal Harmony. (which has nothing to do with Valkyries, it's just my brand name :) )
What is it ? Glad you're asking!
By unlocking the Valkyrie Hormonal Harmony you turn your unwanted fat into energy that your body will use as a source of fuel! What's even more impressive is that by using this mechanism, through proper hormone balancing, it makes the body actually WANT to burn fat because it's the only way it can properly maintain the hormone balances and your body will react by GETTING RID of the stubborn weight that you hate so much.
In fact : What's happening is that we are reversing the process of fat storing, into fat-BURNING.
Let me explain.
We accomplish that by first understanding which hormones are affecting your body, then rebalancing the main hormones responsible for causing intense cravings and hunger.  
THEN we "reassure" the body by taking it OUT of "starvation" mode and FINALLY we train it to burn fat instead. (oh yeah!).
And the good thing is, it does not take forever to do it.
The Valkyrie Hormonal Harmony achieves this rebalancing in 12 weeks.
And at this point, your body has no other choices to adapt itself! And it reacts by burning the fat off in order to "Get rid of the threat!" All because your body wants to survive, so it will do whatever it takes for that. That being said, there's no danger whatsoever and this is a health conscious programme.
Simply put: your body is only reacting to a natural mechanism (that I call the Valkyrie Hormonal Harmony) so it's safe and secure.
As my client Theresa puts it :
"It was like a breath of fresh air! I feel at my best since I started your advice Suzie. I knew that something was wrong in my body before. Even though I was often at the restaurant, I wasn't eating that much, yet my body looked fatter and fatter.
Your Valkyrie Solution really unlocked a new path for me. It was almost effortless! Almost too good to be true, but my scale reassures me daily, I kept my 16.5 pounds off, for good!"
Now let me ask you this:
Can you see yourself getting these same results ? Wouldn't it be nice ?
On a scale of 0 to 10, how good and how much better will you feel about yourself with your extra pounds off your body?
You'll be going to your usual meetings with a confident smile and look, your chin up, in an office or restaurant, with nice clothes that fits your NEW body like a charm!
So how did Theresa went from feeling fat to be fully confident about her body ?
How important is it to unlock the Valkyrie Hormonal Harmony Solution?

If I had to make the choice between knowing how to unlock the Valkyrie Hormonal Harmony and working out at the gym. I'll go with the Valkyrie Hormonal Harmony EVERY TIME.

And I say that only to make a point. Yes it's damn important to know about it!
Listen, nutrition plays a big role, because that's how we can have some control over our body and make it react the way we want. A bit like a maestro with his orchestra, we will "orchestrate" our body to play the "fat burning" sonata!
EVEN BETTER : We will ask our body to play it 7 days a week ! Even when we're enjoying a delicious double chocolate cake on the weekend :)
Ok that was silly a bit, let's go back to business shall we!
It can be fun to lose weight !
You see, contrary to strict diets, my approach is made for busy professionals women that are short on time, and that like to enjoy good food :
BECAUSE she wants to
BECAUSE she deserves it, and
BECAUSE she can afford it !
After all, why bother working and hustling so hard if you can't taste the fruits of all your hard labor, right?!
Join me for one day and you'll discover the fundamentals of the Valkyrie Hormonal Harmony solution at my event.
Want to know a bit more about me ?
A bit more about Suzie :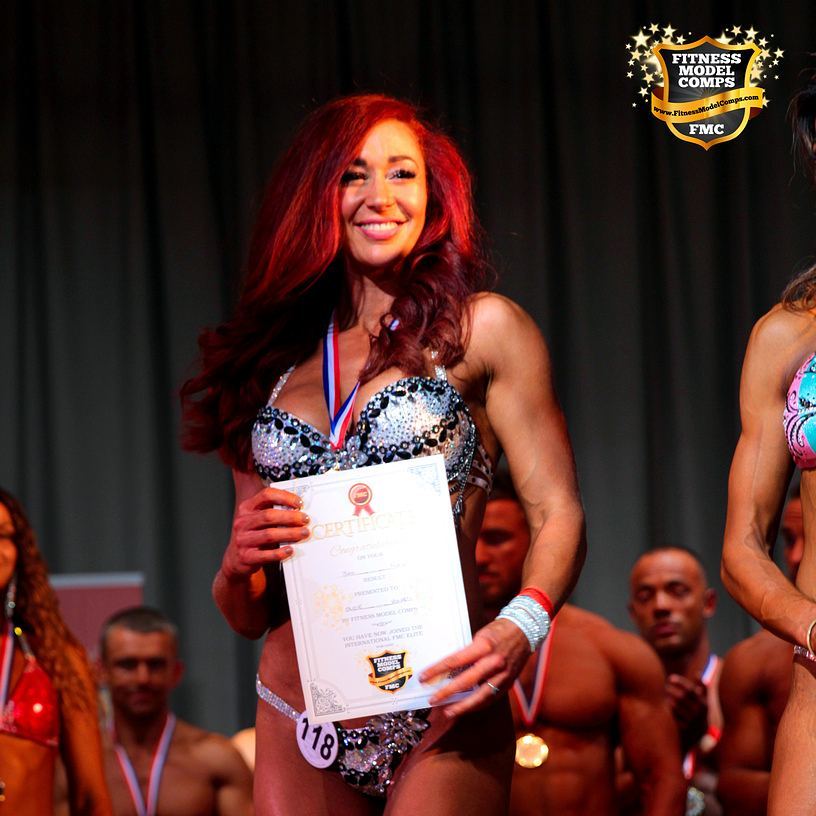 Suzie Jane Volkes-Smith is the Director of Be Valkyrie, Chapter Lead of Fiena Members Club, a champion fitness title holder and co-author of the books Fit for Purpose: Leadership #4 and Successful Habits for High Performance Women (2018).
Suzie worked for many years in travel whilst being able to train for bodybuilding competitions so understands exactly how to be healthy and stay in shape no matter
how busy you are or where you are in the World. Suzie also has a background in nursing and healthcare which was a motivator to help other women improve their health and body.
In my life I went through hating my body and struggling with keeping fat off my body, to UK fitness champion in 2015.  
And a big part of my success, comes from what I've learned through my journey and struggles. And the other half is when I accidentally stumbled on what I call the Valkyrie Hormonal Harmony Solution.
I was so excited with what I discovered that I took it to heart that it was my goal to share what I've learnt and change other women's life with this secret!
Here's some of my clients recent results :
Do you like success stories? Here's several recents success from women who reached Hormonal Harmony :
The One-time Event for a Slimmer You !
For only 20 quid, unlock the power of the "Valkyrie Hormonal Harmony Solution" and a sexier and more energetic you !
I think I do a pretty good job of summarising my years of trial and errors and researches in just 1 short day.
So why hold an event in Eastbourne?
Because the fact that you're going to have to come and physically sit in a room and take notes, makes it psychologically like a commitment towards your physical goals.  You won't be able to step back. In fact I'm going to lock the door when everyone gets in here...I'M JOKING! But you see this alone can triple your chances of success. You'll want to get everything you can from it and you'll do your best because you've already taken your first steps down the path. (I've seen it in my clients, they never felt so engaged in their quest to losing a few pounds and taking back control of their body and their life.)
What's the investment to transform your body physically?
Let me tell you what my personal goal is for this event:
I, Suzie Volkes, want to make sure you get your money AND time's worth! And for this I needed to come up with the very best of everything I ever learned and tested with my hundreds of personal clients. I've distilled for you 5 years of trial and errors that you won't have to go through to get the body you always dreamed of.

I want that you to come out of my event feeling pumped to get started and give you confidence that you will succeed to accomplish your physical goals! Not only will you get a seminar packed with golden nuggets that will help you get more energy while burning some fat off!
Oh by the way, you will receive a handout so it's easier to take notes and follow my seminar along the way :)
Here's what you will discover by attending my evening seminar :
✔I'll reveal my secret technique on how to control and dictate to your body and hormones into using fat as it's primary source of energy ! (Let it feast on your stubborn and unwanted belly fat!)
✔ I'll share with you the secret to turn your body into fat-burning mode using this unknown SUPER food
✔ All seminar attendees will get my list of the top foods to lose fat, gain more energy and be more efficient in your day-to-day life! PLUS how to use them correctly to burn fat around the clock!
✔ Which hormones affect your body and how to stop them in their tracks, and turn the 'lever' into fat burning mode instead! (one of the ways is through nutrition - we will see how to do that)
✔ WARNING : Don't eat these 'fake' healthy food, eating them will make your body want to store MORE UGLY fat!
✔ The right way to exercise to burn calories and fat so that it keeps working even after you're done, for the next 24 hours, and NO, its not steady cardio! (actually you might even enjoy it!)
✔ Are you sick and tired of being sick and tired? We will see what's causing that and how to prevent it, and keep it at bay for good !
✔ What you need to do when you're 'cheating' on your diet.
✔ How to resist your sugar cravings the RIGHT way. PLUS how to reduce the frequency of your cravings, gradually, until they almost completely disappear from your life!
✔ How to know exactly what your body needs in terms of nutrition to lose weight while still being more energetic than ever ! (it's simpler than you think!)
✔ How to BOOST your libido levels through certain nutrition patterns that will unlock more energy, a stronger sex drive, and more confidence at work! (this one is hot!)
✔ Do you want to be super productive? Here's how to skyrocket your energy levels through nutrition and other techniques (this will make you on fire at work! As a bonus: you will feel a urge to workout!)
✔ How to know if you're on the right track to losing weight, hormones wise, and what progress you can expect on a weekly basis (it can go really fast at the beginning!)
✔ How to lose your stubborn fat without any feeling of hunger, WHILE eating probably even more than before!
✔ Eating often at the restaurant? Here are my best tips and tricks to still enjoy the good food in life while still losing weight and fat!
✔ How to have strong mental motivation, on demand.
✔ I'll reveal to you at the seminar how to master your psyche and get pumped up with your weight loss journey (and you can use this technique at work as well!)
Reduce the impact of Menopause and Perimenopause on your body and mood
As you probably already know, hormones regulate everything in your body. Starting from a young age, into puberty and still do now.
As women we see our body and mood changes all along these hormonal rollercoasters.
So it only makes sense that having our hormones in harmony allow us to keep the impact of the menopause in check.
I'll reveal everything that you MUST know about these changes at my event.
Since it's a woman only event, I'll talk about the main hormones that when deregulated have the biggest impact on our bodies, and how to re-balance them naturally and easily.
So you can keep off most of the side effects of menopause and perimenopause!
That information alone is worth your attendance!
BUT... here's the major issue…
You see, since it's a in-person seminar, seats are limited.
As you're reading this right now I might not have the time to update this page, so my guess is that there will be only a handful of seats left. SO for that reason you must ACT NOW!
If you want to be a part of that group of women who master all the spheres of their life, then you must master your own body as well. Give it a good thought because your body is your vehicle for the rest of your life. Not only will you look and feel great but you'll also have more energy, probably even more than you ever had  That benefit alone will make a massive ROI wealth/career wise. It's like the event actually BRINGS you more money by attending it.
100% MONEY BACK GUARANTEE
I guarantee you will love my Valkyrie event or your money back !
Listen, I'm so confident this will work for you, that I'm personally guaranteeing that you'll learn from attending my event and feel more confident in your weight loss journey.
It will bring you results month after month.
If you didn't learn a thing just come meet me at the back after the event and I'll refund you the total amount, no questions asked.
It's as simple as that.
You have tons of proof with the before/after clients pictures above that it's been working for others women (young and older), and keep in mind that 98% of them are busy professional women. SO I'm confident it will work for you too, and I can't wait to receive your glorious feedback!

So make the best investment this year by coming to my special event in Eastbourne on the 23 September 2018 Get your ticket while I still have a few seats left. Do it quick because they're going FAST.
Attend, Learn and Transform your body for only £20
It's a no brainer, really. For less than the price of an average restaurant bill!
By taking action and coming to the Valkyrie event for only £20 you ensure yourself that you won't miss this special event packed with tricks and secrets that will give you a sense of power and control over your body appearance.
But please remember, it does takes effort!
I'm not selling any magic pills here. But you know, as everything in life, good things come to those who hustle  The thing is that it's a hundred-times easier when you are doing exactly the right thing to lose weight.
None of your efforts will go in vain. Week after week you'll get new results over and over again. As quickly as the first week, and still going strong even few months after you started using everything you will learn.
We will see more about that during the event.
How much weight would you like to get rid of in 2018-2019?
Picture this :
1 year from now, you're waking up in the morning. Everything is going quite well.
But there's a difference.
In the morning when you see your reflect in the mirror, you're actually impressed.
You smile at yourself.
"Wow I look A-M-A-Z-I-N-G."

You'll be looking at your side with your bum coming out instead of your belly and you'll be very pleased and happy! Why ? Because you're proud of the body you've EARNED. It shows all the effort, and all the good decisions you took regarding your health and body. You feel beautiful, inside and out. You feel confident! You're the total package! A great mind in a great body!
When you get to the office, everyone will be looking at you differently. Women are looking at you with admiration. They greet you with a smile and ask you stuff like: Wow you sure look great! What's your secret to looking that good?". Men will be impressed by your appearance, and they will compliment you. They will even be a bit intimidated by your look. At this point in your life you'll be the ultimate representation of an overachiever, a real successful woman in ALL aspects!
People will look up to you.
All you have to do to make that vision a reality is order your ticket here on eventbrite and use their 1 click tool after your purchase to sync the event's date with your smartphone calendar, that's it!
If you do nothing today, here's what might happen:
-Each morning when you look at yourself in the mirror, you'll keep hurting inside…
-Each day you'll think and worry about your weight
-Each summer you'll be ashamed and you'll always wear loose cloths to cover your chubby body.
You'll keep having low energy each day…
That's what might happen if you do nothing today.
Now your 2nd option is much more positive. IT'S ABOUT ACTING NOW.
Go forward today. DO it for you.
To have NEW results, you must forget your OLD habits, and take NEW actions.
If you want the body you have always dreamed of, you must come to my event and be like all the other busy executive women that I've helped lose fat and get more confidence with how their body looks.
You really deserve that happiness. Secure your spot at my event now!
What do you have to lose? For the price of a cheap restaurant, you get the chance to discover all the golden nuggets about nutrition and weight loss. The question is more can you afford NOT to come?
You're only 1 secret away to a healthier and sexier you. What will decide upon how long you're going to be on this earth depends on the choices you make TODAY. Will you invest a little bit of your time to get a slimmer and healthier body? Now that's your call.
Invest in your health today, secure your spot to the Valkyrie Event right now while we still have seats.
See you there !
Suzie Volkes
"The programme was easy to follow and incorporate into my busy life. The dietary changes meant I lost weight and now have lots more energy. I'm so much happier with how I look and feel & am more aware of what I'm eating."
-Trisha
"I'd been following Suzie on social media for a while and admired how she was able to juggle a busy career and stay healthy. After years of yo-yo dieting and following the latest trends, I was lost. Suzie taught me strategies for dealing with situations like weekends away and parties to avoid bad habits. Suzie is extremely knowledgeable and the nutritional guidelines are spot on using researched information and not what's currently trending. I'm so grateful for the opportunity and can't recommend her enough."
-Amy
"I enjoyed everything about the programme. I loved the training, especially seeing the changes to my body. I became stronger and toned the areas I was struggling with. I learned a lot more about nutrition and it gave me a different outlook on my food intake. I loved the way Suzie planned all the nutrition and training as it was so easy to follow and I learnt so much."
-Ali
 FAQs
But I am too old to lose weight!
Many women who sign up to my programs are 35-55 years old. But since we are using science and hormones to order your body to lose weight, it will work for for any age. (more efficiently on women)
But I am different, my fat is really stubborm and REFUSES to go away, will it still work for me?

That's what all my clients tell me at first :). When you finally obtain a healthy and optimal hormonal balance through my Valkyrie hormonal mechanism, then losing fat becomes second nature! Of course there is some effort needed if you want to get as good results as my clients. (You can see their results on this page)
I like to dine out and have wine a couple times a week, will it still work?
Of course! When you lack the fundamentals of good diet to balance your hormones, every cheat meals seems to turn into disaster. BUT when your body is functioning optimally, you can still enjoy some sugary treats without having to feel guitly!
Life was meant to be fun, so you could enjoy your favourite food while doing my program (we still have to limit a bit though). Just come at the event and see for yourself.
Why should I trust you and the Valkyrie Solution?
You can start by looking at all the past results of my clients, it's living proof that this method works.

Do you have questions about Hormone Harmony Workshop For Natural And Durable Weight Loss Without Hunger?
Contact Be Valkyrie
Where

Natural Fitness & Therapy Centre
Royal Parade
BN22 7AQ Eastbourne
United Kingdom


Organiser
Suzie is the owner of Be Valkyrie.
Be Valkyrie specialises in hormonal rebalancing and health and weight loss transformations for professional women in business.
Suzie is a personal trainer and health coach, a former champion bodybuilder and co-author of the books Fit for Purpose: Leadership 4 and Successful Habits for High Potential Women due out later this year.