Hòro-Gheallaidh Family weekend
Description
Join us in June for a fun-filled, family get-together celebrating the Gaelic language!
It will be a weekend packed with fun activities. Check out the line up below to see what we have in store!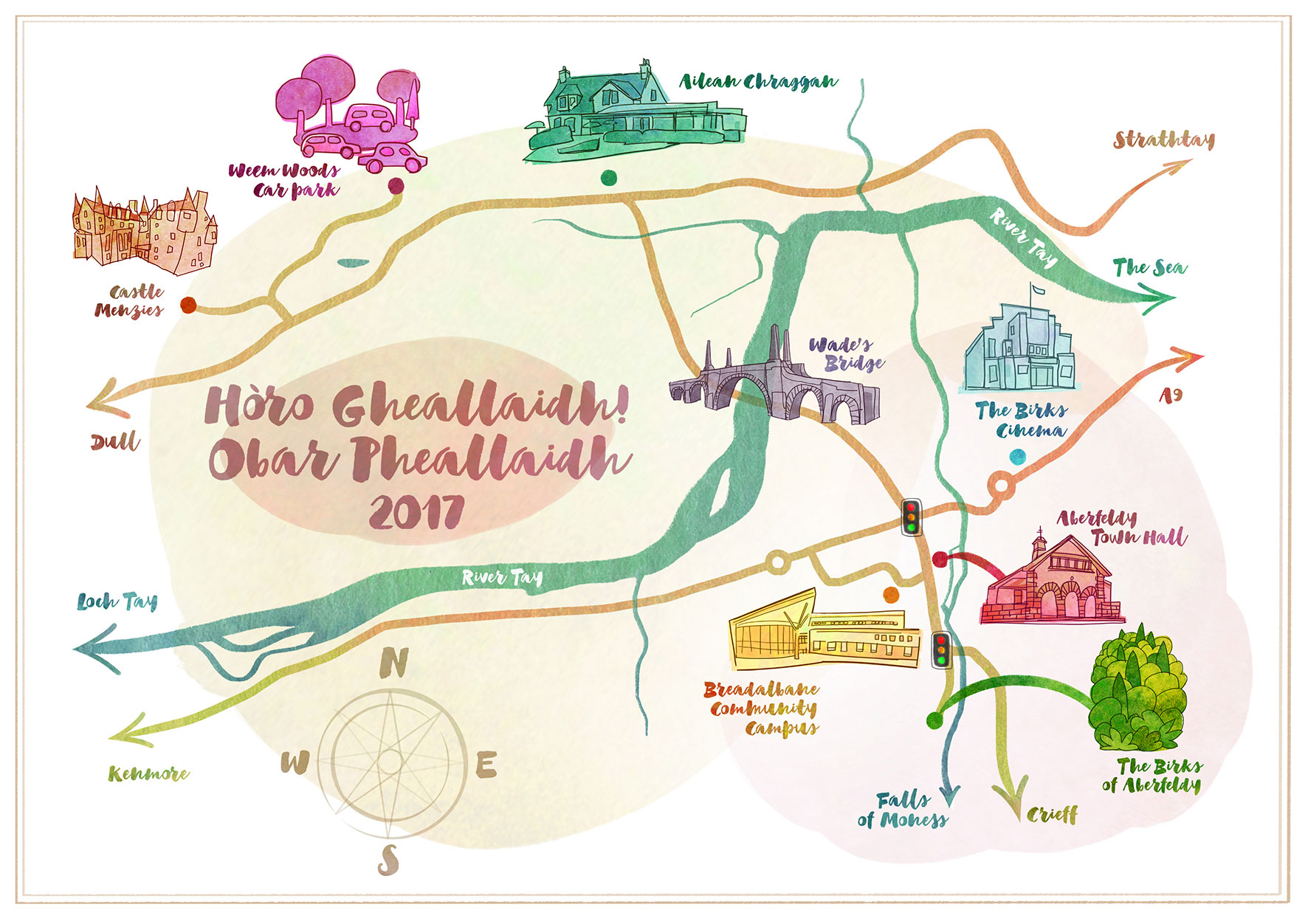 Saturday 10th June
Circus skills & Story telling - Learn circus skills with Ariel Killick, an award-winning Scots Gaelic performance artist. (www.independentstateofhappiness.com) Be enthralled by her magical, interactive storytelling in the Birks forest right here in Aberfeldy!
Craft workshop - Ribbons, bells, flags, bits and bobs! Create a fun streamer, flag or mask for our colourful parade to the castle ceilidh!
Music workshops - Our music workshops will be provided by Eilidh Cormack, a gold medallist who performed at this year's Celtic Connections and Hamish MacLeod, a guitarist who established the 'Gaeltronica' band INYAL.
Dance workshops - The ceilidh band Contra-alt-delete will be on hand to get the children warmed up and well practiced so they can show off their dance moves at the evening ceilidh.
BBQ and Family Ceilidh - Early evening BBQ at the Chraggs followed by a short parade to the famous Castle Menzies to dance the night away with ceilidh band Contra-alt-delete.

Sunday 11th June
Outdoor activities - Fun in the forest with bushcraft skills and den building with Spòrs Gàidhlig.

Cinema - Sit back and relax in The Birks Cinema Aberfeldy after a fun packed weekend.

*All childrens activities will be delivered in Gaelic. All activities are in Aberfeldy within walking distance.
ITINERARY
Saturday 10th June
(Group 1) – Primary 1 - 4
(Group 2) – Primary 4 - 7
(All)
TOWN HALL
9.00 (All) Welcome and registration
9.30 – 10.30 (Group 1) Circus Workshop
​​ (Group 2) Music Workshop
10.30 – 11.00 (All) Break – teas, coffees and juice
11.00 – 12.30 (Group 2) Circus workshop
11.00 - 12.00 (Group 1) Music Workshop
9.30 - 12.30 (All) Crafts workshop, songs and music

12.30 – 13.30 (All) Lunch break – no lunch supplied. Please bring your own packed lunch
THE BIRKS WOODS CAR PARK
13.30 -14.15 (Group 1) Story Telling with Ariel Killick
14.30 -15.30 (Group 2) Alphabet Story with Ariel Killick
AILEAN CHRAGGAN HOTEL
16.30 -18.30​ (All) BBQ – food included with ticket, drinks available to buy
18.30-18.45 (All) Walk to Castle entrance gate
18.45-19.00 (All) Parade to castle from entrance gate with Ariel Killick
CASTLE MENZIES
19.00-22.00 (All) Ceilidh – BYOB, cups and children's squash supplied.
Sunday, 11th June
WEEM WOODS CAR PARK
10.00-14.00 - (All) Orienteering - adults must accompany their children
BIRKS CINEMA
12.30 Gruffallo and Gruffallos child - (All) Gaelic films