Description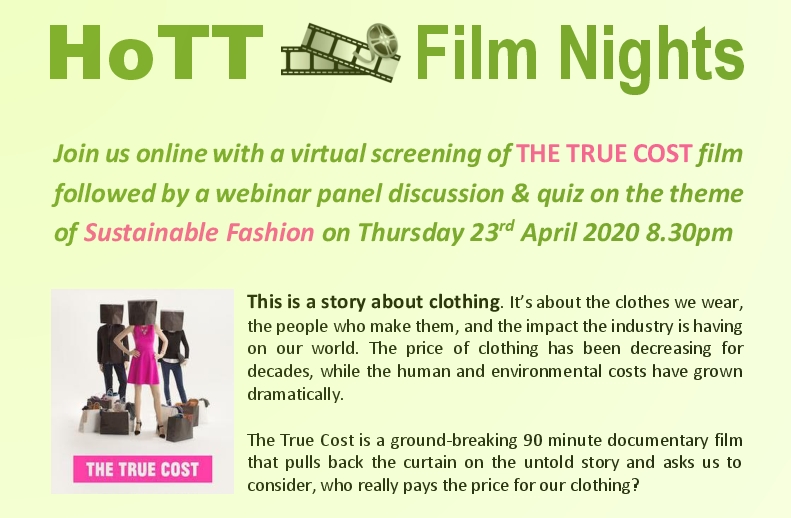 WHAT TO DO
- Watch the film The True Cost at a time convenient to you before Thursday 23rd April 202
- Submit sustainable fashion questions in advance for our Panel, to john@hott.org.uk or use the chat feature on zoom at the webinar
- watch the live Panel Q&A discussion / webinar about the film and sustainable fashion issues at 8.30pm on Thursday 23rd April 2020

but for this you need to:
SIGN UP FOR THE STREAMING LINKS TO WATCH THE TRUE COST FILM ONLINE, ANYTIME DURING FASHION REVOLUTION WEEK
AND
SIGN UP TO WATCH THE LIVE HoTT PANEL Q&A DISCUSSION ABOUT THE FILM AND SUSTAINABLE FASHION ISSUES, AT 8.30PM THURSDAY 23rd APRIL 2020.


The HoTT Sustainable Fashion Panel - the panel will talk about the themes they found most poignant in the film and will answer your questions. The panel is:

Julia Roebuck (host)
Exploring community approaches to fashion in a circular economy: Garment upcycling, repair, rewear & swapping.
www.upcycle-fashion.co.uk @upcyclefashion

Caroline Anstey
Previously a buyer of Children's wear and footwear for national chains and mail order companies. Keen crafter, clothes maker and upcycler.
@rehash_textiles

Holly Carr
Founder, designer, pattern maker and machinist for pocket.
pocket. is a Huddersfield based clothing business. Their mission is to strive to break down the barriers between maker and wearer to offer you an insight into how your clothes are made. They believe our clothes should be cherished for a lifetime, not loved momentarily.
www.pocketclothing.co.uk @pkt_clothing
Laura Queening
Designer and owner, AURA QUE, a fashion accessories business selling ethical handmade products.
Every AURA QUE design is a collaboration between UK designer Laura Queening and the small producer groups she works with in Nepal, India and Vietnam.


www.auraque.com @auraque


IF YOU WANT TO ASK THE PANEL A QUESTION, PLEASE EMAIL THIS TO: john@hott.org.uk