Description
Join us at our meeting hosted by Sarah Champion MP where we discuss the issue of "slavery on our streets" and the growing problem of human trafficking.

In the UK there are estimated to be at least 13,000 victims, many of them in London and who are trapped in sexual exploitation, forced labour, and domestic servitude.

Kevin Hyland, the Independent Anti-Slavery Commissioner has said, "London has a huge population with busy airports and a big economy. There is immense demand for illicit services. Compared to smuggling guns or drugs, trafficking of people has been seen as low-risk. We need to develop an understanding of the whole threat picture."

We often think that modern slavery and human trafficking is not our problem as it happens elsewhere and in other countries. But modern slavery is an appalling crime. It can affect men, women and children – many of whom are British. It is happening right now, often under our noses, and it impacts across every level of society.

Victims of slavery who have acted as witnesses in the prosecution of their traffickers are ending up destitute and homeless on the streets of Britain and other potential whistleblowers, left without accommodation or access to support services for weeks after being identified as victims of slavery, have been forced to return to their traffickers simply to keep a roof over their heads.

This is a major problem that needs addressing urgently and this will be the topic of this meeting.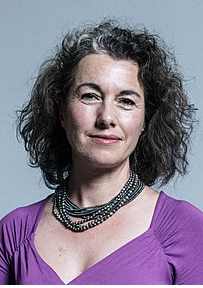 Sarah Champion is a British politician and MP for Rotherham. Before entering Parliament, she ran art workshops and was employed as the Chief Executive of a children's hospice in Rotherham. Sarah has championed tackling Child Abuse and trafficking and has had an impact on legislation. She has caused controversy with her outspoken remarks about the "grooming" of young people but she has not been afraid to bring this issue into the public domain for discussion and debate.

Kate Roberts is Head of Office at the Human Trafficking Foundation and has over 10 years experience in anti trafficking work gained from working at Kalayaan, a UK charity where she led on policy and delivered legal advice and direct support to migrant domestic workers in the UK, many of who have been trafficked. Kate has an in depth knowledge of the UK's anti trafficking and anti slavery measures having been a First Responder to the UK's National Referral Mechanism since the system was developed in 2009 until leaving Kalayaan in 2016 and as a founder member of the Anti Trafficking Monitoring Group. Kate has used this experience to influence anti trafficking policy and awareness raising. Kate has given evidence to several parliamentary inquiries and committees, including at all stages of the Modern Slavery Bill. Kate has extensive experience of working with the media.

We will have two case studies of people and organisations working with those who have been trafficked.

Sara Cottingham the Outreach Manager for the Sophie Hayes.Foundation Day 46Programme that provides coaching, access into education, training and work for female survivors of trafficking. The Sophie Hayes Foundation was set up and inspired by Sophie and a small team in January 2012 and now works with those who have been trafficked.

Emilie Martin has 13 years' experience in Anti-Trafficking. In February 2017, Emilie joined the Salvation Army as operations manager, supporting potential victims (PVOT). Her journey started in 2004, and shaped her legal degree where she completed her final year dissertation on this topic. Emilie was called to the Bar at Lincoln's Inn in March 2012. Emilie joined the Home Office in 2009 as a competent authority and asylum case owner. In June 2012, she specialised in trafficking appeals as a senior Presenting Officer. In 2015, Emilie joined Hestia as service manager. There, she managed over 45 staff, overseeing five safe houses and London's outreach service, the largest outreach service nationally.