Housing and Dementia: Using the framework
Webinars exploring how to use the Housing and Dementia Practice Framework to support people living with dementia to live well at home
About this Event
There are over 93,000 people living with dementia in Scotland and the housing sector plays a critical role in supporting people living with dementia to live well at home. This webinar series aims to support housing organisations to improve how they support people living with dementia through the practical application of the Housing and Dementia Practice Framework and exchanging of good practice and knowledge.
The first webinar introduced attendees to the Housing and Dementia Framework. The second webinar covered technology enabled care and housing and the role of occupational therapy in relation to meeting people's housing needs. The third and final webinar of the series focusses on involving people living with dementia in service improvement and redesign.
Webinar 3:
Involving people living with dementia in service improvement and redesign
Speakers include:
The Scottish Dementia Working Group
Community Engagement, Healthcare Improvement Scotland
Each webinar will be hosted by James Battye, Associate Improvement Advisor, Healthcare Improvement Scotland (ihub) and Ashley Campbell, Policy and Practice Manager, Chartered Institute of Housing Scotland.
We look forward to seeing you there!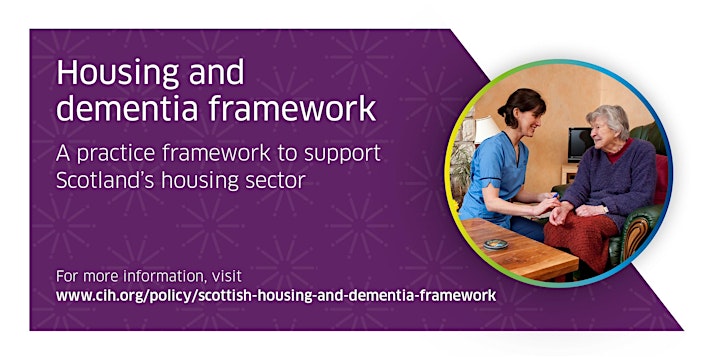 Registration
You can secure your place by registering your details here on Eventbrite or by emailing us at his.phh@nhs.scot with your name, email address and the name of the organisation you represent.
Once registered please hold your selected date(s) in your diary - Webinar 2 will be held on 26 January 2021 from 2pm-3.30pm and Webinar 3 will be held on 24 March 2021 from 2pm-3.30pm.
Joining the webinar
Following registration you will receive a joining information email from his.phh@nhs.scot which will provide the joining link and joining instructions, please save these to your diary. Joining information will be emailed from 21 January for Webinar 2 and from 18 March for Webinar 3.
Privacy Notice
Webinar: Housing and Dementia Practice Framework – using the framework
Your personal data is being collected for use by Healthcare Improvement Scotland. Please find our contact details, and those of our Data protection Officer below.
Email: hcis.informationgovernance@nhs.scot
Tel: 0141 227 3281
Your data will be used to keep you informed of the webinar and to send event follow up materials to you.
This processing is necessary for us to fulfil our public task.
The personal data we now hold about you is: name; email address.
We will not disclose your data to any other person unless the law says we should.
We keep your personal data for only as long as it is needed for these purposes.
You have the right to ask us for a copy of your information, or to delete or correct it if you think it is inaccurate. You can ask for data you have given us to be sent to you in electronic format. At any time you can ask us to stop or limit the processing of your personal data.
If you are unhappy with how we handle your data, you can complain to the Information Commissioner (ICO), whose details are below
The Information Commissioner's Office - Scotland
45 Melville Street
Edinburgh, EH3 7HL
Tel: 0303 123 1115 Email: Scotland@ico.org.uk
We will process your data as part of a contractual requirement. If you do not give the data needed we will be unable to invite you to or keep you informed of the event.