Description
Housing and Health: Keys to Integrated Care
Date: 7 November 2019
Time: 9:30am arrivals, ends at 3:30pm


About this Event:
The conference focuses on the importance of community and home for joined-up care for patients. Where we live, the homes we live in and the stability of our housing situation can have a profound impact on our health. We will explore how integrated care can support keeping people independent and at home, and on supporting discharge from hospital. The event will also look at the wider picture of housing and home life, and its effects on long term health needs such as fuel poverty, homelessness, poor quality and overcrowded housing. We will look at the role that local authorities, health and housing have to play to address some of these issues, showcasing digital solutions, transformational changes to service delivery, and emerging ideas.
What's on the agenda?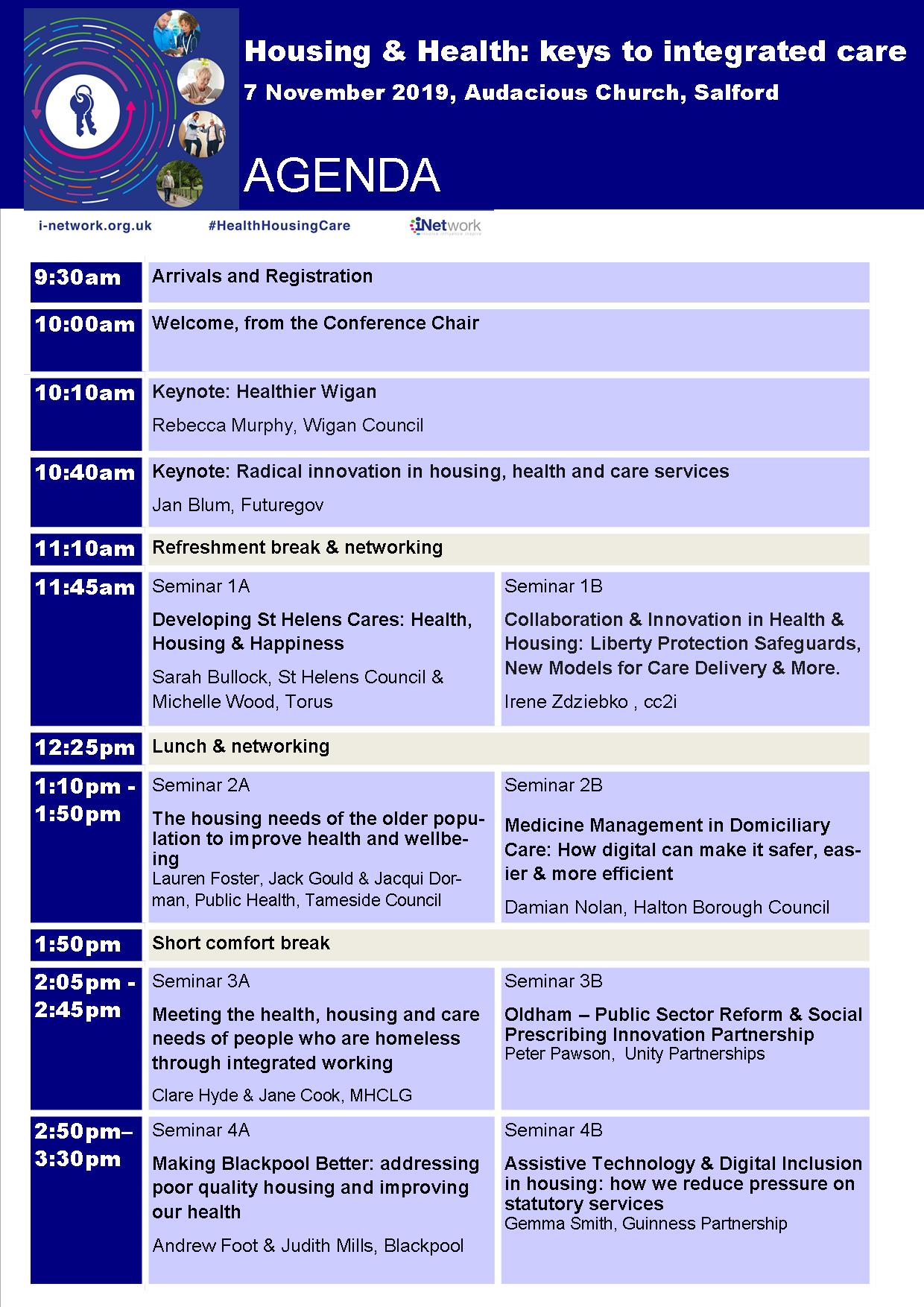 Who should attend?
Anyone interested in integrated care, particularly from health, housing and local authorities.

Anything else I need to know?
Arrivals are from 9:00 (for a 10:00am start), the event will finish at 3:30pm. Please note that lunch will be provided and dietary needs, if submitted more than 7 days in advance, will be catered for (in the event that your dietary requirement cannot be met, you will be informed before the day of the event).

Places are limited so please register your interest to attend ASAP.

Complimentary tea, coffee and lunch will be provided on the day.

All iNetwork events are CPD certified. Delegates are eligible to request, on registration, a free CPD certificate for attending. Delegates must sign the register to prove attendance, and CPD certificates will be sent after the event.

The small print:
Event Registration & Cancellation information: FREE attendance for those individuals from organisations that have a current subscription with iNetwork . For non subscribing public sector members, the cost is £295 plus VAT per person.
If you plan to attend, please register no later than 7 days before the event in order that we may confirm numbers with the venue. Please let us know in plenty of time if you have booked onto the event but cannot attend by emailing karys.thompson@tameside.gov.uk.

No cancellation charges apply, however each no-show or last minute cancellations is costly, using funds that cannot be recouped. Sufficient notice [at least 7 days in advance - which is the minimum notification for most venues] or delegate substitution with a colleague is much appreciated.

iNetwork's privacy notice can be found here: https://www.tameside.gov.uk/privacynotice/finance
Organiser of Housing and Health: Keys to Integrated Care
Involve, Influence & Inspire
iNetwork creates space for local public services organisations to "collaborate to innovate" to deliver more innovative and cost effective support for individuals, families and communities.
A large number of councils, police, fire, health, housing and voluntary sector organisations are members of iNetwork. In addition, we run National Programmes for Central Government and host the National Information Standards body for Local Government, with our sister programme iStandUK.
Established in 2001 by local authorities, iNetwork has been hosted by Tameside MBC since 2006 and have a history of enabling and supporting reform in local public services.
We work across many areas of the government and social sectors to upskill leaders; share best practice and facilitate collaborative thinking spaces. With support from approximately 90 expert advocates who instill their passions, visions and direction into the iNetwork community through the Network Leadership Groups and Executive Boards.
Find out more at www.i-network.org.uk and at www.iStandUK.org
Sign up to our mailing list at www.i-network.org/contact-us