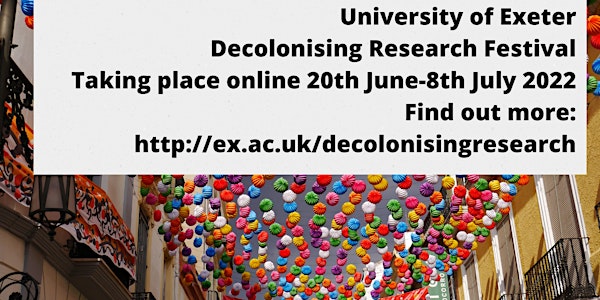 How a predominantly white faculty can empower ethnic minority students
How a predominantly white faculty can empower ethnic minority students talk
About this event
White faculty members or supervisors in senior management positions often shy away from mentoring ethnic minority colleagues, students and proteges because it is 'not their place to mentor them'. While it is true that representation and role models from underrepresented communities are critical to ensure greater diversity and inclusivity and race matched mentorships are useful, research increasingly highlights the benefits of cross-race mentoring in higher education institutes and how white mentors can bring about significantly positive outcomes for their mentees as well as themselves.
Dr Reza will cover three aspects on interracial mentoring, (1) Expectations and Perceptions (2) The Mentoring Relationship and (3) The Racial Component and their role in ensuring a successful mentorship experience. Whilst we cannot apply cookie cutter solutions to close the mentorship gap for ethnic minority students, this may be a useful step to empower white faculty members.
Dr Reza is a Senior Lecturer in Biomedical Sciences (Education and Scholarship) and the Race Equality Resource Officer at the College of Medicine and Health (CMH) at University of Exeter. She holds several leadership roles in the college as the Year 2 Lead for the Medical Sciences Programme, Academic Co-chair of the College Equality, Diversity & Inclusion (EDI) Committee and Module Lead on core (CSC2023 Experimental Design and Statistics) and optional modules (CSC2025 Decolonizing Medicine, An Introduction). CSC2025 is a bespoke module that empowers students to investigate the extent to which Science and Medicine from the Global North as we know it today, have been largely founded on colonialism, oppression, slavery, discrimination and injustice.
She has garnered well-rounded expertise in leading BAME networks, advising strategies on boards and writing EDI policies for new academic programmes aligned to facilitate BAME student retention, progression and sense of belonging. At Exeter, she is leading the anti-racist and decolonial movement at the CMH. She sits on the Expert Advisory Board for a project on 'Making environmental science equal, diverse, and inclusive' at the European Centre for Environment and Human Health with a grant of £100,000 awarded by the UKRI Natural Environment Research Council (NERC).
Dr Reza represents Exeter on the Medical Schools Council EDI Alliance, a network of medical schools across the UK, providing practical guidance to support medical schools to become fair, diverse and inclusive environments in which to study and work. She is a part of the task and finish group working to create a MSC 'Medical Schools Staff Guide' with the express aim of incorporating the needs of different faith groups.
Her work is directly aligned with the University's Success for All strategy, contributing to Strategy 2030 and the vision to 'Lead the progress towards creating a fair, socially just and inclusive society'.