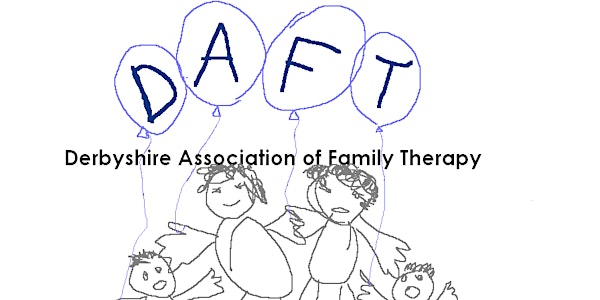 How an understanding of Memory Reconsolidation can enhance practice
Event Information
Location
Room OL1
University of Derby
Kedleston Road
Derby
DE22 1GB
United Kingdom
Description
Derbyshire Association for Family Therapy and the
University of Derby Conference
Presented by Dr. Sara Bridges and Ros Draper
Clinicians have long been interested in facilitating radical lasting behaviour change with and for their clients. In this workshop you will learn how including the process of Memory Reconsolidation in your sessions with individuals, couples and families greatly enhances the regularity of transformational change occurring - freeing clients from entrenched and unwanted behaviour patterns and early problematic emotional learnings.
The workshop will provide a practical overview of how recent key clinical (Coherence Therapy) and neuroscientific (Memory Reconsolidation) findings have revealed a previously unrecognised core process of the brain that dissolves unwanted emotional learnings. Memory Reconsolidation is the brain's innate capacity for radically dissolving at the synaptic level unwanted behaviours and states of mind. Coherence Therapy is a therapeutic modality that by focussing on discovering the emotional logic of problem creating and unwanted patterns of behaviour paradoxically opens up the way for such behaviours to dissolve and lasting transformational change to occur for clients.
The day will be interactive and include observation of video sessions as well as providing opportunities for experiential learning and skills practice.
Dr Sara K. Bridges is the co-director of the Coherence Psychology Institute and a certified trainer and supervisor of Coherence Therapy. Dr Bridges is also the Director of Training and an associate professor of Counselling Psychology at the University of Memphis. She is a recipient of the distinguished Teaching Award for the University of Memphis and an active scholar of constructivism and sexuality. Dr Bridges has co-edited the five volume Studies in the Meaning series. She is a past president of both the Constructivist Psychology Network and the Society of Humanistic Psychology (Division 32 of the American Psychological Association). Dr Bridges is also a licensed psychologist in Tennessee and New York with a distance based private practice.
Ros Draper is a therapist, teacher and supervisor who over the last 35 years has made major contributions to the development of systemic thinking and practice in Britain and Europe. She co founded in 1989 the influential Karnac book series: Systemic Thinking and Practice and until 2011 was series editor. Ros also co-authored the 4th edition of An Introduction to Family Therapy. Recently Ros has become interested in how both Memory Reconsolidation and Coherence Therapy with their focus on grasping the emotional logic of all symptoms and unwanted behaviours are closely aligned to the widely used concept of 'positive connotation' in systemic practice. Ros is keen to share how neuroscientific research can enhance the practice of systemic practitioners and family therapists who understand and integrate into their practice the process of Memory Reconsolidation.
If you are travelling by car, pay and display parking is available on the Kedleston Road campus, but this is limited and it is often full by 9.00. We advise you to park at Mark Eaton Park where there is a shuttle bus available. There is also metered parking on Broadway which is a short walk away. There are more details about travelling to the University here.
https://www.derby.ac.uk/find-us/derby/
Refreshments will be provided in the morning break. Lunch is not included, however a range of eating options is available at the University. You are also welcome to bring your own food and drinks.
Full event programme will be posted on the D.A.F.T. Website Shortly
Date and time
Location
Room OL1
University of Derby
Kedleston Road
Derby
DE22 1GB
United Kingdom