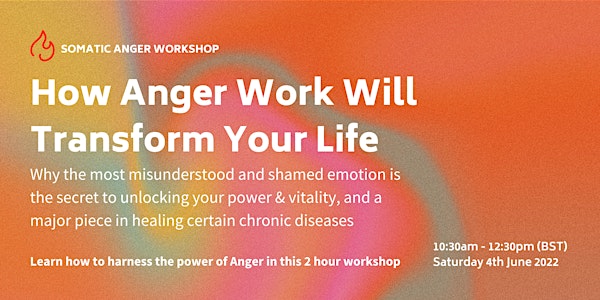 How Anger Work Will Transform Your Life - Anger & Empowerment Workshop
Refund policy
Contact the organiser to request a refund.
Eventbrite's fee is nonrefundable.
Sales Have Ended
Ticket sales have ended
Sales have ended for this event, but if you want to catch the next Anger Workshop we do, follow us on @iamharryliddell and @oh_sarahjane
Why the most misunderstood and shamed emotion is the secret to unlocking your power, and a major piece in healing chronic illness
About this event
For those that repress their anger, does this look like you?
Rarely if ever feel angry
Looks down on anger as bad or wrong
Struggles to set boundaries, if at all
Overly empathetic, logical, understanding, or 'always happy'
Allow others to walk all over you
Avoid life because it doesn't feel safe
Rarely feel passion or a strong sexual desire
Afraid to take up space
Ashamed to have needs
Perhaps eventually blow up after repressing needs for so long
For those that cannot control their anger, does this look like you?
Quick to anger
Interprets normal experiences as a boundary violation or a threat
Struggle to accept life as it is, feels a great deal of injustice
Harshly punish yourself for minor things
Harshly judge others for minor things
Look down upon people who don't stand up for themselves
Ashamed that you cannot 'control' your anger
Chronic Dis-ease Signs:
Fatigue, IBS, and skin disorders are common with repressed or uncontrolled anger.
Both the repression of anger and the uncontrolled acting out of anger are two sides of the same coin. There is nothing wrong with you, nor is there anything to be ashamed of. There is simply a protective bodily process that hasn't been shown that it's safe to relax yet. The aim of this workshop is to begin to unshame the experience of anger, and explore and meet the parts of us that want to keep the true healthy experience of anger shutdown, and finally, learn how to somatically express our anger safely.
-
In this 2 hour workshop on Healthy Anger we will dive into:
The difference between immature anger and mature anger
The difference between between anger and rage
Why rage and unhealthy anger are still a form of repression
Why repressing anger also represses our power and agency
Why repressing anger deeply impacts our health, causing chronic disease and fatigue
Why the repression of anger can cause chronic anxiety, and how to resolve it
Why you are blocking your anger from being expressed
How to set boundaries from an empowered place, rather than a powerless place
How to somatically take up space and get our needs met
The difference between Core Emotions and Inhibitory Emotions, and why it's important for expressing anger
A trauma-informed and Internal Family Systems (IFS) inspired way to reveal and express our healthy anger safely and effectively
A guided meditation to help you meet your anger and the parts of you that block it
Opportunities to connect and share with the rest of the group
This workshop contains all of the knowledge and practice of Anger Work we have gained over the last 2 years, all compiled into a single 2 hour workshop. This contains principles drawn from Polyvagal Theory, Internal Family Systems (IFS), and a generally trauma-informed approach, all long standing and proven modalities in treating trauma and restoring wholeness.
Post-Workshop Integration Session
2 weeks after the workshop, we will be running a 1 hour integration session, where everyone who participated in the workshop can come back together and share what they've learnt, or where they may still be blocked. This includes the opportunity for live coaching to delve deeper into some people's specific issues and blocks.
DISCLAIMER
We endeavour to make this workshop a safe space, however the nature of the content may be inherently triggering for some. We will be delving into potentially triggering topics and other participants may share things that could be triggering. If you have significant PTSD or disassociation we recommend working with an EMDR and Internal Family Systems (IFS) practitioner, and when it has abated this work may be more suitable. We highly recommend asking your therapist before attending if you are concerned. You must use your own discretion when attending.
That all being said, we have found this work powerfully healing to our own trauma and nervous systems, such that we wish to teach the world its power.