Description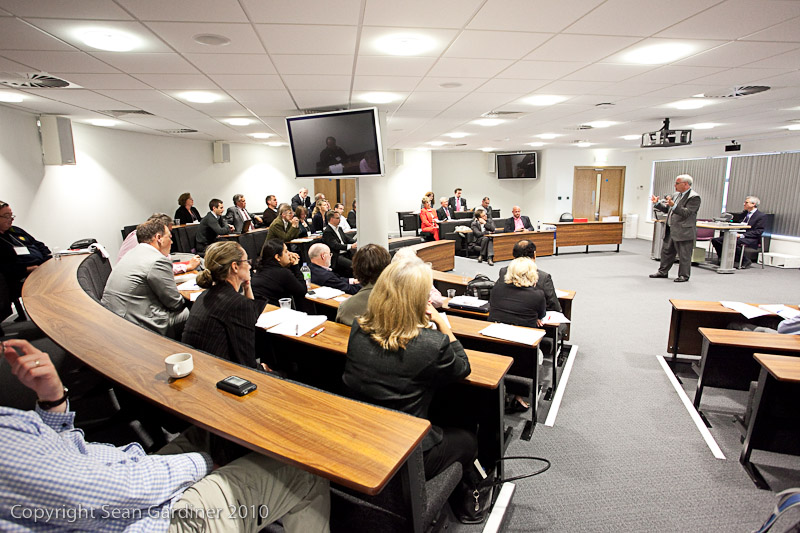 A conference organised the UK Speechwriters' Guild & A Thousand Monkeys, hosted by Bournemouth University Media School

Good writing is a core part of creating any brand.
This one-day conference offers many perspectives on the skills of business writing.
You will learn what good writing looks like and what a difference it can make to your business.

We're inviting top exponents talk about their work and share their knowledge.

You'll hear the theory behind good communication

We'll explain the hot concept 'Tone of Voice'.

You'll get experts sharing their anecdotal experience of working on campaigns

You'll get the perspective of a business owner

We'll mix it up with some humour and examples of the best work out there

Who should attend?

You should attend this conference if your work involves:
Communicating your organisation's mission, vision and values

Dealing with customers

Sharing knowledge

Working with the media

Engaging people with ideas and change
The benefits

Improve the quality of your business writing, sales pitches or marketing materials

Find out about the latest trends in marketing communications

Hear experts share anecdotes about their careers

Listen to outstanding speakers

Raise the quality of performance within your organisation

Meet fellow professionals from the UK
What you will leave with
A better understanding of what makes copy that sells

Tips for writing your sales letters, advertisements and promotion

Ways to find persuasive stories

New contacts, ideas and perspectives on the trade

Fresh enthusiasm for your work
Speakers
Simon Dodd (Welcome address)
Founder of The Digger Agency, Simon has just finished his term as Regional Chairman of the IPA, been made a Fellow of the IPA, and elected to the main council. A 25 year career in advertising has seen Simon work for brands as diverse as Qantas, PlayStation and EDF. Before founding Digger, Simon managed London agency MBA (part of Omnicom), won D&AD awards for Thomas Cook, and was Chief Executive of Dorset agency group RLA. Digger's clients include Whitbread, ATS Euromaster, lastminute.com, De Bortoli Wines and Lebara Mobile.

Ben Afia
Ben heads up Afia, an agency that helps companies sound more human. Working with organisations like British Gas, Aviva, BP, Kraft Foods and Vodafone he uses tone of voice, copywriting and training to turn their language upside down. In a previous life he was the first tone of voice manager at Boots, and he's also a founder and director of 26, an organisation that's changing the way business thinks about language.

Phillip Khan-Panni
Phillip is the UK Business Speaker of the Year. He is also a professional copywriter. He is the author of eight business books, the latest one being The FT Guide to Making Business Presentations.
Nick Parker
Nick is Creative Director for The Writer. He's helped all sorts of organisations make their words work harder: from cool brands like MTV, to global firms like PwC and regulatory bodies like Ofgem. He writes regularly about language in the national press, and wrote a monthly column for Director magazine about business jargon. Before joining The Writer, he was deputy editor of The Oldie magazine.

Sarah McCartney
For 14 years Sarah McCartney was Lush's top writer, and during her time there the company grew from 10 to 700 shops worldwide. Now she works with UK tone of voice company Afia as Head of Ideas, and US creative agency The Odyssey Network, copywriting and running workshops to inspire better writing and creative thinking.
Her third business book, 100 Great Branding Ideas, was published by Marshall Cavendish in January 2012. Her talk will be titled: 'We're All Writers These Days'.
Andy Maslen FIDM
Andy Maslen is Managing Director of Sunfish Ltd, a copywriting agency specialising in corporate publicity, direct marketing and subscriptions. He writes and speaks regularly on copywriting and corporate communications and is the best-selling author of Write to Sell: the Ultimate Guide to Great Copywriting.
Reg Starkey
After studying French in Paris, Law in London and Advertising in Watford, Reg started work as a copywriter when the Dead Sea was only poorly. His agencies included KMP, Y & R, BFMO & S and GBH. His work has been recognised with national and international awards, including a Clio for radio in New York. The American Education Foundation has recently put the book he co-wrote last year - The New Millennium Tales – on its recommended reading list.
His speech will be titled: 'Two Quick Easy Ways to Write Ads - And a Hard Alternative That Works Immeasurably Better.'

Alan Barker
Alan Barker is Managing Director of Kairos Training. He has worked for over 20 years with a wide range of organisations, helping people think more clearly and communicate more compellingly.
Author of 13 books: his Improve Your Communication Skills is now in its third edition. His latest book, How to Solve Absolutely Any Problem, will be published by Pearson later this year.
Alan will run a session called 'Copywriting for non-copywriters'.

Matthew Male
Matthew is the English language consultant from Future Perfect, ensuring that written communications, on which image, reputation and professional credibility rely, are beyond reproach from even the most discerning reader.

Carol Bentley
Carol Bentley, of Promote Your Business, is a direct response copywriter and author of three books (all rated 5* on Amazon) giving advice on how to write compelling sales letters and use direct marketing strategies. Although based in Dorset her clients are global - thanks to the Internet. In her break-out session, 'Words Have Power', Carol shares headline and sales message crafting insights from her best selling book, I Want To Buy Your Product.. Have You Sent Me A Letter Yet? She will also be gifting a copy of her Pocket Guide to Writing Profit-Boosting Sales Letters to her mini-workshop participants.

Andrew Knowles
Andrew is the accountant who prefers words to numbers. His love of clear, concise communication took him through a variety of training and consultancy roles before he discovered the joy of professional copywriting in the social media age. He's a BT Storyteller for the London 2012 Olympic Games and runs his own communication business, Writecombination.
More speakers will be announced in the coming weeks.
We endeavour to deliver all workshops and speakers as advertised. However, we cannot accept any liability for any changes to the programme or speakers.
Watch a video of one of our recent conferences