How can I achieve a better Endodontic Result with Dr Karim Jaafary BDS, MSc
Description
Dentsply Sirona would like to offer you the opportunity to join Dr Karim Jaafary for his one day "How can I achieve a better endodontic result? A hands-on lecture with Protaper Gold and Protaper Next" course at Mercure Tunbridge Wells Hotel. Full programme details and speaker biography can be found below.
Understanding modern, rotary endo techniques using the market-leading rotary file systems ProTaper Gold and ProTaper Next – worth 5-hours CPD
Let us show you how using a rotary file system can save you time and money, as well as improve your clinical outcomes. This course is designed for clinicians not yet utilising rotary file systems, as well as those who have already adopted a rotary system and would like to improve their current procedure.
Course fee refundable as Dentsply Sirona Rewards credit if purchases are made on the day. Special offers available to attendees. See details on the day.
Dr Karim Jaafary BDS, MSc (Endodontics) (London)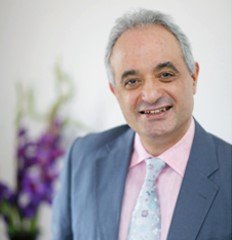 After spending a few years in general practice, Karim returned to Guy's hospital and completed his Master Degree in Endodontics. Since 2007 Karim's practice has been limited to root canal treatment. Karim believes creating a relaxing environment for his patients is an essential factor in contributing to the best possible treatment outcome.
Karim is the organiser of the Endodontic Study Club in Tunbridge Wells and he has both lectured and run hands-on courses for dentists on the subject of root canal treatment.
Aims & Objectives
By the end of this course, attendees will:
•
Understand the core concepts in using rotary file systems in Endodontics
•
Identify tips to improve efficiency without compromising on the final result
•
Be familiar with the bacterial flora and biofilm within the root canal
system
and understand the actions of irrigation solutions
•
Identify problems before they occur and overcome them quickly when they do
•
Appreciate
the importance of magnification as used in root canal treatment
•
Understand
different methods of obturating root canals: cold lateral condensation and vertical heat obturation
Learning Outcomes
•
Understand
the core concepts in rotary endodontics
•
Gain confidence through a series of hands-on lectures to utilise simple, yet effective rotary file systems in practice
Agenda
9.00 am Registration
9.30 am Lecture/Hands-On
10:30 am Break
10:45 am Lecture/Hands On
12:00 pm Lunch
12:45 pm Lecture/Hands-On
2:30 pm Break
2:45 pm Lecture/Hands-On
3:45 pm Close
As part of our quality control procedure, after each course delegate will receive:
•
A
feedback questionnaire
•
Details
of our complaints process
Delegates are advised to keep a copy of the agenda for their GDC records.

The Dentsply Sirona Academy has long been an industry favourite, recognised for the quality of its course content and guest lecturers - both online and in a live event or hands-on course setting. As The Dental Solutions Company, Dentsply Sirona's products provide innovative, high-quality and effective solutions to advance patient care and deliver better, safer and faster dentistry and we look forward to supporting you and your team with comprehensive education opportunities now and well into the future.
Detailed Programme
CPD: 5 Hours
Delegate Fee: £100 + VAT
Including refreshments and lunch
Nurses welcome for an additional £50
How to Book
Register online or contact: Jack Hannam – jack.hannam@dentsplysirona.com
Mobile: 07970 799795

In association with: