Conference of Trade Unionists and Activists to build a strategy to defend our planet and put and end to global warming.
About this event
Global heating is the most critical issue facing workers in the UK and across the globe. Unless immediate action is taken to rapidly reduce carbon emissions we can expect a bleak future of catastrophic sea-level rises, global food shortages, disease, warfare and mass deaths from extreme weather events.
At a time when work is increasingly precarious, the value of wages falling and poverty soaring, it is understandable that many fear the impacts of a shift away from fossil fuel industries, both on their jobs and on energy prices. Unions, concerned with jobs and the immediate bread-and-butter issues affecting their members, can lack longer-term vision or a wider view of what we need to survive and thrive. Yet the needed transition to sustainable, low-carbon economy will demand the creation of huge numbers of new and decent jobs, potentially bringing greater equality and regeneration of regions suffering from the decline of heavy industries along with years of austerity cuts.
In this conference we aim to give delegates a clear science-based picture of the expected effects of global heating, and the challenges we face to act within the short time remaining to avert the worst scenarios. We will look at a number of the myths surrounding the topic, and ask questions such as "does carbon capture and storage work?"; "is it true that we are facing an energy gap if we don't roll out unconventional gas (fracking)?"; "do we have the energy-storage technologies to make variable energy sources such as wind and solar work consistently?". We will look at the genuine solutions needed, and why corporations have a vested interest in delaying their implementation. We will consider the economics of a large-scale "just transition" to a sustainable future, the policies needed to bring this about, and what it means for workers on the ground.
Most importantly, we want to equip attendees to go back to their unions and campaign for the policies we need to build sustainable industries and services which provide decent well-paid and skilled jobs whilst improving quality of life for communities. The afternoon of the conference will be devoted to exploring what we can do, whether pushing to make our own workplaces more sustainable, addressing tensions and concerns of our workmates and communities, addressing education gaps, or using union structures and processes to get the needed policies adopted in our unions, shaping a comprehensive plan for a just transition which all workers can get behind.
The main speakers will be:
1) Dr Anne Mdee, Associate Professor in International Development at the School of Political and International Studies at the University of Leeds.
2) Suzanne Jeffery Chair of the Campaign Against Climate Change Trade Union group and contributer to the pamphlet One Million Climate Jobs (CaCCTU, 2014, updated edition out shortly)
3) John Maloney, PCS Assistant Secretary and lead on enviromental policy
4) Rebecca Long-Bailey, MP, Shadow Secretary of State for Buisness Energy and Industrial Strategy
There will be a variety of workshops on specific topics with a focus on the technologies, politics and economics of a just transition to sustainable methods of energy generation, transport, building and buildings retrofitting, heavy industry and much more. A just transition is one which puts workers and their communities at the centre, helping to regenerate areas suffering from industrial decline by investing in decent secure jobs at decent wages, which effectively limit climate change and mitigate its worst impacts whilst better meeting ordinary people's need for affordable energy, housing, transport, food etc.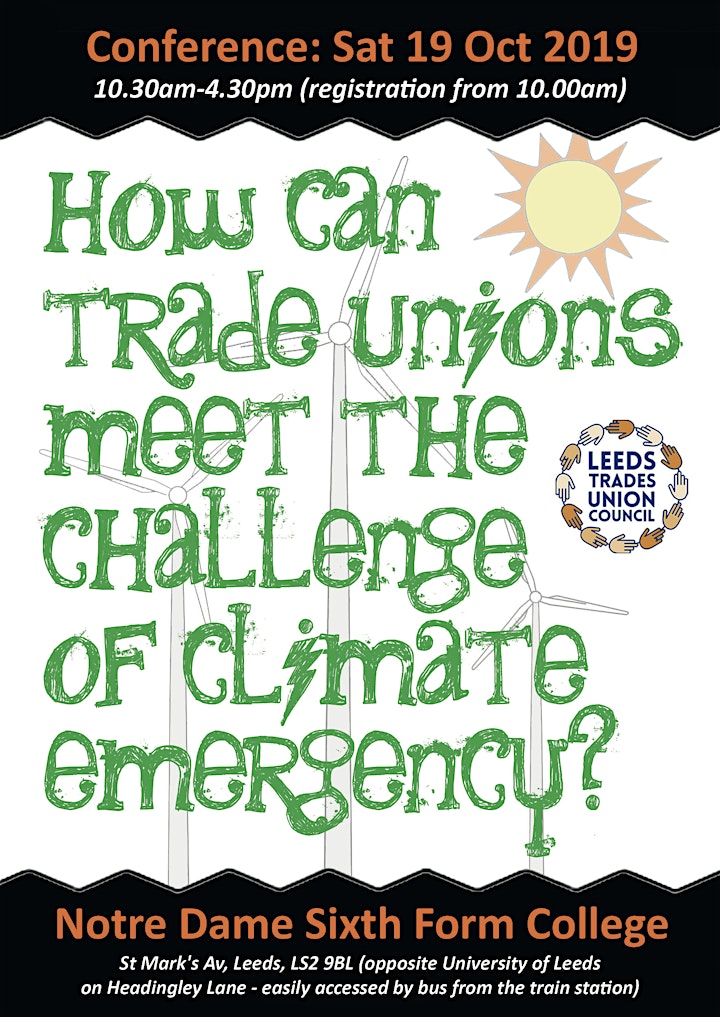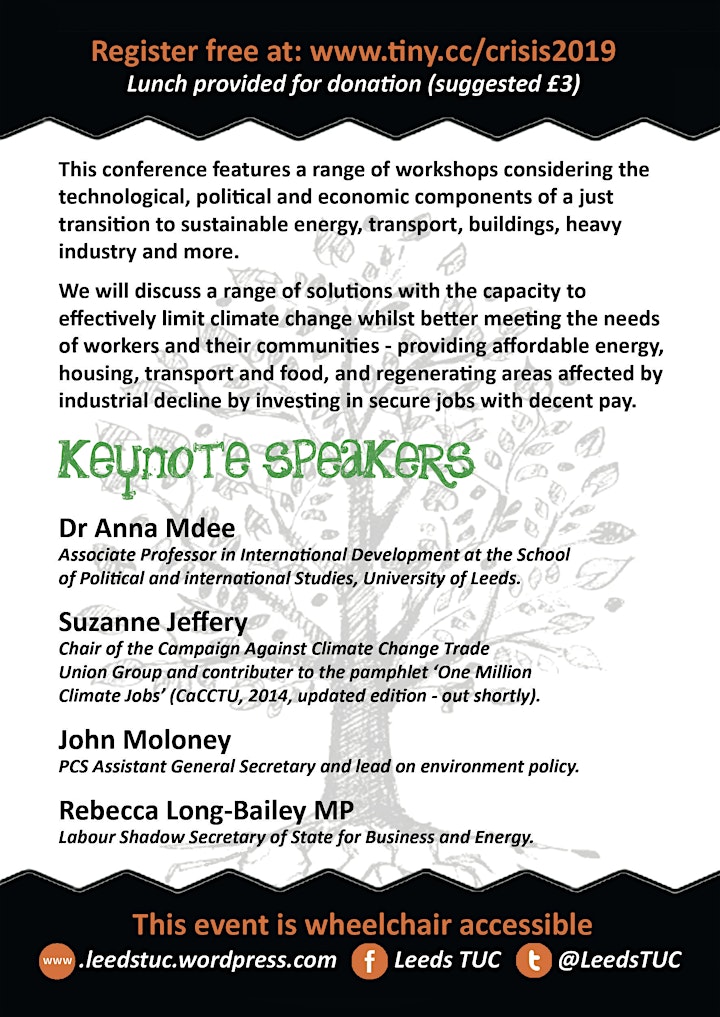 Organiser of How can trade unions meet the challenge of climate emergency?
Leeds Trades Union Council brings together local affiliate trade union branches to campaign around issues affecting working people in their workplaces and local communities.
Trades union councils generally aim to: Raise public awareness of rights at work and the union role in enforcing those rights; Promote organising and recruitment drives to build union membership; Support union and community campaigns for dignity and respect in the workplace and beyond.