How Colourful is Your Umbrella - Creating Your Portfolio of Choice Portfoli...
Description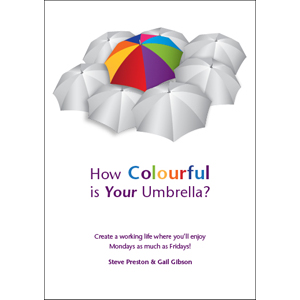 How Colourful is Your Umbrella?
Creating Your Portfolio of Choice
Are you seeking a NEW working lifestyle where you can learn to love Mondays?

How would you like to:
· Explore a NEW way of working and earning a living?
· Change your thinking about what work you CAN do?
· Develop a PORTFOLIO of work based on your interests, talents and passions?
· Make an existing portfolio career work for you to ACHIEVE the results you want?
· Take control of HOW you live your life?
Here's what people are saying about the Master class
"Helped me realise that it is OK not to have 'a' job!
"Very helpful for those wishing to 'reboot' their lives."
"Great value in sharing personal emotions, fears and aspirations in a like-minded small group."
"Clarifies the portfolio approach and encourages self-belief"
Creating great intrigue and much acclaim, this inspirational one day Master class is run by expert coaches, speakers and authors, Steve Preston 'The Career Catalyst' and Gail Gibson 'The Portfolio Lifestylist'.
This highly practical and interactive master class will equip you, in just ONE day, to:
· Challenge the way you think about your work and your life
· Review the positives and negatives in your career
· Create a working lifestyle you love
· Give yourself an opportunity to love what you do & do what you're good at
· Boost your confidence, belief and motivation to make your new life choice happen!
Price fully inclusive of VAT, lunch, refreshments, workbook and your free copy of 2CD set Audio Book!
For further information visit:
http://www.steveprestonthecareercatalyst.com/index.php/masterclasses/14-how-colourful-is-your-umbrella
OR Contact Steve Preston 0797 382 6424
About Your Trainers
Steve Preston: Career Coach, Author, Trainer and Speaker (www.steveprestonthecareercatalyst.com)
Gail Gibson: Business Coach, Author, Trainer and Speaker (www.trueexpressions.co.uk)
Organiser of How Colourful is Your Umbrella - Creating Your Portfolio of Choice Portfolio Career & Lifestyle Masterclass
Steve Preston (www.steveprestonthecareercatalyst.com) and Gail Gibson (www.trueexpressions.co.uk) met in 2011after discussions on a LinkedIn Portfolio Careers group highlighted shared passions for championing an alternative way of working to the traditional job or typical self employed mindset. Realising the power of collaboration, Steve and Gail have helped many people unlock their true potential and marketability to move forward in their careers, from maximising the opportunity from career transition and redundancy, to supporting people who already run their own businesses who strive for better results, or those who need to rediscover their true passions to do work they love.
Recognised as thought leaders in portfolio career and lifestyle development in the UK, Steve and Gail have produced a 2CD set audio book, written numerous articles, blogs and been featured in many online forums and radio interviews, on the subject of portfolio careers and lifestyles. They are also working on a mainstream book to be published in late 2013 which will highlight how the world of work is changing and feature many examples of people from all walks of life who have found happiness and fulfilment  from creating their own 'colourful umbrella' and portfolio of choice. They have delivered numerous seminars, workshops and Masterclasses on the subject.
Expert coaches, speakers and authors, Steve Preston and Gail Gibson, will challenge your perspective around the need to have a traditional 'job' or for the self employed to reframe your thinking around how you earn a living to focus on a different way by channelling your efforts into passions, talents and interests to derive an income from different activities to create a portfolio working lifestyle you will love!