On Thursday, October 21st at 11am EDT/4PM BST, Arnaud Lyet will teach us how to use eDNA in large-scale monitoring of endangered mammals.
About this event
Join us on October 21st at 11 AM ET / 4 PM BST for Tech Tutors with Arnaud Lyet, who will answer the question, "How do I use eDNA in large-scale monitoring of terrestrial mammals?" In this episode, Arnaud will cover sampling methods and discuss how eDNA metabarcoding works, as well as the range of factors to consider that influence detection probability of terrestrial mammals.
Register for your free ticket now.
Arnaud Lyet is a senior conservation scientist on WWF's wildlife team and is an expert in population modelling and biostatistics to monitor wildlife across large areas with over 20 years of experience. He is particularly interested in the monitoring and conservation of rare, elusive and threatened large mammal species. Whilst indicators of wildlife presence are comparatively easy to have, Arnaud focuses on the complexities of finding out how many species are present in an ecosystem and how populations are changing over time. He uses a variety of techniques using acoustics and biologging to assess the real size of animal populations in the wild with the logic that credible data allows for better conservation responses. The use of eDNA (environmental DNA) is one of Arnaud's most innovative contributions to conservation technology. He has used it to detect polar bears in the Arctic by extracting and analysing eDNA from their footprints and snow leopards in the Himalayas. Arnaud's aim is to reduce uncertainty about the real state of wildlife populations, and provide the most accurate data, gathered as cost-effectively as possible, to aid the best protection possible of endangered species.
We asked Arnaud...
What will I learn in this episode?
Basic principles of how eDNA metabarcoding works
Basic sampling method and strategy for terrestrial mammals
Factors that influence detection probability and other things to consider for cost efficient inventory
eDNA beyond detection/non-detection
How can I learn more about this subject?
The Vigilife website and the downloadable magazine are good places to start.
To learn about what eDNA is and its value in conservation efforts have a look at WWF's website here: or read Arnaud's own explanation of his work and how he uses eDNA to measure wildlife populations.
To see experts on eDNA discuss their work using eDNA, including Arnaud Lyet, have a look at the resources from the virtual meetups including the recordings of their talks. Arnaud's open access article on the importance of eDNA in biodiversity monitoring, including its cost-effectiveness and efficiency, is also an excellent resource on how eDNA can be used to solve conservation problems.
The International Barcode of Life (iBOL) is a Consortium with the aim of developing and applying a globally accessible, eDNA system of life on Earth and have a series of valuable resources.
The eBio Atlas is a database with a similar mission to gather reliable data to support conservation outcomes with the aim of informing world biodiveristy policy.
If I want to take the next step, where should I start?
Be clear about your research question, and read the most recent literature to understand if eDNA is the appropriate method.
What advice do you have for a complete beginner in this subject?
Although eDNA is bringing biodiversity surveying to a new level of possibilities, it is not magic and will not solve everything. There are still a lot of limitations to applying the method.
Are you ready to learn with Arnaud? Register to join Arnaud's episode now!
Learn more about our Tech Tutors
Welcome to the third season of WILDLABS Tech Tutors, our series focused on answering the "how do I do that?" questions of conservation tech! Launched with the support of Microsoft AI for Earth, Tech Tutors is made for conservation tech beginners of all knowledge levels (and yes, even experts can still be beginners when it comes to tackling a new aspect of conservation tech or starting a new project!). Our Tech Tutors will give you the bite-sized, easy-to-understand building blocks you'll need to try new conservation technology, enhance your research, DIY a project for the first time, or simply explore the possibilities!
Taking place every Thursday, each Tech Tutor will present a 30 minute tutorial guiding you through an aspect of conservation tech, followed by a 30 minute live Q&A session with the audience.
Can't make it to an episode this season? Don't worry! You can find every tutorial after it airs on our Youtube channel, and you can collaborate and ask questions in each episode's thread on the WILDLABS Tech Tutors forum.
Visit WILDLABS to learn more about the WILDLABS Tech Tutors series and other events.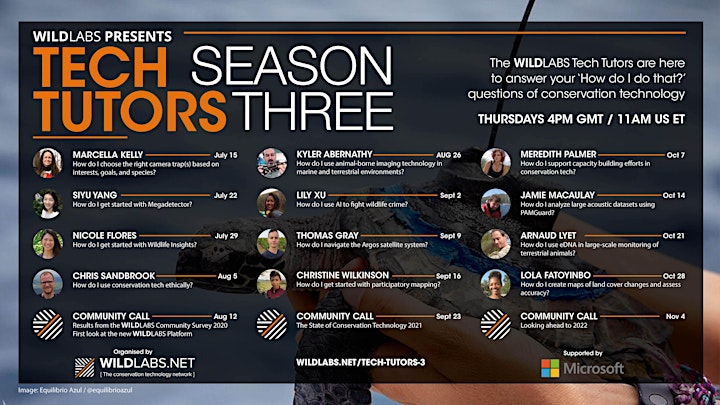 Organiser of How do I use eDNA in large-scale monitoring of terrestrial mammals?
WILDLABS is the first global, open online community dedicated to conservation technology. How are you using #Tech4Wildlife?