How do you do that @howardlake?

Friday, 26 September 2014 from 13:00 to 16:00 (BST)
Event Details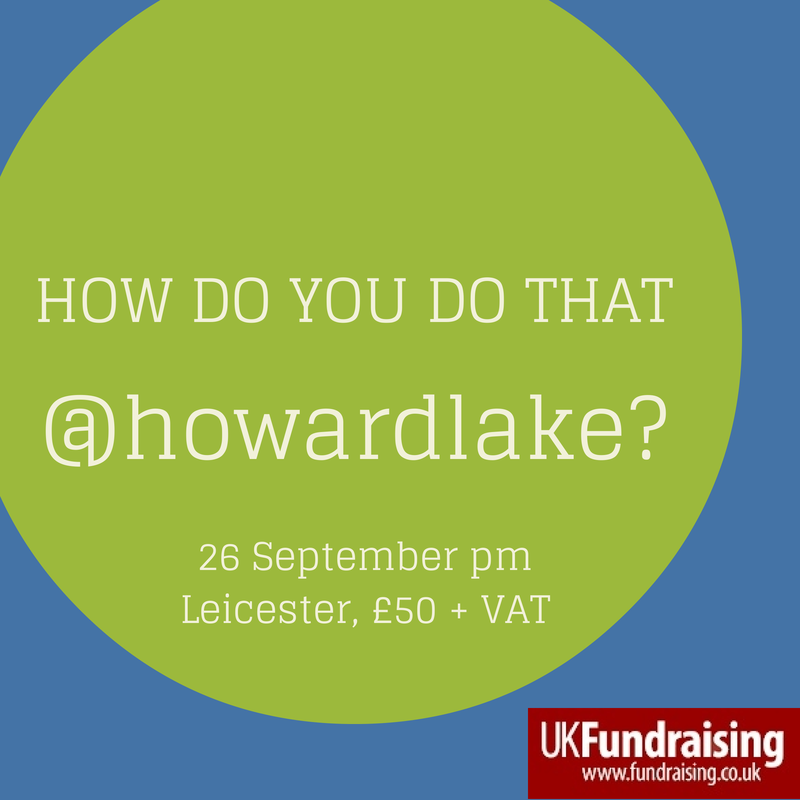 20 tools and techniques to help you make the most of digital fundraising and communications.
Ever seen something UK Fundraising has done and thought - I wonder how they do that? Or been impressed with the way that we find and then distribute useful information for fundraisers?
This is your chance to learn about some of the tools and techniques that we use. These can be tools online on your desktop/laptop and/or on your phone/tablet.
They might not be the best, but we use them and find them useful. And they are based on over 20 years of using digital tools to find relevant people and content, and share this information with the right people.
We'd like to share them with you.
What will the course cover?
The afternoon course will cover 20 digital tools and techniques that we think other charities and fundraisers should know about. Some will save you some time, others will open up new possibilities, and maybe one might even transform what you do online. 
The course will cover these tools and techniques, show them in action, and explain how they can be used in your work. Not surprisingly, we'll focus on free or low-cost tools, and straightforward applications.
The 20 tools/techniques will help you with activities including:
creating good quality graphics quickly (and in the right size for different social media channels)
monitoring who is talking about you or a topic on Twitter
finding relevant people and organisations on Twitter to follow
how to keep track of your social media and digital activity in one place (and it's more than Google Analytics)
how to automate most of your email newsletter updates
how to add text to images before sharing them
how to ensure a steady flow of content on Twitter and Facebook
how to make a (WordPress) website mobile friendly quickly
how to track useful resources, and be able to find them quickly in a year's time (and share them with others)
how to learn how other charities are using their YouTube videos and channel

And plenty more day-to-day tools, some of which you'll wonder how you worked without.
 
Who is this course for?
charity staff and volunteers who want to make the most out of digital and social media tools
fundraisers, digital staff, communications staff, events organisers, volunteer managers
consultants and agency staff who want to make sure they are staying up to date with everyday tools and techniques
 
Outcomes
Delegates will:
gain confidence in using a variety of tools and techniques on their mobile phones, tablets and laptops to help them in their everyday work
understand the ways in which well-crafted images can support their organisation's fundraising, campaigning, and communications
leave having learned about some tools and techniques that can help them and their colleagues in their every day work 
leave with a download link to a paper listing all the tools covered, and which we'll augment with any other tools mentioned (for good or ill!) during the course

And if you find you know all about each of the tools we share, we'll do our best to suggest some more to answer any particular challenges you have.
This is a practical course so you are strongly encouraged to bring at least one of the following - a smartphone, tablet, or laptop. Wifi will be available during the course.
We'll cover a range of tools and apps that you might find useful. Most will be free, others are low cost (c 69p). You might want to pay to download those on the day, although this won't be essential.
 
About the trainer
Howard Lake has published UK Fundraising since 1994, providing practical news, tips and resources for fundraisers in the UK and beyond. He has used hundreds of different digital tools over the years and continues to explore new ones to see if they can be of relevance to fundraisers and charities.
 
Delegates' feedback:
Amazingly helpful @ioftweets course from @howardlake today. Lots of ideas to take back to the office!
— David Bench (@Davidbench) December 14, 2012 

More feedback on UK Fundraising's training courses
Venue
Thank you to Twenty Twenty for hosting this course.
Twentytwenty is an award winning (Centre for Social Justice Charity of the Year 2012) Leicestershire charity that was set up in 2007 to give young people a brighter future.


When & Where

Twenty Twenty
Leicester Life Skills Centre
66-68 Charles Street
LE1 1FB Leicester
United Kingdom


Friday, 26 September 2014 from 13:00 to 16:00 (BST)
Add to my calendar
Organiser
Publisher of UK Fundraising, online resource and community for professional charity fundraisers since 1994.
Provides practical training in digital fundraising, helps charities and fundraising companies make the most of digital, and runs the Fundraising Camp series of one-day 'unconference'-style events for fundraisers.