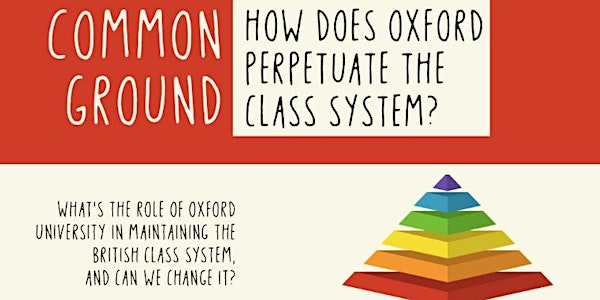 How does Oxford perpetuate the class system?
Location
Corpus Christi Auditorium
Merton Street
Oxford
OX1 4JF
Description
On Thursday 10th May we will be discussing answers to the question 'How does Oxford perpetuate the class system?' The UK is a fundamentally split society. In 2018 it is somewhat tempting to think that an 'obsolete' notion of a class system was abandoned after the industrial revolution and the post-war economic booms. It only takes one look at places like Oxford, however, to see that this is clearly not the case: 71% of senior judges were privately educated; 50% of members of the House of Lords; 40% of newspaper columnists; 36% of the Cabinet: the list goes on. Meanwhile only 7% of the UK attend private schools. This is not just a simple matter of access. In 2014 the government's Social Mobility and Child Poverty commission called Britain 'deeply elitist', and likened the current state of affairs to 'social engineering'. This undoubtedly is linked to how Oxford is run as an institution, and how it was formed. The question is: how? And why? Join us on Thursday of 3rd week at 6pm for what promises to be an incredibly important and necessary discussion! Speakers to be announced soon on the event page… We expect this event to be fully booked, so be sure to register for a FREE ticket early to avoid disappointment!