How healthcare teams can support families when a parent is at end of life
Nuts and bolts of how healthcare teams can support families when a mum or dad of dependent children is at end of life with cancer.
About this event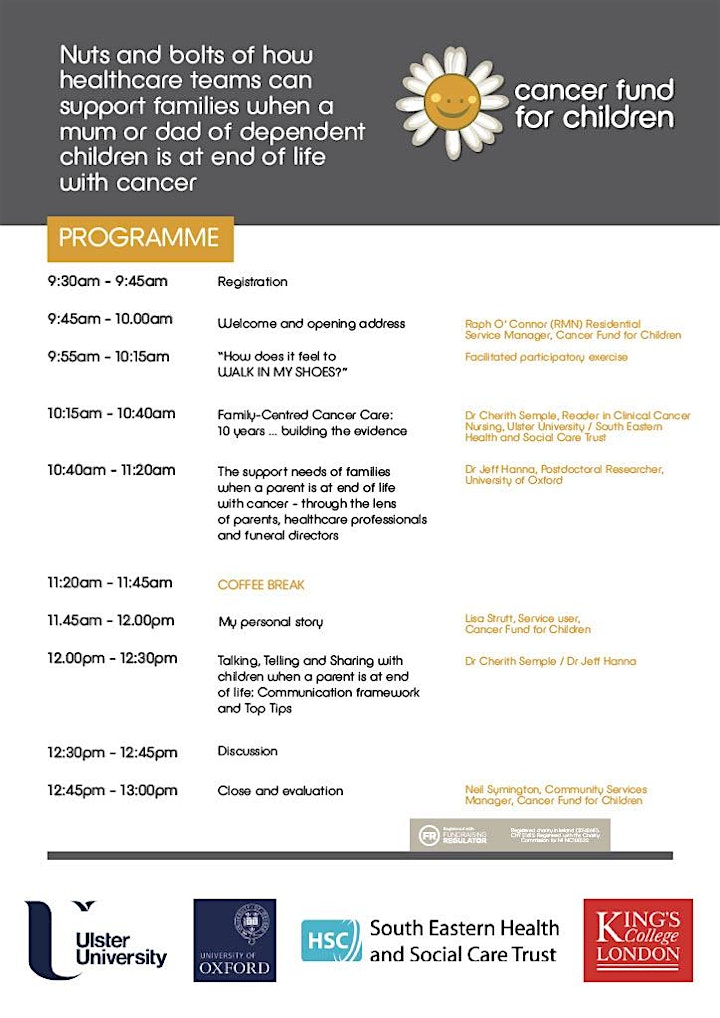 Who should attend:
Health and social care professionals and academics
For further information contact cherith.semple@setrust.hscni.net
This workshop will focus on research findings from the 'Family-centred cancer care' programme of work led by a team of researchers at the Institute of Nursing and Health Research, Ulster University, who have recently been studying the challenges and support needs of families when a parent of dependent children is at end of life with cancer.
Delegates will not only learn about the role of health and social care professionals in supporting parents at end of life, but will find out how this research has informed the development of a 'Top Tips' resource for healthcare teams (produced in collaboration with Kings College London) and a communication framework for supporting end of life conversations between professionals and parents.
As a condition of booking and attendance you are required to ensure that: ALL persons attending the conference event at Daisy Lodge must only do so after completing a Rapid Lateral Flow Test (as a minimum) and receiving a NEGATIVE result from this test on the day of travel to Daisy Lodge.
Please Note
Registrants relevant details will be shared with the main organisers of the event.
We have a Family Short Break commencing at Daisy Lodge in the afternoon of September 17th. The staff facilitating this conference event within Daisy Lodge will be interacting with potentially vulnerable families later that day. We must ensure, as best we can, that we are protecting our staff and service users. Therefore it should be noted by attendees that there will be a prompt dispersal in order to facilitate the staff in sanitising the conference areas of Daisy Lodge for our families arriving at 1500hrs.
On the day
ALL attendees will be temperature checked (must not be over 37.8C) upon arrival, hand sanitiser and face masks will be provided. You will be asked to sign the attendance register to declare you have conducted an LFT with a NEGATIVE result.
Organiser of How healthcare teams can support families when a parent is at end of life
The sad reality is that every week in Northern Ireland another three children and young people aged 0-24 years old will be diagnosed with cancer and another nine families will be told that a parent has been diagnosed.
As Northern Ireland's leading children's cancer charity, Cancer Fund for Children understands the devastating impact a cancer diagnosis and its treatment has on the whole family, and that beyond the essential medical care, there is a family life that needs to be rebuilt. 
From the point of diagnosis our team of Cancer Support Specialists is here to help, guide and support families at home, in their community, and at our therapeutic short break and residential centre in Newcastle, Co. Down. Our support is focused not just on the young person, but on the whole family. Our aim is to empower, connect and strengthen them, so they feel equipped to deal with whatever the future may hold.
Our vision is that every young person, aged 0-24 years old, diagnosed with cancer or living with a parent diagnosed with cancer, and their families will receive the support they need both during and after treatment so that no family has to face cancer alone. With your support by signing up to our events and helping us raise vital funds, our vision is possible. We couldn't do it without you.
#TogetherThroughCancer