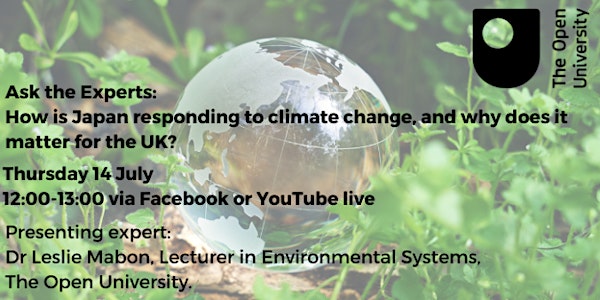 How is Japan responding to climate change, why does it matter for the UK?
As part of the Open University Faculty of STEM's Ask the Expert series, we bring you this online event.
About this event
As one of the world's major industrialised economies and a hub of technology and innovation, Japan is a key player in the fight against climate change. Japan has faced criticism for its slow action on climate change, especially its continued reliance on fossil fuel-fired power stations. Nonetheless, there are growing calls from the environmental movement within Japan for faster climate action, and especially for a fair transition to green jobs for the people and places in Japan whose livelihoods rely on high-emitting industries.
In this event, Dr Leslie Mabon will talk about how fossil fuel and manufacturing industries have shaped Japan's regions, and about what a just transition to a sustainable society might look like for a country facing an ageing workforce and a shrinking rural population. Leslie will also talk about why Japan's response to climate change matters for the Asia-Pacific more widely, and what the UK should learn from Japan's experience in shaping a just transition.
About our expert:
Dr Leslie Mabon is a Lecturer in Environmental Systems in the School of Engineering and Innovation at the Open University. Leslie's research focuses on how coastal societies, especially those that rely heavily on high-emitting industries, can respond rapidly and fairly to multiple pressures and challenges under a changing climate. Leslie has over a decade of research experience in Japan, and is a former Japan Foundation fellow. Leslie recently led a project on Just Transitions in Japan, which was funded by the British Academy. Dr Mabon is also a member of the Young Academy of Scotland, where he leads the Zero Carbon by 2045 Grand Challenge. Follow Leslie on Twitter @ljmabon, or read about his latest research activity at resilientcoastal.zone
Partner organisation(s): British Academy (project funder)Contact details: Hugo Clarke/Flora Langley (h.clarke@thebritishacademy.ac.uk/f.langley@thebritishacademy.ac.uk)