Event Information
Location
University of Malta (Valletta Campus) - Aula Prima
St. Paul's Street
VLT1216 Valletta
Malta
Join us for a day to get insights into the state of AML challenges, attend a workshop and network with like-minded compliance professionals.
About this event
RiskScreen invites you to attend this free, full-day event to learn about how you can help Malta meet its AML challenges in 2022 and beyond. Don't miss this opportunity to hear from compliance industry experts and a chance to test your skills in an interactive workshop using real-world examples and the latest AML technology.
This event is supported by University of Malta, Malta Association of Compliance Officers and Malta Association of Risk Managers.
AGENDA
9:30 – 9:45 Welcome and introduction - Stephen Platt & Professor Simon Grima
9:45 – 10:30 Understanding the true nature of the AML Challenge from an industry perspective - Presenter: Stephen Platt
How AML risk manifests in specific products and services
Common AML control weaknesses
Effective solutions
10:30 – 11:15 Managing PEP Risk in Light of the Pandora Papers - Presenter: Rob Mitchell
How the Pandora Papers has changed the compliance landscape
Understanding PEP risk practically
The importance of the 'network' effect
Ongoing monitoring and remediation
11:15 – 11:45 Coffee break
11:45 – 12:30 The Russia Sanctions Compliance Emergency - Presenter: Stephen Platt
Russia Sanctions - The Latest
Common Sanctions Compliance Weaknesses
Sanctions Compliance Tips
12:30 – 13:30 Lunch
13:30 – 14:15 Digital Customer Onboarding and the Risk-Based Approach - Presenter: Tom Devlin
Why weaknesses in customer onboarding always feature in AML failures
How it's possible to achieve greater compliance effectiveness by doing less
Overcoming the challenge of onboarding individuals and corporates
14:15 – 15:30 Case study | Workshop
15:30 - 16:00 Summary and closing remarks
ABOUT THE WORKSHOP
You will be given the opportunity to utilise RiskScreen's software to conduct KYB and KYC searches to identify potential issues and apportion risk grades consistent with the risk-based approach.
To take part in the workshop, please take your laptop with you on the day - we will give you access to the software. More details and step-by-step guides will be provided to you closer to the event date.
CPD
The full-day program will carry 7 hours CPD.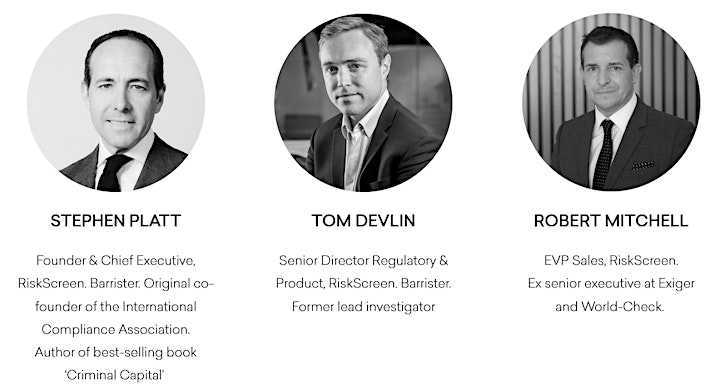 Date and time
Location
University of Malta (Valletta Campus) - Aula Prima
St. Paul's Street
VLT1216 Valletta
Malta