How on Earth? Managing the net zero challenge within the built environment
On Earth Day we explore ways the sector might organise, collaborate, innovate & scale to meet the monumental challenge of reaching net zero
About this Event
LSBU presents the 4th Seminar in our Climate Emergency Events Series and asks:
'How on Earth is the Built Environment sector going to meet the monumental challenge that lies ahead?'
How on Earth? – an Earth Day special event - will bring a virtual panel of industry leaders and academics from the built environment together with policy shapers, economists, behaviouralists, and decision makers to discuss how we – as a sector - might organise ourselves to manage the most ambitious project since man decided to set foot on the moon.
We know the race to net zero will require collaboration, innovation and clear, decisive leadership such as we have never seen. But how do we, as a sector, bring people along on the journey, from the highest decision makers in the land, to the new army of green engineers, to the humble house dweller? How do we make sure the transition is just, and heals rather than deepens social inequalities?
Then there's the nuts and bolts - the retrofitting of millions of homes, decommissioning the gas grid, manufacturing and installing hundreds of thousands of heat pumps. The engineering challenge alone is a project management task of monumental proportions.
How on earth are we going to get organised and get the job done?
Join us for an action-packed hour of presentations followed by a hearty panel discussion.
SPECIAL ANNOUNCEMENT - KEY NOTE SPEAKER CONFIRMED
Our key note speaker, Jane Davidson, author of #futuregen: Lessons from a Small Country, and architect of Wellbeing of Future Generations (Wales) Act: will explain the critical importance of this bold legislation which means public bodies must now think about the long-term impact of their decisions, work better with people, communities and each other, and prevent poverty, health inequalities and climate change.
"What Wales is doing today, the world will do tomorrow." Nikhil Seth, UN Assistant Secretary General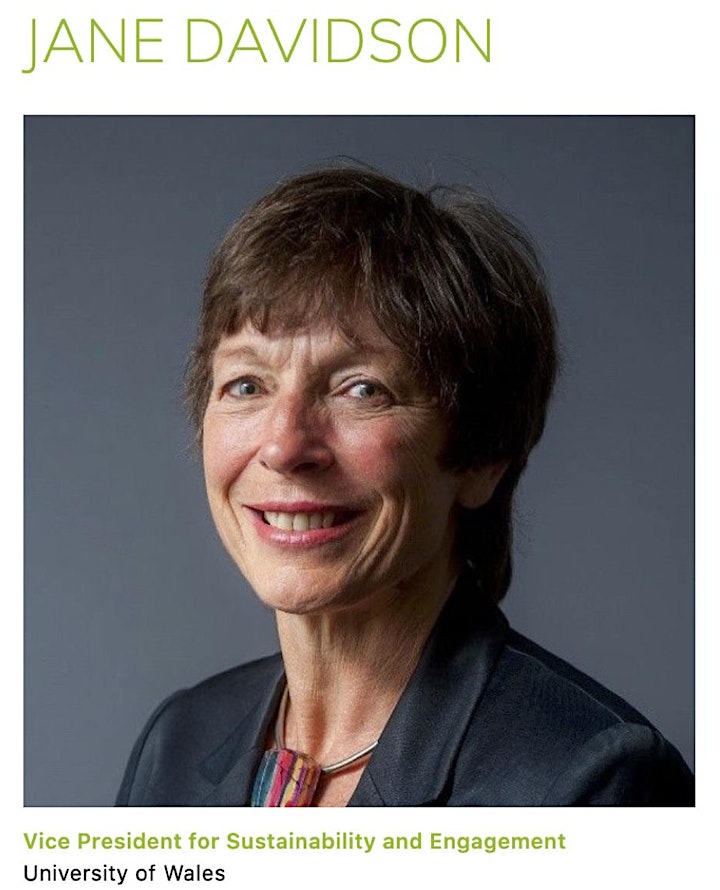 Jane will be joined by an illustrious panel covering infrastructure, to design, to practical application - and of course, the increasingly critical role of data:
Dr Jennifer Schooling OBE, Director of the Centre for Smart Infrastructure and Construction (CSIC), at the University of Cambridge : Jennifer will talk about systems thinking in infrastructure, sharing her passion for changing the way the infrastructure and construction industries view data - a vital asset in its own right, and an engineering tool for tackling the key challenges facing our industry, such as climate change, resource constraint and resilience.
Alex Rainbow, Cornwall Council - will talk about Adopting and Adapting the Doughnut. Kate Raworth's much talked about "Doughnut Economics" combines the concept of planetary boundaries with the complementary concept of social boundaries, using a visual representation shaped like a doughnut. Alex will demonstrate how Cornwall Council has adapted the Doughnut for the local authority decision making context, although this radical shift in decision making methodology will interest any organisation or business responding to the Climate Emergency.
Cat Drew, Chief Design Officer, Design Council and Tayo Adebowale, Member of the Design Council's Cabe 'Built Environment Expert (BEE)' Panel : The Design Council's mission is to bring together architecture and the built environment, public sector design and business innovation to support people live healthier, happier and safer lives. Cat will share insights from the 'Design in the Public Sector 'programme which equips councils with the support and skills to respond to the many complex challenges caused by climate change.
Ashley Bateson, MSc, CEng, CEnv, FCIBSE, MEI - Partner and Head of Sustainability, Hoare Lea & Vice President of CIBSE and Zarna Patel, Senior Associate, Hoare Lea: Ashley and Zarna will share the latest thinking about how the Climate Emergency is impacting the sector and explore the mindset M&E practitioners should adopt, and the steps organisations might take to align their businesses and design practices to deliver resilient, future-proof solutions for clients faced with the demands of a climate emergency.
Mike Darby, CEO Demand Logic: Data is going to be a critical component as we adapt to the challenges ahead and the role of accurate data and in-use monitoring will be a recurring theme throughout this event. With over 20 years Building Services expertise under his belt, and as Co-founder of Demand Logic, Mike will talk about the role data will play in creating a resilient future drawn from his extensive experience gained designing and delivering forward-thinking controls systems for multi-million pound installations and business-critical systems.
Come and join in
On Earth day, we'll be especially encouraging active participation. We'll have our usual audience vote and attendees with have a chance to pose a question to our panel of experts. We like to see LSBU's Climate Emergency Events as more than just a talk shop. As well as drilling into topics that matter, we actively want to stimulate partnerships, networking and collaboration. We also want every audience member to leave with new insights and tools to turn theory into action in their working lives.
This event will take place on Zoom Webinar. Registered guests will receive the Zoom link one day ahead of the event.
Event Curator: Pippa Palmer, LSBU School of Built Environment & Architecture. Email: palmerp5@lsbu.ac.uk with suggestions, panellist enquiries or sign up here to receive updates about LSBU's ongoing Climate Emergency Series.