Event Information
Location
Frankopan Hall
West Court, Jesus College
Jesus Lane
Cambridge
CB58BL
United Kingdom
Description
Is the scientific enterprise truly as healthy as we tend to think? How does the system itself shape what scientists do?
"The Secret Life of Science" takes a clear-eyed and provocative look at the current state of global science, shedding light on a cutthroat and tightly tensioned enterprise that even scientists themselves often don't fully understand. This dispatch from the front lines of modern science paints a startling picture of a complex scientific ecosystem that has become the most competitive free market environment on the planet. It reveals how big this ecosystem really is, what motivates its participants, and who reaps the rewards.
Are there too few scientists in the world or too many? Are some fields expanding at the expense of others? What science is shared or published, and who determines what the public gets to hear about? What is the future of science? Answering these and other questions explains why globalization is not necessarily good for science, nor is the continued growth in the number of scientists. It portrays a scientific community engaged in a race for limited resources that determines whether careers are lost or won, whose research visions become the mainstream, and whose vested interests end up in control.

About the Speaker
Jeremy J. Baumberg is Fellow of the Royal Society, and a Professor in Nanotechnology and Photonics at the University of Cambridge, as well as a Fellow at Jesus College. Further information on this theme at www.thesciencemonster.com.
How do I get to West Court, Jesus College?

The entry to West Court is directly on Jesus Lane, near to the intersection with Park Street. Please DO NOT ENTER through the main entrance to the Porters' Lodge, known as "the Chimney". A map is included below to assist you in finding our entrance.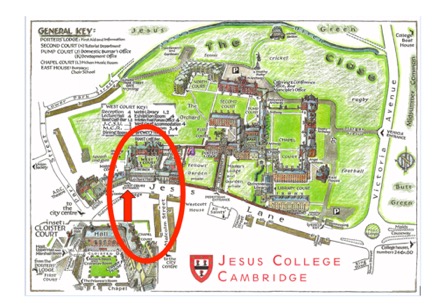 What transport options do I have?

There is no on-site car parking at Jesus College for those attending our events. There is limited on-street parking outside the College and the Park Street Car Park is very close. There are also multiple Park and Ride options to the City Centre, a short walk from the College.
A regular train services runs to Cambridge from London's Kings Cross Station, London Liverpool Street Station and many other mainline UK stations. The College is located approximately 2 miles (3.2 kilometres) from the railway station. Buses run about every 10 minutes and there is a taxi rank outside the station and one here in the city centre for your return.

What time do I need to arrive?
We ask that you arrive 15 minutes before the event, and no later than the face time on your ticket. We may not admit latecomers, especially if seating is now full or filming is taking place. Our staff will be on site to validate tickets and so it would be helpful to have either an electronic or printed form of your ticket with you. Please also bring photographic ID for validation.
Does my ticket guarantee entry?
Unfortunately not everyone who receives a ticket turns up on the day and so we have to over-issue tickets to ensure a full event. We decide carefully how many tickets to issue as it is important to have a full event but the last thing we want to do is disappoint people. In order to be as fair as possible we admit ticket holders on a first come first served basis. It is helpful to us if you cannot attend that you cancel your ticket. More accurate numbers mean less overbooking in the future and reduce the risk that people with tickets will be denied entry. For some events we may be able to ticket at the door and this will be advised to the waitlist. Please join the waitlist if the event is sold out and we will let you know if this will be an option.

What can I bring with me?
There are coat hooks around our building, but there are no storage or coat minding facilities and we cannot take any responsibility for items left unattended. Mobile phones are allowed, but must be silenced or placed on airline mode during the event. Flash photography is prohibited.
What if I have access requirements?
West Court is access friendly and there are hearing loops. Please let us know about any access requirements at least three days in advance of any event via if-coordinator@jesus.cam.ac.uk. There is limited permit disabled parking, and again this must be prearranged. The building has extensive access-friendly bathroom facilities, and some limited seating in the waiting area.
Is there food or drink available?
For refreshments, our College Cafe or Bar will often be open across the courtyard selling drinks and food around our events. Details of the opening times for the cafe can be found at https://www.jesus.cam.ac.uk/college/life-jesus/food-and-drink/cafe and for our bar can be found at https://www.jesus.cam.ac.uk/college/life-jesus/food-and-drink/bar.
Date and Time
Location
Frankopan Hall
West Court, Jesus College
Jesus Lane
Cambridge
CB58BL
United Kingdom