Description
Blooming Founders together with WoW UK Women of Wearables and the Digital Catapult Centre present an evening of inspiration and networking with our panelists who have built successful wearable tech and AR/VR startups.
WHO IS THIS FOR?
Founders and employees of wearable tech and AR/VR startups and those who are curious about starting one and
Want to learn about the best practices of starting and monetising a successful wearable and AR/VR business;

are dealing with challenges in creating a strong brand & awareness, dealing with hardware production and marketing strategies; and

Want to hear about our panelists' journeys as they navigate through the tech industry.
Investors who want to meet female founders building wearable tech products and AR/VR experiences and products.
AGENDA
6.30pm - Doors open
7.00pm - Panel discussion with our female founders in wearable tech and AR/VR
7.45pm - Audience Q&A
8.15pm - Special Guest : Octagon Studio presenting 4D+ Augmented Reality
8.30pm - Open networking
9.00pm - Close
Refreshments of tea, coffee and biscuits will be available and gluten free nibblies kindly sponsored by Well and Truly.
While we advocate women in tech, this event is of course open to men to come along too.
Tickets are strictly limited.
SPEAKERS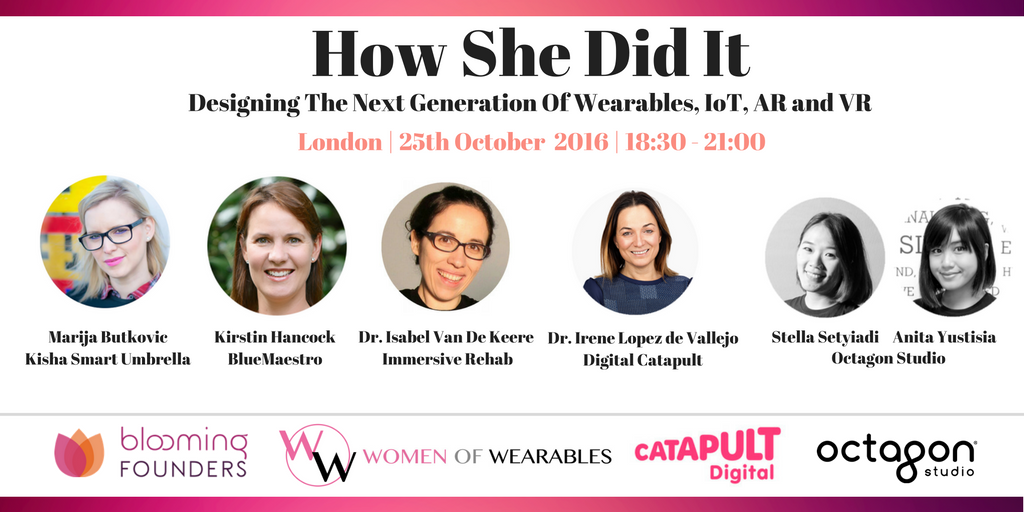 KIRSTIN HANCOCK
Co-Founder of Blue Maestro
@BlueMaestroUK
Kirstin Hancock has held senior roles in the education sector specialising in ICT where she developed an ability to explain complex technology in simple language. An expert in social media marketing, Kirstin heads up Blue Maestro's marketing function.
Blue Maestro are innovators in wireless, smartphone and internet enabled healthcare and environment monitoring and control solutions utilising the latest in Bluetooth™ Smart, ANT+, WiFi and GSM/3G technologies. From connected healthcare products such as their innovative award winning Bluetooth Smart pacifier, Pacif-i™, to their ground breaking dual mode WiFi and Bluetooth™ Smart environmental monitor, Tempo, we provide cutting edge devices, a full range of development services and cloud hosting.
MARIJA BUTKOVIC
Co-founder of Kisha and Co-founder of WoW UK Women of Wearables
@getkisha
@Women_Wearables
Marija Butkovic is the co-founder of Kisha Smart Umbrella, a wearable tech startup designing the world's smartest fashion tech umbrella, and Women of Wearables, an initiative which aims to inspire, connect and support women in wearable tech, fashion tech, IoT and VR/AR.
In 2013 and 2014 Marija collaborated with Seedcamp, one of London's most well knows accelerator, as their legal advisor and startup mentor. She currently works with many startup accelerator and incubators in London and worldwide on delivering help and advice as mentor and advisor. As PR strategist and journalist Marija works with world's leading tech and business magazines and portals, and as digital marketing strategist she also mentors startups and advises clients in wearable tech and IoT space.
She is member of Tech London Advocates, an organisation aiming to support technology startups in finding new investment, new talent and achieving high growth.
Prior to working in the wearables and tech industry, Marija was a corporate lawyer and consultant for legal trade journals. Marija holds a BSc in Law and has also graduated from Startup Institute.
DR. ISABEL VAN DE KEERE
CEO & Founder Immersive Rehab Ltd.
@ScienceRoadie
@ImmersiveRehab
Isabel Van De Keere is the CEO and Founder of Immersive Rehab, a VR health tech start-up that focuses on the creation and development of interactive rehab environments & games in Virtual Reality that will improve the effectiveness of physical rehabilitation.
With a background in Electro-Mechanical Engineering and a former Biomedical Engineering Scientist, Isabel is passionate about healthcare technologies, digital health, immersive technologies (VR/AR) and its applications in healthcare, using tech for good, social entrepreneurship, and promoting women in tech.
In September 2016, Isabel was one of 12 tech start ups who won a 12 week programme of mentoring and support through the Bethnal Green Ventures accelerator programme and received £15,000 of investment.
SPECIAL GUESTS
Octagon Studio
Stella Setyiadi (CMO) and Anita Yustisia (Head of 4D+ Department)
@StudioOctagon
Octagon Studio is a multimedia company based in Indonesia specialises in producing and delivering Virtual Reality (VR) and Augmented Reality (AR) solutions and products for mobile and wearable devices. Octagon Studio also integrates 360 photography, AR and VR into unique applications utilising the immersive quality of these mixed realities.
Stella Setyiadi is the Chief Marketing Officer of Octagon Studio. In 2008 she moved to Kuala Lumpur, Malaysia to pursue her higher studies in Interior Design at The One Academy of Communication Design. She left to Shanghai, China in 2012 for her internship program before finally returning home and assumed the position of Octagon Studio's Chief Marketing Officer (CMO).
Her current responsibilities include increasing company brand's awareness to a global network, developing global marketing strategies, expanding business opportunities and managing sales across the international market. At present, Octagon Studio has distributed its products to 26 different countries in Asia, Middle East Countries, Australia, South Africa, USA, Canada, Trinidad & Tobago, United Kingdom, Ireland, and Denmark.
Anita Yustisia is the Head of Octagon 4D+ that takes education to a brand new learning horizon. Users of all ages can enhance their learning abilities through fun, interactive media using flash cards that come to life.
With a Masters in Fine Art and an undergraduate degree in Printmaking, Anita worked at the Daily Star in Bangladesh as an Illustrator and an Assistant Lecturer before becoming the Head of 4D+ in Indonesia.
Moderated by
Dr. Irene Lopez de Vallejo
Director of R&D, Digital Catapult Centre
@ILdeV
@DigiCatapult
Dr Lopez de Vallejo is the Director of R&D of the Digital Catapult Centre, driving the international R&D strategy. She has 20 years multidisciplinary experience in applied technology research, in robotics, high-value manufacturing and the Internet of Things. With a background in sociology and architecture, her long-standing passion is to understand the complex relationships underlying society, technology and continuously evolving physical and digital environments.
BROUGHT TO YOU BY
Blooming Founders is London's leading platform that helps female founders accelerate their startup journey. Become a member of our community and connect with more like-mined female founders, freelancers & women in startups. Join here.
Women of Wearables inspires, connects and supports women in Wearable Tech, Fashion Tech, IoT and VR/AR through its events and wearable tech workshops. Join our WoW community by signing up here.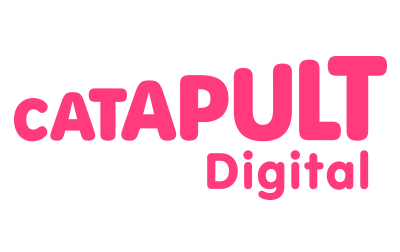 The Digital Catapult Centre opened in London in November 2014 to work with SMEs to help them grow and scale faster. It helps larger corporates in their digital transformation through programmes of collaboration and open innovation, by bringing academic leading edge expertise into the mix combined with the organisation's own business and technological expertise.
Organiser of How She Did It: Designing The Next Generation Of Wearables
Blooming Founders is a business incubation platform that facilitates the growth of female-led businesses. We run a co-working space and events all year round to provide education around entrepreneurship, fundraising, as well as networking opportunities with fellow founders and investors.
​