How small businesses can win the procurement battle
Event Information
Location
Vantage Point Business Village
Conference Centre Building 9, Floor 2
Mitcheldean, Glos GL17 0DD
Description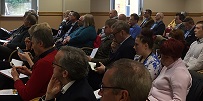 How small businesses can win the procurement battle
Would you like to find out more about procurement and how you can get YOUR company to be in a better position to sell your goods and services to local authorities, public bodies and other organisations?
If so, then you are invited to a free mid-morning seminar organised by the Gloucestershire FSB in association with the host venue Vantage Point in the Forest of Dean where you can hear from speakers from both local authorities and what could be one of the world's biggest new construction projects.

We will have speakers representing local councils and also Hinkley Point C, the new nuclear site which is very keen to have SMEs from the region supply them with the many goods and services they will need in the future.
Each of our three speakers will have around 15 minutes each to tell you about how you can procure from them and give tips on the whole issue of selling to organisations – and there will be time for 'question and answers' afterwards.
The event is part of a series of networking business seminars run by the FSB and Vantage Point and it's completely free to attend whether you are an FSB members or not. Light refreshments will be provided courtesy of Vantage Point.
We hope this will be a friendly, enjoyable event for everyone to attend which we hope could lead to more small businesses successfully selling the goods and services to private and public bodies. To attend you MUST register on this page.
Agenda:
10.00am Delegates to arrive, networking and light refreshments
10.20am Introduction from FSB Membership Advisor Mark Whittle and Vantage Point Sam Holliday (FSB) to introduce speakers
10.30-10.50am Ian Mawdsley Head of Commercial at Gloucestershire County Council
10.50-11.15am Will Clark (GO Shared Services for Cheltenham, Cotswold, Forest, West Oxford Councils)
11.15-11.35am Sam Evans (Hinkley Point C)
11.35-11.50am Questions and Answers conducted by Terry Lockwood (FSB)
11.50-12.15pm Close and networking
Date and Time
Location
Vantage Point Business Village
Conference Centre Building 9, Floor 2
Mitcheldean, Glos GL17 0DD