How Social Media is Changing the Arab Community Integration in London and the UK

Saturday, 28 February 2015 from 10:00 to 17:00 (GMT)
Event Details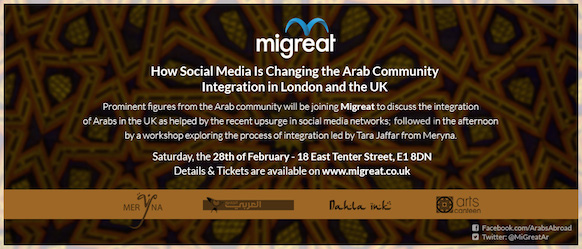 Migreat wishes to invite you to a panel discussion and workshop on the integration of Arab communities in London and the UK. The event will be held on Feb 28, 2015 at Migreat's premises at 18 East Tenter Street, Aldgate, London.
PANEL DISCUSSION:
Prominent figures from the Arab community in London will be discussing the integration of Arabs as helped by the recent upsurge in social networking sites (Facebook, Twitter, Instagram, LinkedIn, etc), and the way in which the shift in communication has been embraced by Arab migrants.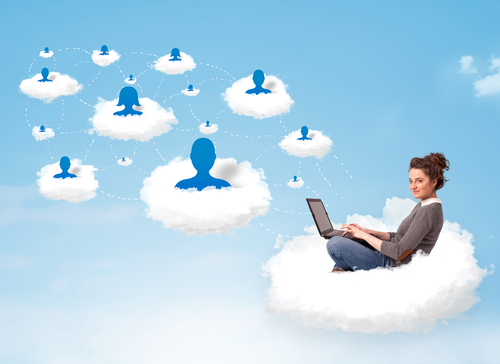 Panellists participating in the discussion:
Nahla Al-Ageli: British-Arab freelance journalist specialising in the arts and culture of the Middle East and North Africa (MENA) region. She writes a popular blog for the British-Arab and the Arab-curious at www.nahlaink.com.
Khalil Al Agha: PhD candidate in New Media Studies and Editor-in-Chief of Al Araby Al Jadeed Arabic website. Khalil is interested in researching Arab youth and Arab communities.
Aser El Saqqa: Curator, producer and director of Arts Canteen; an arts organisation which aims to shine a spotlight on art from the Arab world in the UK. In the 1990s, Aser worked in cultural affairs in Palestine.
Tara Jaffar: Creative practitioner and director of Non-Governmental Organisation, Meryna/مرنة, working in the UK and Middle East, to promote community dialogue, artistic expression and wellbeing. Meryna uses a creative working model, drawing on the expressive and therapeutic arts, to better understanding of personal and group processes, in relation to integration.
WORKSHOP:
I come from no country, from no city, no tribe. I am the son of the road… all tongues and all prayers belong to me. But I belong to none of them. (Amin Maalouf)
How do I respond to the world I'm in? What are my habitual responses? Are these outdated, belonging to a different world to the one I'm now in today? How well do these serve me in the here-and-now? 

Do I belong to a culture, or does culture belong to me? What is home? Can I connect with you, and stay true to myself?




Drawing on UK-based NGO Meryna's creative working model, this workshop will explore themes of identity, belonging and home. We will look at how we personally respond to one another in groups, and how this relates to the process of integration in the wider sense. This is a practical session, where participants work within their own comfort level, in a safe and inclusive space. Facilitators can accommodate English and Arabic speakers, so just arrive on time and with an open mind to creative explorations!   
The event is open to all Arabs and non-Arabs interested in the integration of Arab migrants in London and the UK.
SCHEDULE:
10:00 - 11:00 Registration
11:00 - 11:15 Introduction to Migreat
11:30 - 1:00 Panel Discussion (including Q&A)
1:00 - 1:45 Lunch
1:45 - 3:45 Workshop 
04:00 - 05:00 pm Networking
Lunch will be served at the event.
We hope to see you there!
When & Where

Migreat Office
18 East Tenter Street
Aldgate East
E1 8DN London
United Kingdom


Saturday, 28 February 2015 from 10:00 to 17:00 (GMT)
Add to my calendar
Organiser
Migreat was founded in 2012 with the objective of supporting migrants through the burdensome immigration and integration process. Migreat Arabs is our dedicated platform providing information to Arab migrants in Europe and contacts to the Arab settled community to smoothen the migration process.
We are based in London and New York and currently preparing to launch into new European cities and North American markets and expand our product offerings.