How the Church embraced astrology in the 12th Century (attendance via Zoom)
Dabbling in the dark arts: How the Church embraced Arabic astrology and opened the door to modern science
About this event
Astrology today has a pretty bad rap. It's either seen as trivial entertainment in the form of magazine horoscopes where a twelfth of the world's population will meet a tall dark handsome stranger today, or a dangerous pseudo-science with no place in the modern world, or a blasphemous pagan practice whose practitioners will go to hell. In medieval times, attitudes were much more ambivalent, and astrology was practised by Jews, Christians, and Muslims - with the blessing of their respective religious bodies. In the eighth century, the newly-established Islamic empire used astrology as it swept across Arabia, North Africa, and Spain, translating classical astrological texts from the Roman Empire and Persia into Arabic. In the twelfth century, these Arabic texts were embraced by Christian scholars in Europe, and went on to be taught in Cathedral Schools and the new universities. This talk will examine this curious phenomenon, and see how astrology not only produced a renaissance of ideas in twelfth-century Europe, but also opened the door to what went on to become modern science.
Chris Mitchell has a PhD from the University of Leicester on the topic of medieval astrology, and has recently published a book based on his PhD about the twelfth-century scholar Roger of Hereford, who wrote the first astrology textbook in England. Chris is a tutor on the MA Cultural Astronomy and Astrology course at the University of Wales, has lectured on the medieval world to undergraduates at the University of Leicester, and holds a diploma in Medieval Astrology from Astrologos. He is on the board of the Astrological Association, and has given talks to numerous groups and conferences in Europe and the US.
Tickets are restricted to 100, with chairs spaced to give distancing in a ventilated hall. Mask wearing an individual choice. Tea and Coffee will be available.
The talk will be recorded and made available online at a later date.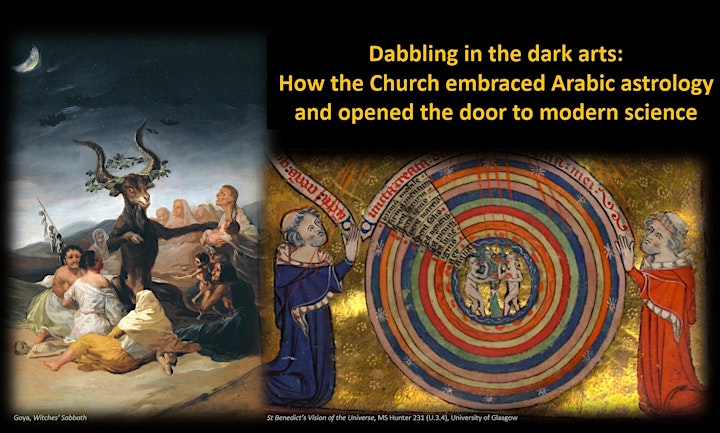 Organiser of How the Church embraced astrology in the 12th Century (attendance via Zoom)