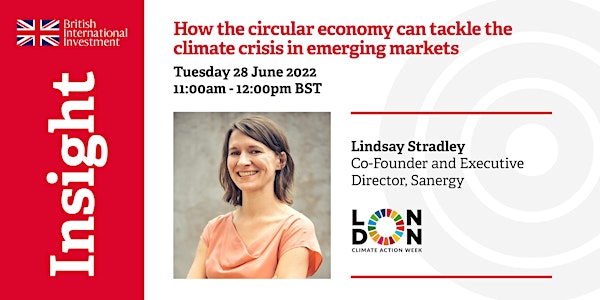 How the circular economy can tackle the climate crisis in emerging markets
Sales Have Ended
Registrations are closed
We have closed registrations for this event but if you would still like to join the event we will be live streaming it on following channels YouTube: https://www.youtube.com/user/CDCGroupUK LinkedIn: https://www.linkedin.com/company/cdc-group-plc/posts/?feedView=all Twitter: https://twitter.com/CDCgroup
About this event
How the circular economy can tackle the climate crisis in emerging markets
with Lindsay Stradley
Co-Founder and Executive Director, Sanergy
Tuesday 28 June 2022
11:00am – 12:00pm BST
Our production and consumption of goods is one of the biggest contributors to the climate crisis. It generates nearly half of all greenhouse gas emissions. We're using 60 per cent more resources than the planet can provide. And 90 per cent of biodiversity loss is due to the extraction and processing of natural resources.
However, there is an opportunity to address this challenge by transitioning to a circular economy, which keeps products and materials in use, eliminating waste and reducing pollution. Developing and emerging countries – which have large informal sectors and already practice circular activities, in areas such as electronic waste – are in a strong position to take advantage of this kind of economy.
Join us for this Insight event with Lindsay Stradley, co-founder of Sanergy – a pioneering circular economy business providing safe sanitation services in Africa's low-income urban areas. The company was shortlisted as a finalist for the inaugural Earthshot Prize, in the category 'Build a waste-free world'.
In this conversation we will discuss the potential of the circular economy in developing and emerging markets. We'll also explore the challenges facing businesses like Sanergy in securing investment, and the role of development finance institutions and impact investors in enabling the growth of the circular economy in these markets.
This event is part of London Climate Action Week - visit www.londonclimateactionweek.org.
Please register to confirm your place.
This event is part of British International Investment's Insight programme. The programme aims to share practical lessons on private sector investment and development, based on experiences, knowledge and research. Find out more here .
About British International Investment
British International Investment (BII) is the UK's development finance institution and impact investor with a mission to help solve the biggest global development challenges by investing patient, flexible capital to support private sector growth and innovation.
For more information visit www.bii.co.uk