Location
Bath Royal Literary & Scientific Institution
16-18 Queen Square
Bath
BA1 2HN
United Kingdom
Description
We are often told of a historic miracle whereby Israel, a supposedly advanced, enlightened and benevolent society, has 'turned the desert green'. Professor Mazin Qumsiyeh presents a very different picture, of unrelenting environmental exploitation, degradation and destruction.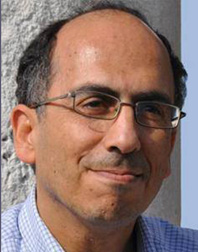 Mazin Qumsiyeh calls himself 'a bedouin in cyberspace, a villager at home'. He is a professor at both Bethlehem and Birzeit Universities, where he teaches subjects including biotechnology, anthropology and human rights. He is founding director of the Palestine Institute for Biodiversity and Sustainability and the Palestine Museum of Natural History.
He has had many scientific papers and other articles published, and his books include Mammals of the Holy Land (1996), Sharing the Land of Canaan (2004) and Popular Resistance in Palestine: A history of hope and empowerment (2011).