How To Academy presents... How the New Science of the Human Body Will Change the Way We Live | Daniel Davis In Conversation With Robin Ince
About this event
'A perfect blend of cutting-edge science and compelling storytelling. Daniel Davis has a rare knack for making complex science comprehensible and thrilling' – Bill Bryson
Welcome to a revolution in the science of you.
Recent and dramatic breakthroughs in our understanding of the body will profoundly change the experience of being human in the coming century. Already they are opening up boundary-breaking possibilities for intervention at every level, from our brains and genes to our microbiomes and immune systems. These will confer unprecedented powers over health, childhood development, our cognitive and physical abilities, and affect every aspect of how we live our lives and think about ourselves. As the secrets of our bodies are revealed, we all will face previously unthinkable choices with consequences we have yet to understand.
Imagine knowing years in advance the precise likelihood of developing specific cancers, thanks to a bespoke understanding of every cell in your body; following a diet and health regime tailored to your microbiome; continuous monitoring of your body's workings and well-being; taking drugs that improve your cognition and help to acquire new skills; manipulating the genes of your unborn children to eliminate disease or even enhance their capabilities.
In this livestream event, Professor Daniel Davis will tell us how these radical and disconcerting possibilities have been made real thanks to the ingenious technologies and decades-long collaborations of scientists worldwide. In conversation with broadcaster Robin Ince, he will present a vision of the human body of dizzying complexity, wonder and possibility.
Praise for Daniel Davis's The Secret Body:
'A beautifully rendered picture of the startling new discoveries in human biology which are radically altering our understanding of how we function and what our future holds' - Brian Cox
'An extraordinary journey that reveals the magnificence, intricacy and beauty of the human body, fundamentally changing the way we see ourselves. Masterful' – Alice Roberts
Daniel M. Davis is Professor of Immunology at the University of Manchester and author of two previous books: The Beautiful Cure, shortlisted for the 2018 Royal Society Science Book Prize and a book of the year in The Times, Telegraph and New Scientist, and The Compatibility Gene, longlisted for the 2014 Royal Society Science Book Prize and shortlisted for the Society of Biology Book Prize. His research, using super-resolution microscopy to study the immune system, was listed in Discover magazine as one of the top 100 breakthroughs of the year.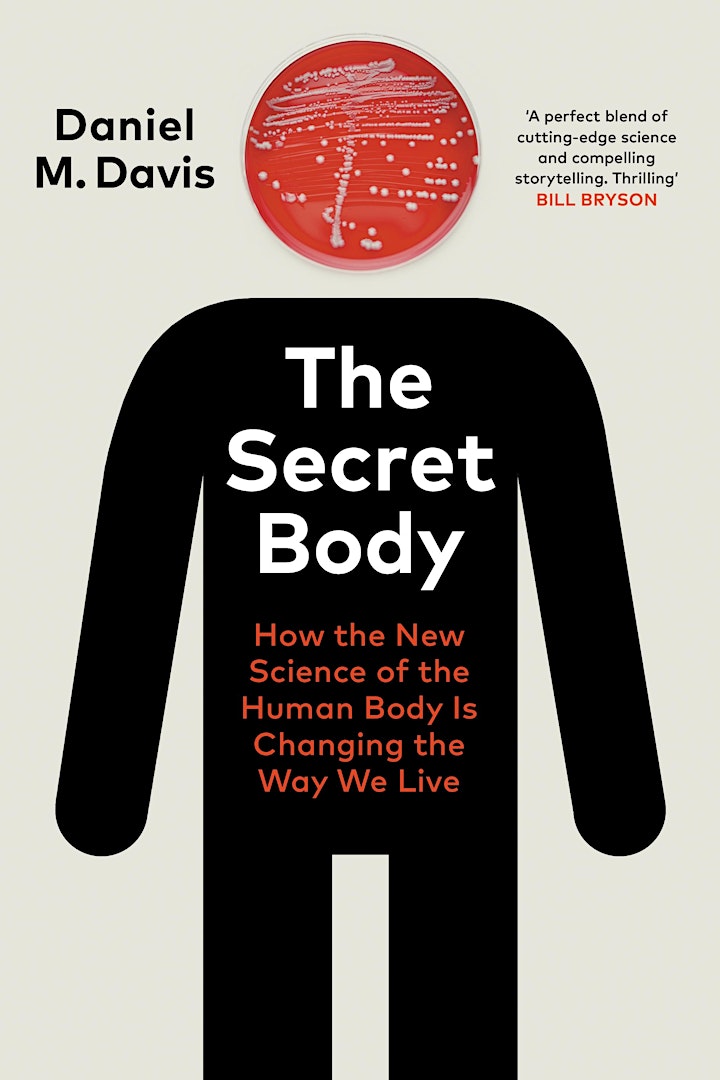 Organizer of How the New Science of the Human Body Will Change the Way We Live
How To Academy is an organisation for people who think big. From Nobel laureates to Pulitzer Prize winners, we invite the world's most influential voices to London to share new ideas for changing ourselves, our communities, and the world. 
We host leading artists and thinkers in an unrivalled programme of public talks, debates and conferences – from Yuval Noah Harari to Natalie Portman, Emma Watson to Eric Schmidt.
We help businesses discover transformative new strategies, anticipate the future, and inspire their staff with keynotes and workshops by internationally-acclaimed economists, psychologists, politicians, and thought leaders. 
We offer masterclasses live and online with experts in essential twenty-first century skills, like leadership, public-speaking, decision-making and resilience. And we make books, podcasts and films to share insight and innovation around the world.