How to apply to IMAGINE IF! Global competition and pre-accelerator program
About this Event
Innovation Forum presents IMAGINE IF!, the global competition for early stage science start-up ventures. Take your STEM idea to commercial reality.
Do you have a great scientific idea and want to bring it to commercial reality? Do you want to benefit from expert mentoring, professional training and support, international networking opportunities, exposure to investors and more...?
Then find out how IMAGINE IF! can benefit you. We are open to applications from around the globe and as well as local competitions around our local hubs. We are looking for great ideas that can transform human health and the environment which may include digital health, cleantech, medical devices, new medicines etc.
Register to our FREE webinar 'How to apply to IMAGINE IF! Global competition and pre-accelerator program'
Wednesday 29th July at 17.00 (GMT). During the webinar, mentors and past cohort members will share tips on the application process and what makes a great application.
Find more details on how to apply to IMAGINE IF! at: https://inno-forum.org/accelerator/
Selected speakers:
David Richmond, Inventya Innovation Advisor and IMAGINE IF! Mentor
Sohaib Mir, ALSA Ventures Investment Director and IMAGINE IF! Judge
Ivan Rodriguez Jaubert , ATCAE Founder and IMAGINE IF! Manchester Winner 2019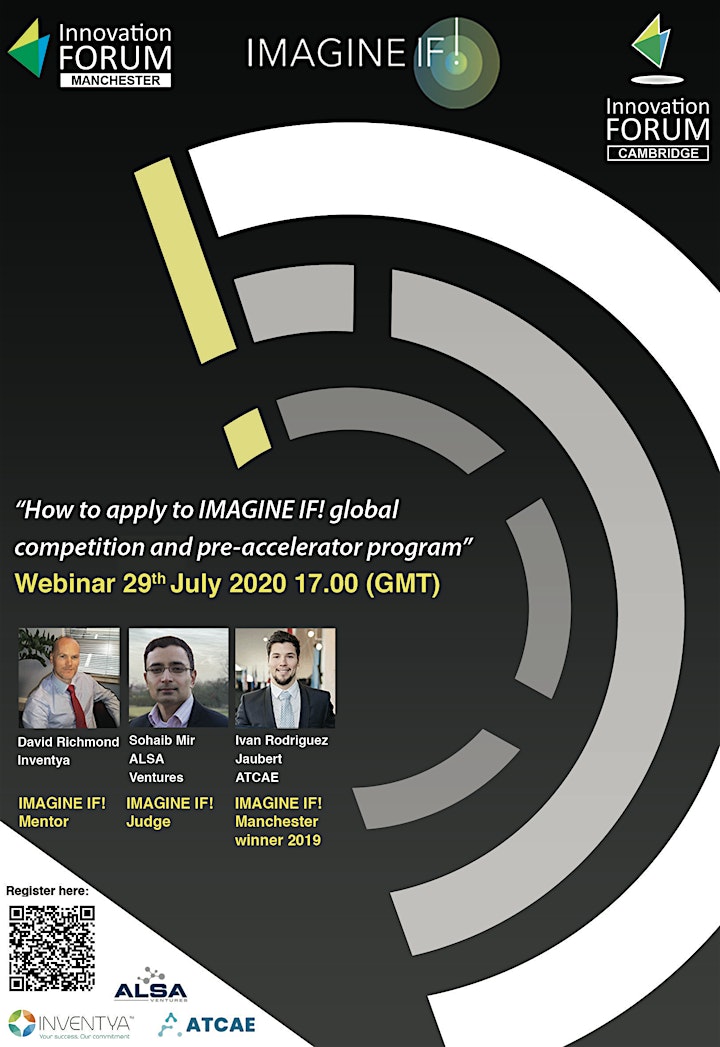 The Innovation Forum is a global network of scientific entrepreneurs and we aim to encourage innovation through forging connections between academia, industry and policy makers. Our flagship IMAGINE IF! program brings the best resources from experienced mentors, training and exposure to investors to cultivate promising ideas that can provide a real impact on human health and wellbeing. We are open to diverse ideas from biotech, cleantech, medical devices, digital health and more. And best of all it's FREE for all applicants! Find out more at: https://inno-forum.org/accelerator/