Description
Join Dr Adam Rutherford, science writer and broadcaster, as he talks about his new book How To Argue With A Racist: a vital manifesto for a twenty-first century understanding of human evolution and variation, and a timely weapon against the misuse of science to justify bigotry.
Race is real because we perceive it. Racism is real because we enact it. Neither race nor racism has foundation in science. But the appeal to science to strengthen racist ideologies is on the rise - and increasingly part of the public discourse on politics, migration, education, sport and intelligence. Stereotypes and myths about race are expressed not just by overt racists, but also by well-intentioned people whose experience and cultural baggage steers them towards views that are not supported by the modern study of human genetics. Even some scientists are uncomfortable expressing opinions deriving from their research where it relates to race. Yet, if understood correctly, science and history can be powerful allies against racism, granting the clearest view of how people actually are, rather than how we judge them to be.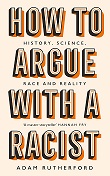 Dr Adam Rutherford studied genetics at UCL and helped identify the first genetic cause of a form of childhood blindness during his PhD at the Institute of Child Health at Great Ormond St Hospital. He has written several books on biology and genetic science; his first book Creation, on the origin of life and synthetic biology, was shortlisted for the Wellcome Trust Prize. On radio, Adam hosts the BBC Radio 4's flagship science programme Inside Science and has presented several documentaries on topics ranging from the inheritance of intelligence to astronomy and art. He has written and presented several award winning television documentaries, including The Cell (2009), The Gene Code (2011), The Beauty of Anatomy (2014), and Playing God, on the rise of synthetic biology for the BBC's long-running science series Horizon.
Tickets for the event are priced at £7 in advance or £8 on the door, and can be purchased through this page, by calling 01223 463200 or in person at Heffers bookshop. Please note that tickets are transferable but non-refundable, and the event will take place at the Cambridge Union Society, NOT at Heffers.
The book will be available to purchase at the event and Adam will be signing copies after the talk.
If you are unable to attend but would like to request a signed copy, please send an email via the 'contact' button on this page.
Like this? See a full list of our forthcoming events by clicking here.