HOW TO BE A GREAT SCRIPT READER...

Saturday, April 24, 2010 from 10:00 AM to 5:30 PM (BST)
Event Details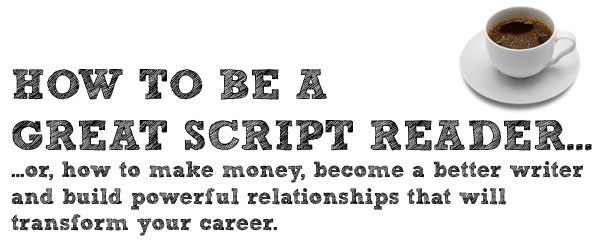 Q – Why do many writers fail over and over?

A – Because they are not GREAT READERS! Sure they can write, but their work would be so much better if they could get inside the mind of the professional reader.
I know you are talented, well at least I hope so ;-) I also know that you work damn hard too. Some people around you would even say that you work too hard. So why are you not making the headway that you feel you should be making?
Of course there are many reasons, but one huge factor is that you just have not read and analysed enough scripts. I know from my own experience that after learning how to better read and analyse a screenplay that my own writing improved hugely. It also allowed me to give great feedback to my fellow writers too. There is so much to learn form other peoples work, and if you can do it well, and give structured and constructive feedback, you can also get paid to do it.
And so I invite you to learn the inside tips, tricks, techniques and lessons from Lucy V. Hay, script reader extraordinaire and veteran of 10,000 scripts… (and yes, she is still standing!)
This interactive and hands on workshop will help those who want to be readers, but also empower writers who want to understand and give incisive, constructive and powerful feedback on scripts. Here's what it Covers:
What screen agencies and funding initiatives might expect of writers' scripts
How personal prejudices CAN affect a script's reception - without us knowing it

Knowing your boundaries - how to offer feedback to friends  and colleagues without falling out
How to use The Three Acts to ensure our structure doesn't go awry
How Characters can jump off the page - and why so often they don't
"The same... But different": what does this mean to script readers?
Why a Writer's Voice is so important
Dealing with bad feedback and knowing when to let go
First page workshop - participants are asked to bring a hard copy of a one page pitch document and FIRST PAGE ONLY of their screenplay (short, feature, TV pilot) for the workshop in the afternoon. We will be putting our new insights to the test!
"I really enjoyed the day… It has certainly inspired me. I didn't come along with the intention of becoming a script-reader but rather - and maybe selfishly! - to get a much clearer idea as to what script readers look for and so to help me improve my writing and get that breakthrough!"
Penny Noble, Writer

"illuminating. I'll definitely recommend it"
David Fisher, Writer

"I learnt loads… a valuable addition to the professional service you offer to the writing community."
Paul Sharville, Writer


Here's what Lucy says… 'Script readers sometimes get a bad rap, especially on the net. But there's no denying that there is a certain appeal for some: one of my most searched-for terms on my blog is "How To Be A Script Reader".  As a freelancer, you can set your own hours, create time for your own writing and spend all your working life enmeshed within what you love the most: stories, all day, every day! And when you are reading, you are being PAID to learn!


What if you don't want to be a Script Reader? This course is still for you. As writers, we've all had a report or feedback from a peer where we think that person who's read our script *just doesn't get it*. Sometimes we will be justified; others times it us who is wrong. But how can we know, with confidence, which is which? Understanding how Script Readers view scripts, what they are asked to comment on and how they do it is a great insight and a tool for taking our writing to the next level.'

DETAILS - The cost of the course is just £117 (inc VAT) and will take place at Ealing Studios on April 24th 2010. (discount ot £97 inc VAT for readers of my blog and Shooting People).


Networking is encouraged at the class - please feel free to bring your business cards. It is our intention to foster an environment where a new writers group will emerge from the workshop. 


ABOUT LUCY: As a writer, Lucy has worked in development with a variety of independent production companies and has experience in writing for the viral, corporate market, including games and toys, text message alerts and virals.
Bloggers and Tweeters are extremely welcome.

Follow Lucy on Twitter: www.twitter.com/Bang2write or visit her blog @ www.lucyvee.blogspot.com for lots of free articles on script reading and scriptwriting.
Check our our blog at www.chrisjonesblog.com.
When & Where

Ealing Film Studios
Ealing Green
W5 5EP London
United Kingdom


Saturday, April 24, 2010 from 10:00 AM to 5:30 PM (BST)
Add to my calendar
Organizer
From the offices of The London Screenwriters' Festival and the desk of Guerilla Filmmaker Chris Jones. We have been making films and teaching filmmakers and screenwriters since the early nineties.