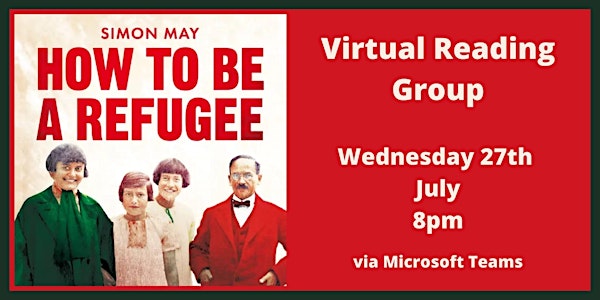 How To Be A Refugee by Simon May - Virtual Reading Group
Our July book choice is How To Be A Refugee by Simon May, available on BorrowBox as our Read/Listen Now, No Waiting title.
About this event
Join us for our July discussion session on Wednesday 27th July at 8pm. We'll be meeting via Teams to talk about How To Be A Refugee by Simon May.
The title is available now as our Read/Listen Now, No Waiting title on BorrowBox. Download it as an eBook or on eAudio, give it a read/listen and then join us to share your thoughts.
About the book
The most familiar fate of Jews living in Hitler's Germany is either emigration or deportation to concentration camps. But there was another, much rarer, side to Jewish life at that time: denial of your origin to the point where you manage to erase almost all consciousness of it. You refuse to believe that you are Jewish.
How to Be a Refugee is Simon May's gripping account of how three sisters – his mother and his two aunts – grappled with what they felt to be a lethal heritage. Their very different trajectories included conversion to Catholicism, marriage into the German aristocracy, securing 'Aryan' status with high-ranking help from inside Hitler's regime, and engagement to a card-carrying Nazi.
Even after his mother fled to London from Germany and Hitler had been defeated, her instinct for self-concealment didn't abate. Following the early death of his father, also a German Jewish refugee, May was raised a Catholic and forbidden to identify as Jewish or German or British.
In the face of these banned inheritances, May embarks on a quest to uncover the lives of the three sisters as well as the secrets of a grandfather he never knew. His haunting story forcefully illuminates questions of belonging and home – questions that continue to press in on us today.
After registering, you will receive an email with all the details you need to know about the session. Please scroll through and read the whole email (if you do not receive an email, please check your Junk folder also).
If you have any queries, please email libraryevents@warwickshire.gov.uk.
Your information rights: To see how we use your personal data and what your information rights are, please read our overall customer privacy notice at www.warwickshire.gov.uk/privacy which includes the contact details if you have a complaint about your information rights. For general enquiries, please contact Warwickshire County Council's Customer Service Centre on 01926 410410. For information about how we process your personal data for this event, please see the Warwickshire Libraries Privacy Notice, the Warwickshire County Council Privacy Notice and the Eventbrite Privacy Policy.