Description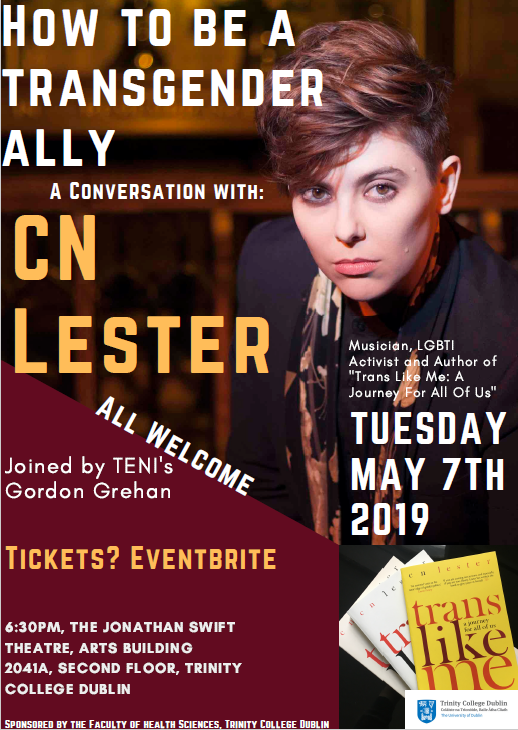 ***Note: the venue of this event has now changed to the JM Synge Theatre, Room 2039***
The Faculty of Health Sciences is facilitating an Athena SWAN event on May 7th, in the Jonathan Swift Theatre, Arts, Trinity College Dublin. The event is open to all and free of charge.
The aim of this event is to shine a spotlight on how best to support trans colleagues and students in a University setting. Alongside promoting an inclusive culture and taking steps towards uncovering and addressing any barriers for women in academia, the expanded Athena SWAN Charter looks at recognising and addressing potential barriers for trans colleagues and students.
We are delighted to secure our key note speaker, CN Lester. As well as being a musician and author, ('Trans Like Me: A Journey For All Of Us'), CN is the co-founder of the UK's first national queer youth organisation. CN works internationally and has featured on BBC Radio and The Guardian as well as other platforms.
Joining CN is Gordon Grehan, from TENI (Transgender Equality Network Ireland). TENI seeks to improve conditions and advance the rights and equality of trans people and their families. Gordon is responsible for the design and delivery of TENI's 'Trans 101' training programme and works with employers, higher education institutions and supports organisations to ensure that their policies and procedures are trans friendly.
Join us for an evening of shared experience and open conversation on how to be a genuine ally for our transgender staff and students. You can find this event on the Athena SWAN webpage for the Faculty of Health Sciences: https://www.tcd.ie/healthsciences/athenaswan/news-events.php
All are welcome to attend. This event will begin at 6:30pm sharp. Tickets are limited so registration is essential. This event is also sponsored by the Trinity Centre for Gender Equality and Leadership (TCGEL).
Note: Please indicate if you have any access requirements, such as ISL/English interpreting, so that we can facilitate you in attending this event.