Join Co-founders, Sharon and Afiya Amesu, and guest speaker, Simone Roche MBE, for a conversation on how to be an effective ally!
About this event
In the wake of George Floyd's death, many leaders and organisations are asking the question 'How can we support? What difference can we make on this agenda? How can we be an effective ally, to ensure that the change we want to see in society is realised?'.
She Leads for Legacy is hosting a special event with founder of Northern Power women, Simone Roche MBE. For many years, Simone has curated and used her platform to raise awareness and champion equality.
During this event, Simone will be sharing her insights of what it means to be an effective ally and an agent of change.
This is not one to be missed!
Simone Roche
Simone is the CEO and Founder of Northern Power Women. She launched this campaign out of a passion to connect and engage with people about gender equality.
Simone started her career in the Royal Navy scaling the ranks to become an officer and then held roles at Aintree Racecourse, Blackpool Pleasure Beach, the Arena Convention Centre Liverpool and the Olympics, and she is quick to note that she was not treated differently because she was female.
So it wasn't until she became the Director for a campaign supporting women in the hospitality, leisure, travel and tourism industry – and she was asked to be a champion for the Government Equalities Office – that gender equality grew to be her passion.
When the International Festival for Business was held in Liverpool in 2014, Simone campaigned to include businesses' role in promoting gender equality and developing talent, and held a sell-out event focused on the role women played in driving the economy.
Men and women suddenly saw women's benefit to the economy – and the role the North could play in driving that. And Simone saw the need and opportunity to focus on gender balance in the northern powerhouse region. Northern Power Women was born.
Simone was awarded MBE in the 2018 Queen's Birthday Honours for services to gender equality in the north of England.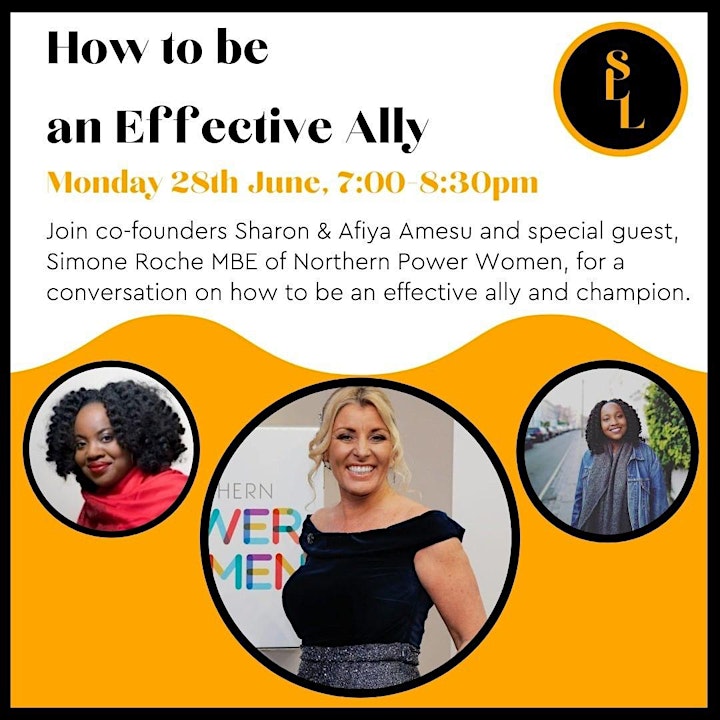 Organiser of How to be an Effective Ally
She Leads for Legacy is the brainchild of Mother and Daughter co-founders Sharon Amesu and Afiya Amesu
Sharon is a former practising Barrister and now works extensively with Senior leaders. She is a founding Fellow of the Society of Leadership Fellows of St George's House, Windsor Castle and was one of only four appointed Leadership Facilitators for the Leadership Programmes run at St George's House. 
Afiya Amesu is a post-graduate Law student, with a passion to ensure equality of access and opportunity for Black Female Professionals of all ages.​
​
​