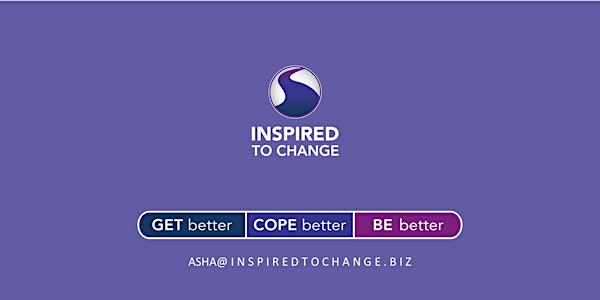 How to be Emotionally Resilient in 2022
Why is the pandemic affecting your mental wellbeing? Become more resilient, manage constant change and life events using neuroscience.
About this event
Are you struggling with your mental wellbeing but arent' sure why?
Usually, you're optimistic and can manage life events.
For some reason, you are experiencing mental and physical fatigue, exhaustion even.
Your sleep has deteriorated; you can't focus, even a simple decision such as what to have for dinner can feel overwhelming.
Brain fog occurs causing frustration and spiralling negative thoughts about your capabilities.
You begin to disengage from your friends and family as socialising is hard work. You may have even developed unhealthy strategies such as smoking, controlling food or drinking too much alcohol.
This short workshop will help you understand how the recent events of the pandemic and constant change have affected your mental and physical wellbeing.
Specifically, how the mind perceives this ongoing threat and what you can do about it.
Learn how to feel calmer and regain control of your emotions.
We cant change external events and nor can we control them. This workshop can help you feel more resilient and manage life events better.
So why not come along and learn some basic mental wellness skills?
Skills that you can use from the moment the workshop ends.
This Workshop is facilitated by the lead Clinical Hypnotherapist, Asha Berzon. Asha is a Clinical Hypnotherapist who supports businesses to thrive by engaging staff in preventative mental wellness training. Before this, she worked in the criminal justice field as a Practitioner and Senior Manager for nearly two decades, giving her vast experience of working with trauma, substance misuse, safeguarding and domestic abuse. She has worked closely with HR and Health and Safety as a Senior Manager.
Following her own experience of work-related stress leading to burnout, Asha was unable to work for nearly six months. Shortly after, she resigned and retrained as a Hypnotherapist. This experience drives her passion to prevent businesses from making the same mistake - losing qualified and experienced staff. And at the same time, enabling individuals to understand their mental health and access resilience during turbulent times.
Asha has created accredited training material which has shown to make a difference to overall wellbeing and engagement at work. She also continues to have busy private practice seeing clients for hypnotherapy for a wide range of issues.