Description
The World's Most Important Female Leadership Event 2017
Only 5% of S&P500 board members are women. The change is coming but it is not here yet. Join us to learn how you can lead from the front. Empower yourself and join Legendary Leaders focused success, change, innovation nationally and internationally.Imagine a world where thousands of women lead companies and governments, drive economies, promotestability and peace. These women are strong, adaptable, resilient, confident and inspiring .They bring positive energy, loyalty, creativity and sense of contribution to their companies, communities and the world. These women could be YOU.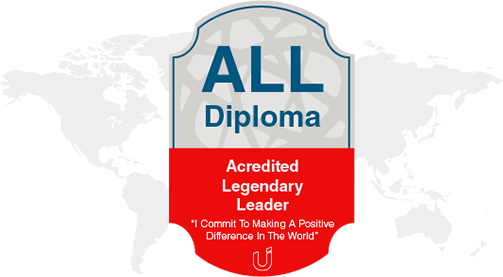 Get Acredited Legendary Leader Diploma
You Will Build A Solid Understanding And Be Able To Apply How To:
Master Situational And Behavioural Leadership Approaches
Find Out Your And Your Team's Leadership Styles
Build Your Organisation's Leadership Team
Discover The Power Of Public Leadership Of Masses, Large Groups Or Companies
Performance, Management And Functional Leadership
Building A Leader Personalities
Contingency And Goal Oriented Leadership
Value Based Leadership
Transformational And Change Leadership
We Take You Step By Step On Your Leadership Journey

By thinking, acting and leading change, you can achieve what others can't. Shaped by feedback from Government and Business Leaders across 89 countries, this seminar agenda will open your eyes to:
ULeader System will accelerate your success, your personal growth, your influence
How to be heard, listened to and reckoned with
How to shape your leader persona that impacts your growth and raise your voice
How to become a leader who shapes the future of your company and your community
Learn how to get what you want every time using simple and effective methods
Discover your leadership style, learn what holds you back, master conflict resolution techniques and much more
Embody an expert industry leader, a trusted politician or a successful business woman
Tap into your potential, inner awareness and intuition
Step into your power and reach your every goal fast
Get ready to become today's frontrunner
We will give you all the steps to revamp your leadership, people skills, technical know-how, your image and personal branding
Speak like Sheikha Mozah Bint Nasser – all powerful leaders are masters of public speakers. We will show you how you can do it too


Who Should Attend
This event is highly recommended to all female senior executives, owners, presidents, CxO, senior directors of businesses, government, institutional members and anyone who wants to make their mark on the world, grow their circle of influence and get a powerful voice to address the challenges faced by women across the Middle East, Africa, Europe, USA and Asia.

Aspiring Leaders
Middle and Senior Managers
CEOs and Board Members
Entrepreneurs
Business Owners


All You Need To Know To Get A Powerful Voice

Women In Leadership Agenda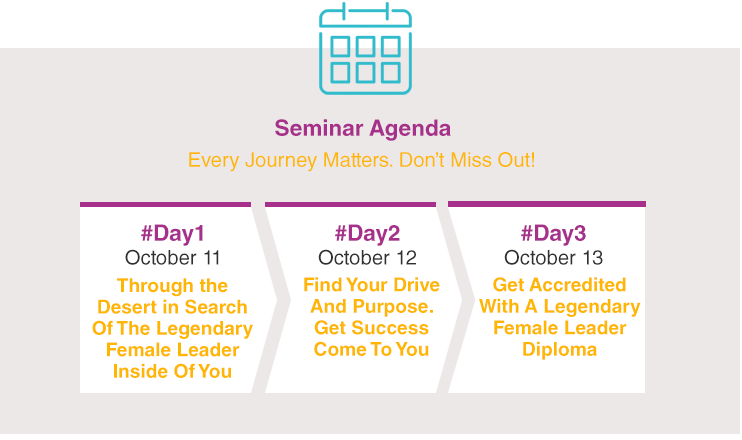 #DAY1 Hot Topics
Through the Desert in Search Of The Legendary Leader Inside of You
Discover What's Holding You Back And How You Can Overcome This Quickly
Stop Being A Worrier And Become Happy And More Assertive
Clear Your Emotions To Focus On What's Really Important To You
Unravel Solid Leadership System That Will Accelerate Your Success, Your Progress, Your Influence
#DAY2 Hot Topics
Find Your Drive and Purpose. Get Success Come To You
Step Into Your Future And Build It Out To Macro Scale
Fill Your Future With Purpose That Will Leave Legends
Build Solid Foundation To Support Yourself And Attract Your Dear Ones
Your Collective Values Define Your Collective Culture. Learn Yo Sculpt It
Negotiate With Simplicity And Effectiveness To Get What You Want
#DAY3 Hot Topics

Get Accredited With a Legendary Female Leader Diploma
Knock Down Any Obstacles On Your Way
Grow Your Level Of Influence
How To Speak Like Sheikha Mozah Bint Nasser And Get A Powerful Unique Voice
Take Your Diploma Exam
Become A Certified Legendary Leader


Join Today And Receive 50% Value back