Live webinar for anyone thinking about moving into HR Consulting, now or in the future! ⭐
About this event
If you are an in-house HR or a People professional, on maternity/paternity leave or have been made redundant, this is an opportunity to explore consulting as your next step 😊
In this webinar you will learn about:
The current marketplace for HR Consulting
Why now is a great time to launch your business!
The Corporate to Consulting System that we use as part of our coaching programmes and book
How we can support you on your journey or next steps
Sarah is also the author of Leap into HR Consulting , a number 1 book in Amazon's Business Consulting category, and she has been running a consulting business for the last 28 years.
She will share her story and some "golden nuggets" for you to consider on your consulting journey ✨
This is also an opportunity to ask any questions you have about either setting up your business, or leaving your employed role.
Sarah helped over 100 businesses set up in the last 2 years and works with hundreds of people to share her knowledge to enable others to confidently make the leap.
This webinar is hosted by Sarah Hamilton-Gill FCIPD, The MD of GlobusHR Consulting Ltd.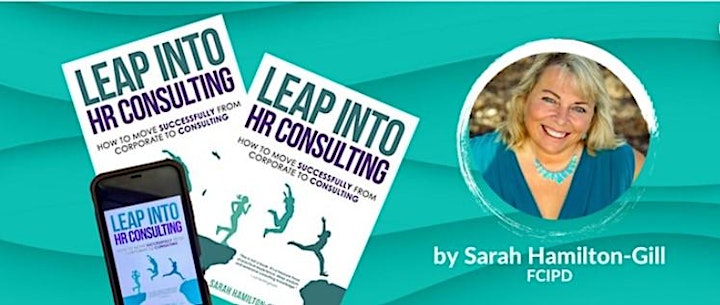 About your Event Host:
In her early years in HR Consulting, Sarah found it challenging to juggle a busy consulting diary with being a single parent to two young boys. It soon became clear to Sarah that without the support and flexibility she got from being a business owner that she would have missed much of her boys growing up.
Sarah was just 28 when she decided to go it alone and set up her HR Consultancy business in 1994. She has successfully built a 7-figure business and two 6-figure businesses.
Through her Leap into HR Consulting Virtual Bootcamp, in the last 2 years, she has helped launch over 100 new HR Consulting businesses.
As a consultant, she has worked with businesses of all sizes. As her business grew she worked with organisations, which include BT, Vodafone, Santander, and the English Football Association.
Connect with Sarah on LinkedIn.
Join the Leap into HR Consulting Business Growth Facebook Group - for people just like you!
Award-Winning
Finalist in the CIPD Best HR Consultancy (2018)Influential Small Business Owner winner (2018)HR Consultancy of the year (2020) Business and Industry Today Finalist for the Reinvention Award (2020)Finalist 'Business Book' The Book Awards (2021)Amazon No. 1 Best Selling Business Book Author
On 5th November 2020, Sarah self-published her book, Leap into HR Consulting - How to move successfully from Corporate to Consulting which has not only topped the business books list on Amazon but was also a finalist in the Business Book Awards 2021.
It's available at all good book shops and Amazon worldwide as an eBook, Audible, and paperback. "If I can do it, you can do it too!"
Reviews: Richard P - 5 Star Review
Excellent Practical Advice"I've attended a couple of Sarah's now, she is really knowledgeable, personable and makes you feel at ease. Some great tips on social media and would thoroughly recommend that session if you haven't already tried it. Have just attended the Leap into Consulting session, again great tips".
For further reviews or to leave your own feedback, please click on the link.